The Crabtree Pub, Lower Beeding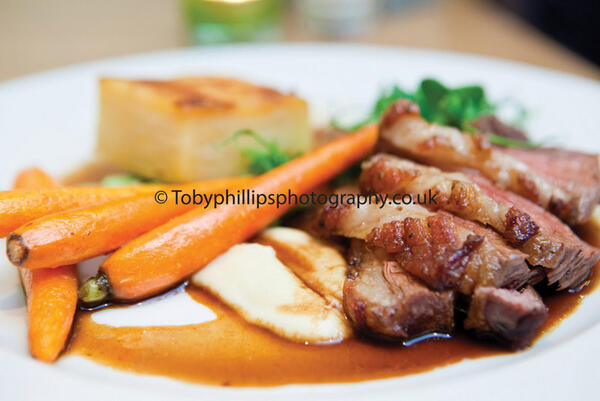 Having sold his vegetarian restaurant in Brighton, Simon Hope was looking for one last challenge. It needed to be something special, for it was an experience that he wanted to share with his son Hamish and daughter Daisy. Then one day, he drove past The Crabtree pub in Lower Beeding, saw the 'To Let' sign and thought 'that's the one!'
It's only been six months since The Crabtree re-opened, but the pub has quickly built a good reputation. Simon is one of four partners in the business. He is joined by his son Hamish Adamson-Hope, his daughter Daisy Gilham Hills and her husband John. So far at least, the family formula appears to be working a treat.
Hamish said: "My dad ran Food for Friends in Brighton for 26 years. After he sold that, he was always looking to have one last venture. Daisy and I have grown up in the catering industry. We both worked at Food for Friends and after University I managed Due South restaurant on Brighton sea front. Daisy was running a pub and my dad had an outside catering business.
"It was always our dream to run a restaurant or pub as a family and it was something we often talked about. When my dad saw this place he said 'let's have a look at the place and see if we can do something with it.' When we saw this place we fell in love with it. We looked at a couple of other places but The Crabtree really stood out. It had so much potential, but it was a big risk as the pub had been empty for two years."
The Brewery, Hall and Woodhouse, invested heavily in renovating the pub. The roof was repaired, the chimney was rebuilt and there was a careful restoration of the oldest part of the Grade II Listed building, dating back to the 16th century. Many of the original oak beams have been retained.
There was further investment in the kitchen, which is led by head chef Mark Kinzel. Mark was well-known to Hamish and Simon having been head chef at Sam's of Sevendials. Daisy has had to step back for a while having given birth, but her husband John, who was a carpenter, has adapted well to his new occupation and runs the bar.
Hamish said: "We've kept the whole of the left hand side of the building as a pub. We want people to come here if they just want to have a coffee or a pint, as well as coming here for a three course meal. We don't want people to walk in just wanting a pint to feel like they've stepped into a restaurant – which is why we try to maintain a pub feel and offer a bar menu."
Despite this, The Crabtree is now primarily food-focused. The food on the menu is mostly traditional English dishes. It is a small menu, with only six options – two of which are vegetarian. But it's all fresh and the menu is
altered every few days.
As with other leading pubs in the area, the meat is bought from S.K Hutching's butchers in Partridge Green, and fresh seafood comes in on a daily basis from Brighton and Newhaven Fish Sales. In the summer, The Crabtree hopes to utilise its large garden by introducing a barbeque too, which should take a little pressure off the kitchen.
However, it is its vegetarian options that ensure the Crabtree stands out from its competitors.
Hamish said: "There is a strong focus on vegetarian food and we are constantly changing the options, which all stems from my dad's experience of running a vegetarian restaurant. We normally offer three vegetarian starters and two mains and many people say it is the best vegetarian food they have ever had."
Toby and I, however, were in a carnivorous mood. At the recommendation of our young but friendly waitress, I chose the south coast scallops with red pepper puree and vanilla beurre blanc (£8). It was immaculately presented and the fresh, tender, lightly cooked scallops were superb with a dash of sauce. The only pity is that three scallops don't take long to devour.
Toby was lured in by the braised wild rabbit pappardelle and Sussex Parmesan (£6.50). The dish was well balanced, with the rabbit not too tough or chewy at all, having been braised slowly, and was not overwhelmed by mountains of pappardelle pasta. For main course, I chose the rump of Sussex lamb with potato gratin, parsnip puree and roasted carrots (£15.50). Other options included the braised shin of Sussex beef (£13.50), goat's cheese and basil ravioli (£11), root vegetable and smoked applewood Wellington (£11) and fillet of bream (£14).
The lamb dish was faultless –lovely, creamy, square cut potato with a crispy golden-brown topping and fresh, succulent slices of local lamb. There was a touch of Déjà vu as Toby once again claimed to be 'taking one for the team' as he ordered the steak! On this occasion it was the Sussex sirloin steak with fondant potato, vine tomato, Portobello mushroom, red wine sauce and Crabtree butter.
Again, it was beautifully presented and excellently cooked, with a decicious sauce full of flavour. Seeing as the Crabtree has a pastry specialist, it didn't seem right to leave without trying something from the desserts menu. Amy Norman prepares fresh puddings daily, even making her own sorbets and ice creams at the pub, and they all look delicious. I decided to go for three British cheeses from the cheese board.
I was presented with seven English cheeses (including Sussex cheddar) of which I could choose three for £7.50. They are served with bread and crackers. The cheese option may be particularly tempting for wine lovers, who may find The Crabtree particularly appealing. As a family of wine lovers, the team at the Crabtree have put together an impressive wine list, which includes English sparkling wine from a Ditchling vineyard and several South American wines. The bulk of the wines though come from France.
Hamish said: "The whole family are wine lovers. We've always had a house down in France, so have grown up enjoying wine with our food and talking about wine. We always intended to have an extensive wine list. Most of it is European, with a strong emphasis on France as they are the wines that we love and are most passionate about. We use (London-based wine supplier) Enotria as they are really enthusiastic about wine.
"I've been to a lot of pubs where you just end up having to drink rubbish wine and I don't see the logic to it really. There are a lot of people who appreciate a good wine and we get some great comments from people about the wines we offer. We change the wine menu with each season too. At the moment rosé is not in season but that will come in soon. We're trying to train the staff up so they can all make recommendations about which wines to serve with each dish."
Even to those uneducated in the world of wine though, The Crabtree is a great place to eat. Even on a Thursday night, when we visited, the pub was busy. That can only be down to good food and the friendly, family-feel of the pub. We enjoyed every aspect of The Crabtree and having missed out on the lemon tart with blood orange sorbet, we will be returning in the not too distant future.
For more information visit http://www.crabtreesussex.co.uk/