The Horsham Cellar: Aiming for Grapeness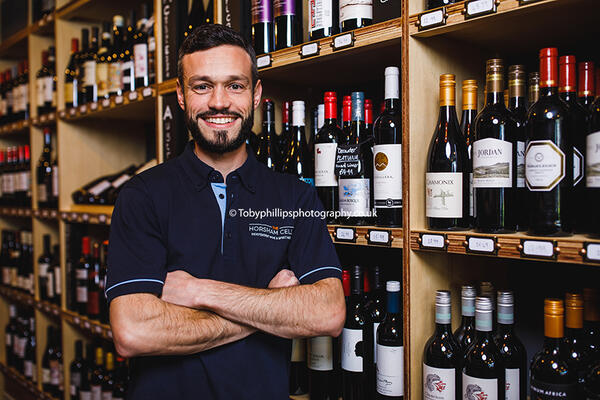 Published on 2ndNovember 2018
Horsham has a new independent wine merchant, run by the experienced Luke Smith. The Horsham Cellar opened in the Carfax in September and has been praised for its wine range of high-quality wines from all over the world. With special tasting events coming soon, the shop offers something new and exciting to wine drinkers.
Luke explains how he plans to use his knowledge and ideas to create a unique experience…

A love for wine...
Wine has been a passion of mine for a long time and I've spent 11 years in the wine trade. I worked as a geologist for five years before pursuing my love of wine at PLB, a family-owned importer then based in East Grinstead. For four years, I travelled extensively, working in partnership with producers in Spain, Portugal, Australia, New Zealand, California, Chile and Argentina. I developed a broad knowledge of wines, particularly those from the New World.
I moved to Nyetimber, working with major retailers as well as independent shops, restaurants and pubs in Sussex, Surrey and Kent. This experience sowed the seed for me to open my own business. I put the idea to the back of my mind when an opportunity came up at French wine producer GCF (Grands Chais de France). I had never focused on French wines and France is the most famous wine producer of all, so during three years with the GCF Group I was able to really get under the skin of French wine.
An opportunity arises...
I never stopped thinking about opening my own place. When I met up with my former boss at Nyetimber, she encouraged me, so I decided to make the leap. I looked at units in Horsham, as I have family in the town and was aware that it lacked an independent wine and spirits merchant. When the former Age UK unit came on the market, I knew it was perfect for me.
Turning it around from a dated charity shop to a well-stocked wine merchants was a family effort. My dad, a carpenter by trade, built the wine cupboards and my wife, who has an eye for interior design, thought of ways to utilise the narrow space. Several other family members and friends helped with painting, decorating and transforming the basement downstairs into a cellar and tasting room.
Working with small producers...
I work with a small and select group of suppliers, as my focus is on family-run producers making high quality wine. They're not big enough to supply supermarkets, but they're producing fantastic wine. I have bottles from all over the world, working with specialists who can access great wines that you might not have tried before, including some quirky offerings. I have a German red and Riesling from Catalonia. I also have Nyetimber, as it's one of the best sparkling wines in the world.
The wines range in price from £6.99 to well over £100. When you buy a £5 bottle in the supermarket, the overwhelming majority of your money goes on excise duty, taxes and retailer margins. The wine itself will be poor value for money, so it's always worth spending a few extra pounds. However, I have wines that deliver genuine quality at an affordable price, as they're not heavily marketed. Ai Galera is a splendid Portuguese wine worth every penny of its £7.99 price tag. It has a beautiful label too.
I'm being fair to consumers by keeping prices consistent all year round. Some major retailers inflate prices, so they can promote wines at a discounted rate for short periods. It can be very frustrating as a consumer when you find a bottle at half the price you paid for it a few days' previously.
Don't be intimidated...
Buying wine should not be scary. There's no need to be intimidated by a wine merchants. I want The Horsham Cellar to be friendly and approachable and I'm always here to advise people.
You don't need to know the name of every grape and every wine region in the world! Just knowing if you like a dry white or a zingy citrus taste or a full-bodied red, or even knowing what you plan to eat, is enough for me to make a recommendation. That's the beauty of being independent; I have the experience to answer questions. That can be particularly useful if you're organising a celebration or a wedding.
Small spirits range...
As well as wines, I love gin and particularly whiskey. I have the same ethos when it comes to my spirits range, so we offer whiskey, gin and even tequila by small batch producers from all over the world including America, Scotland and Italy. They all have an interesting story, but they are all products that taste good. We also sell beer by two fantastic East Sussex breweries, Harveys of Lewes and 360 Degree Brewing in Sheffield Park.
The wine industry grew year-on-year for decades, especially as New World wines came to prominence. In recent years, wine has endured a slight dip as the gin and whisky markets have grown exponentially. Craft ale and flavoured ciders have enjoyed a resurgence too.They've been more creative and adventurous with design, packaging and marketing than wine producers. However, with a little education, people will come back to wine.
That is why we have a tasting table and will soon be offering sampling events. I'm hoping that people will come in and enjoy our wines and hopefully we can grow the business through positive word-of-mouth.


Visit The Horsham Cellar at:51 Carfax, Horsham, RH12 1EQOpen: Tuesday - SaturdayInfo@thehorshamcellar.co.uk https://thehorshamcellar.co.uk