The Countryman Inn, Shipley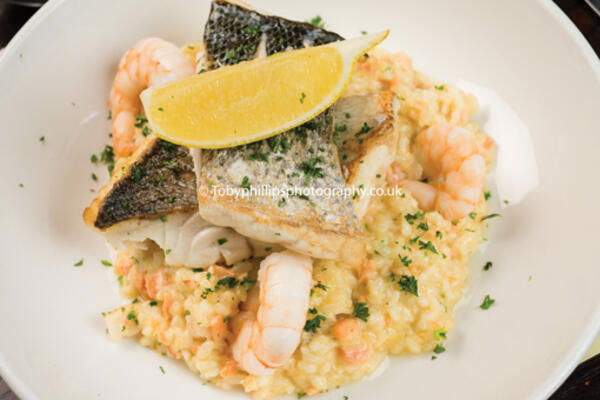 Published December 1 2014
This summer, whilst walking through an area of woodland in Shipley, I stumbled across a faded campaign banner close to the edge of a rural road. It had been battered by years of exposure to the elements, but you could just about make out the words 'Say No to Polo.'
The banner harked back to a debate that ruffled rural feathers over 25 years ago, when clearly not everyone in an area with a strong equine tradition was in agreement over the plans of the polo fraternity.
I wondered how much longer this sign might have stayed in the same spot, had I not disturbed its moss gathering existence, as quite frankly not a great deal seems to change in Shipley.
Take The Countryman Inn, just half a mile (or about six properties) further along the lane. When the sign was, all those years ago, freshly painted and proudly displayed on a prominent spot passed by a few dozen cars or horseboxes each day, Alan Vaughan would have been pulling pints at the village pub.
He is still there today, and whatever keeps people in the village for so long is clearly infectious. Of the four chefs at The Countryman, it's been seven years since the newest recruit joined the team.
Comfort Food
So it's no surprise that, with such experience, Alan and his chefs have long since settled on a winning formula that ensures the pub is more than just an important part of parish life.
Alan said: "We found a niche market where we concentrate on comfort food, rather than fine dining. We did go down the fine dining route about 10 years ago and had a couple of years when we were relatively successful with that. But then we decided that it wasn't an area that we felt comfortable in.
"I have been here for nearly 30 years so know the market. We have been through a few ups and downs over the years and made a few mistakes as everybody does, but for many years now we've offered a homely, relaxing atmosphere in a non-pretentious setting.
"That is easier said than done, but the more practise you get, the easier it becomes. Gary Player once said after he sank an 18 foot putt and somebody called him a lucky golfer, that It is the same with us.
"Because of our location, with farmland all around us, initially it was important to concentrate on local trade. But now we find that people come here from Horsham, Southwater, Storrington, West Chiltington, and towards Burgess Hill and Haywards Heath as well. People feel comfortable here no matter what they are wearing. We get people here in muddy boots and barbour jackets, sat next to people in pinstripe suits."
Keeping it Local
These days it's commonplace to hear businesses highlight their quest to source local produce, which is wonderful and long may it continue. But for decades, Alan has been taking that a step further.
A small area near the main bar has become a small farm shop, where local preserves, chutneys, sweets, oils, as well as fruit and vegetables, are sold. Some of the produce is grown inside a 40-foot Polytunnel, greenhouse and half an acre of land behind the pub, which supplies the kitchen all year round.
Alan is currently growing winter veg including cabbage, parsnip and Brussels sprouts, as the last of the butternut squash and pumpkins are cultivated. Whatever is not used by the chefs is sold in the 'shop', with some people visiting daily for a bag full of produce.
It adds a healthy dose of colour to a pub otherwise more traditionally adorned with prints and paraphernalia from the rural pursuits of cricket, hunting...and a little jazz too. In addition to using and selling its own home-grown produce, The Countryman has developed several 'reciprocal arrangements' with locals.
Alan said: "A lot of people in Shipley grow vegetables in their gardens. They don't do it on a commercial basis, but they are quite prolific, so there are a lot of surplus vegetables grown here. Some bring us what they grow and in return they will come down for a free meal every now and again. This works really well for everyone. It helps us to ensure that the produce is always fresh, and it's a great community asset. For us, it's lovely to be involved in that kind of arrangement."
Tweaking the Menu
The Countryman has four chefs working on a rota basis, all having been at the pub for between seven and 12 years. Rather than have designated roles, they take it in turns to be 'head chef.' Alan says this helps "alleviate the boredom" of being stuck in one role with little chance of progression, allows each chef the chance to lead the team, and eases the burden on any one chef.
The Countryman's à la cart menu is tweaked to fall in line with the season, but you will always find meat from Sussex Lamb, handily located quite literally next door.
Alan said: "We are always keeping an eye on what is happening in the marketplace and tweak the menu according to trends. Last year, there was a street food element on our specials board throughout summer, as that's what people were looking for.
"The lamb, pork and game dishes are changed to suit the season. At this time of year, because of the weather, there isn't much variety of fish on the menu because we only deal with family fishing boats operated by two of our customers out of Brighton.
"What you see on the fish board will just depend on what comes in every morning. We have people delivering fish five days a week. They turn up here, sometimes at 7am, with a fresh catch. Because of this, I suppose we are becoming quite well-known for our fish, as it is generally no more than 24 hours old."
Succulent Scallops
With this information on board, we armed ourselves with a menu, as well as a list of the day 's specials. Starters include Countr yman meatballs (£7) salt 'n' pepper squid (£7) and a smorgasbord of fish (£8). However, as a table of four (wives joined us on this occasion, as I've grown tired of Toby deser ting me to take photos) we chose local pheasant and chestnut terrine, moules mariniere (both £6), pan seared scallops (£12) and hoi sin lamb wrap (£6).
My wife, Kelly, swiftly took the mussels, which were fresh, of a pleasingly healthy size, and were delivered steaming in a flavoursome sauce with a hint of garlic.
The scallops too had that 'straight from the net' freshness. They were served with rustic bread to keep Toby occupied after his scallops inevitably disappeared in a few seconds. His finer half, Maria, opted for the terrine, and loved the green tomato chutney which added sweetness to the dry flavour of the pheasant.
Maria's only complaint was that she felt the terrine was too cold, which didn't bring out the flavour of the chestnuts. I was left with the hoi sin lamb wrap, with shredded lamb and spring onion in a tortilla wrap. It was a safe dish, although the meat was excellent and richly flavoured and the tortillas were more than aqequately filled.
Moving on to Mains
Visitors to The Countryman can take their pick of a selection of baguettes and flatbreads, including prawn and crayfish, smoked salmon, brie and redcurrant, and sausage and onion. However, with the exception of pan fried sea bass fillet (selected from the specials board) we stuck to the Classic Favourites page of the menu.
Toby chose the slow roast pork belly (£13.50), served with bubble and squeak made with cabbage, bacon and red wine jus.
For only the second time in AAH history, Toby could not finish his meal, which can be attributed to a late cheese on toast lunch rather than any sense of dissatisfaction. He felt it was a perfect piece of pork belly, with succulent and well textured meat onn top of a delicious, moist and well-filled bubble and squeak.
Maria selected a second starter, the feta, beetroot and onion marmalade filo tart (£6). It was delicious, with a light, filo pastry, moist beetroot and a generous amount of gently roasted feta. It was nicely balanced, with the fillings not being overwhelmed by the pastry at all.
Also impressing was Kelly's sea bass dish (£14), with the light, fresh taste of this mild fish brought to life with a deliciously moreish crab and prawn risotto, which was moist enough to prevent the dish being too dry. I also enjoyed my Mediterranean style shoulder of Shipley lamb (£15.50) served with a chunky tomato ragu with chorizo, cannelloni beans and new potatoes fighting for attention.
Other than the salad, which was not needed, it was a pleasant and attractive dish, with the meat flaking off the shoulder into the (not overly) continental combinations in the sweet sauce.
We did try a couple of desserts. The chocolate orange tarte (£5.30) was rich and well layered, although the orange flavour was on the subtle side. The raspberry and hazelnut meringue roulade (£5.50) was light and pleasant enough, whilst lacking a little drama.
Yet having said that, creating drama on the dish would not fit in with what has made The Countryman so successful. The dishes are all nicely presented, but never is a 'hearty' plate sacrificed for a better looking one.
For a long time, The Countryman has been serving consistently good foot in a warm, comfortable setting. In a parish where so little seems to change, it's reassuring that the same can be said for its local pub.
View menus and details of upcoming swing and jazz music nights at www.countrymanshipley.co.uk