Billy's on the Road, Billingshurst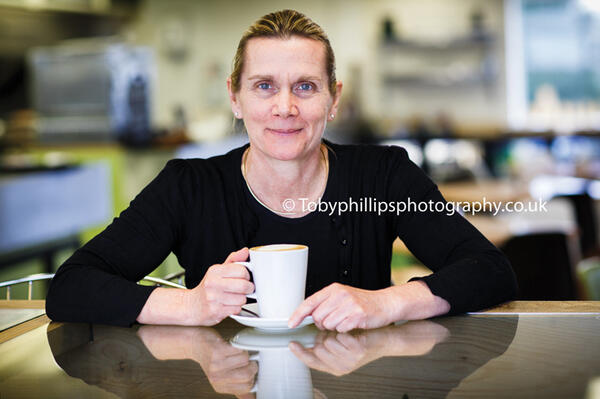 Published 2nd April 2014
In America, the most famous roadside cafes tend to rely on a ludicrous theme, gimmick or disgracefully ridiculous portions to attract customers.
smoked ribs in the States still needs to rely on its space age theme; you enter the Space Aliens Grill and Bar through a spaceship shaped entrance.The Big Texan can't just rely on its 72oz steak to make its name. No, it needs a giant cowboy boot and rodeo bull to promote its monstrous meat challenge.
But here, our roadside cafes and diners are low key and unassuming. They seem to be going through a transitional period, rebuilding their reputation amongst the public.
Let's be honest, the last 20 years have not been kind to roadside diners. Too many poor dining experiences led to too many people walking out muttering 'never again!' The coffee chains gleefully stepped in to exploit the opportunity.
Now, anyone running a roadside cafe must not only carve a reputation for themselves, but battle against the problems of the past. However, at a former Little Chef site in Billingshurst, Billy's on the Road is starting to turn a corner. It doesn't look like much from the outside - with its lime green and white striped panels - but the food and the service on offer inside has won many admirers.
It started off with the tradesman and lorry drivers, before the locals picked up on this unexpected treat, and now after just over a year in business, Billy's on the Road is a surprise leader on Trip Advisor's list of Billingshurst restaurants.
At the helm is Billy Willison, who has vast experience in the industry. Billy said: "I started out in London about 35 years ago, running wine bars and a restaurant and did everything from cooking to running the front of house.
"I ran my own wine bar in London for eight years, before selling up and having children. I was abroad for several years, and then did outside catering for weddings and functions in Oxfordshire for ten years before I moved to Slinfold.
"I wanted to go back to doing what I do best, so we looked around for a location. I couldn't afford to be in Horsham as the rents are so high. This building came up, and I only live a mile up the road, so it was perfect!"
However, there was a lot of work to be done. Little Chef had closed in August 2012 and when Billy picked up the keys two months later the whole place needed extensive refurbishment. Billy said: "It was the saddest, most tired, run down premises I've ever seen. Nothing worked, so we started from scratch. We put in new windows, laid new flooring, and repainted everything.
"This site has had a café on it for 45 years, as before Little Chef was here it was Jane's Tea Room. So it's the ideal spot, it just needed someone to bring it in to the 21st century. We don't have too many roadside cafes around here. We have Toat café to the south but nothing from here until Horsham, so there was a gap in the market. If you're on the road, where do you stop if you're not a fan of coffee shops? So we thought 'let's look at making a really good roadside stop, but as it happens it's turned into a regular eatery for lots of local people too."
On entering the café, the first thing to catch your eye is a huge wooden table, surely stretching 12ft, with a rather
intriguing feature within it; a detailed model railway layout, constructed by Andrew Peppercorn and Daphne Watkins. Along with a dolls house and reading area, it's a popular feature for the kids, and for just 50p the operational trains keep the kids quiet for a few minutes.
But it's the food that Billy is focused on. She said: "We're big on breakfast, big on brunch, but we try to make it more interesting. I travel a lot and eat out as much as I can, as I'm a Londoner at heart. You go to some cafes in London and you are served the most fabulous food. Just as it's a café it doesn't have to be boring. I try and serve a decent coffee too. I spent a lot of time working with a coffee company to create the right blend for us here.
"A lot of people are surprised by what they find. They see the outside and don't have high expectations, but when people walk in the door, they find it really positive and inviting. I want people to be smiled at and looked after.
"I took on a few of the old Little Chef staff, including Fran Rogers, who was the manager. She has been part of the building for 30 years. All the people who used to stop here know her and they are really pleased she is here.
"She offers a great service, as does everyone here. Nothing is too much trouble, and that's our attitude."
After checking out the model railway, where we also enjoyed a nice cappuccino with a chocolate sprinkled 'B' on the surface, we put in our order. Billy was keen to point out that her café wasn't the sort of place where you could order a three course meal, but there is a wide variety of dishes on the menu.
There's a whole host of breakfasts, including the cowboy breakfast (with 3oz sirloin steak, two fried eggs and chips for £8.95), Huevos Rancheros (bean, tomato and chorizo stew, topped with fried eggs and melted cheese for £7.50) and fishy breakfast (Scottish smoked salmon with scrambled eggs and two toast for £8.95).
7.95). The tightly chopped tomato and peppers made for an attractively presented dish, and considering the melted cheese and fried eggs it was surprisingly clean on the palette too.
Also on the menu are a range of breakfast baguettes and baps, where you can essentially pick what you would like, and grilled toasties too. These include Billy's Special, consisting of cheddar cheese, ham, tomato, spring onion and English mustard, for £5.50. A range of main meals include Billy's Burger (which we're told is very good) for £8.50, butterflied marinated chicken breast ((£8.95) and Billy's Welsh rarebit (£6.95).
However, we chose a dish from the Specials menu. The salmon, prawn and mushroom lasagne with salad (£9.50) was, once again, well presented with an appealing side salad. The pasta was cooked al dente and the ample seafood was fresh and flavoursome.
Billy later pointed out that she sources much of her food locally, with suppliers including John Murray Butchers in Loxwood, the Pure Oyster Company, and fruit and vegetable suppliers from Nutbourne and Chichester. That commitment to local produce is clearly paying dividends. Billy 's on the Road also boasts a fine range of cakes and pastries, so we tried the soft, warm and delicious ginger pudding with ice cream, and one of Billy's home-made pancakes.
They have several filling combinations on the menu including Greek yoghurt, blueberries and honey, or cherry with vanilla ice cream. We went for a strawberry with maple syrup pancake for just £3.25 (only £4.50 for two) and once again if gave excellent value for money.
Throughout our whole experience, the service from two young waitresses was genuinely relaxed and friendly, and the open kitchen gives fresh confidence to those pulling up at the diner for the first time in a long time.
We also noted that two other diners conversed with us, and both had a great deal of positive things to say about Billy's on the Road, which is always a good sign.
Billy herself said: "We've been here 14 months, and we can be pretty pleased with where we are. People still associate this site with what has been here previously, so it's vital they have a completely different experience when they come here. But it does feel like we're building momentum now. We think we're going to have a big summer."
After a long period in limbo, maybe the days of the roadside diner are steadily returning.
For more visit www.billysontheroad.co.uk or call 01403 784289.