The Blue Ship, The Haven, Billingshurst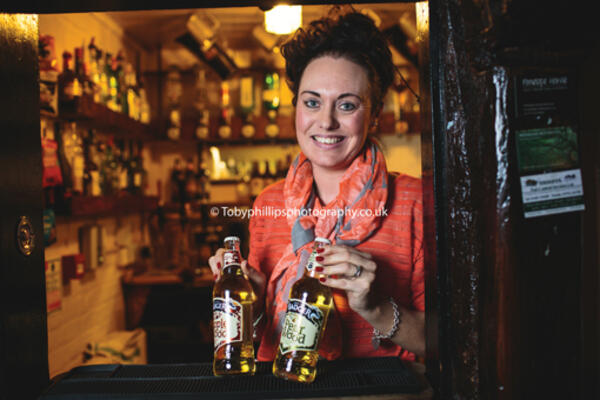 Published on 3rd February 2015
'You see that gap there. That's the bar! Toby, the AAH photographer, is sat by the fire with a pint of ale, beaming gleefully like he is the first person to ever reveal the tiny bar, which leaves punters with little option but to form an orderly queue.
'Really, there's nothing round the other side?' I replied.
A table of regulars sat grinning at one another, pondering how many times they had heard this same reaction from people stumbling upon The Blue Ship for the first time. Not that you can really stumble upon The Blue Ship.
It's tucked away along a lane off The Haven, a rural road linking Five Oaks with Rudgwick. You've either been in there, or you've never even seen it!
I had decided I would like the pub from the moment I realised that there was no car park of any kind and that I would have to find a space along the lane and walk to reach the pub, in a building dating back to the 15th
Century.
With 400 years of history behind it, The Blue Ship is of course a listed building. Therefore, it's unlikely that the bar will be extended. I am later told that even efforts to paint the front door were met with enough resistance to abandon the idea!
It's been a pub for so long that nobody is even quite sure where it got its name. It may have originally been called The Blue Sheep, with Sussex dialect changes responsible for the name being lost in translation. Others contest that a small river running through nearby Smerrick's Copse was much wider years ago and flowed into the Arun, thus bringing boats (or blue ships carrying blue sheep) as far as the pub.
What is certain is that The Blue Ship, owned by the Hall and Woodhouse brewery, is now run by husband and wife team Simon and Sophie Bailey. Simon is the chef, whilst Sophie helps in any way she can. Sophie's parents Graeme and Jacquie can also be seen helping out on most nights.
Sophie said: "We've been landlords for three years, but Simon worked here for another six years as chef for the previous landlords, Colin and Sue Cathie. They were offered another pub after spending six years here, and so the opportunity came up for us to take over The Blue Ship and we thought 'why not give it a go?'
"Colin and Sue ran a really good pub but, without criticising them at all, there wasn't much emphasis on food. It was standard pub food, and whilst we didn't want to turn The Blue Ship into a gastro pub, we believed we could and should improve the food. We are off the beaten track so food is key to our success. We have drinkers but you can't survive on drinks alone.
"Now we find that people will come a long way to eat here. We see people from Surrey and London regularly visiting us.
"People do like the quirkier elements of the pub, as they have their own charm. As far as we know, it is only us and one other pub that has that single store bar. People do have to form an orderly queue and it can snake out of the door during the summer. We may be hidden away but it does get busy here in the summer as we have a nice children's play area. We also host summer events, with country music from the likes of The Hicksville Band.
"When it is busy you do curse the bar, as it's no longer a charming feature but quite annoying because you can't serve more than one person at a time! But we don't worry too much, as people know about the bar when they come here and that is one of the things they love. It has taken us three years to get it to where we want, in terms of the food and menu. It's been a hard slog but it is starting to have been worth it!"
The Ultimate Burger
Sat by the fire opposite the bar, we picked our choices from the menu all around us. The menu is actually displayed on chalk boards on three sides of the room, with a more traditional menu available to those eating outside or those with neck ache.
Starters include battered calamari rings, Sussex beer battered brie wedges, devilled whitebait, mango and chilli butterflied prawns (all £5.25) and salt and pepper squid (£5.95). We chose the squid which, whilst light and pleasant, didn't represent great value for money with only four quite small squid balls.
They did, however, come with a devilishly delicious sweet chilli sauce. We also chose a dish on the specials board – a perfectly baked whole camembert served with plenty of thinly sliced fresh ciabatta (£9.95). Main courses include the Sussex beer battered cod (£11.45), curry of the day (£11.50) home-made steak and ale short crust pie (£12.45) as well as wholesale scampi, fishcakes, macaroni cheese, chilli con carne and home cooked ham with two free range eggs and chips.
Whilst that all sounds pretty standard for a country pub, there is something a little different here. Something more suited to Texas cowboy country than a tranquil Sussex hamlet. That's the Ultimate Burger Challenge.
This is a 1lb burger in a made-to-measure bun, filled with home-made coleslaw, three rashers of bacon, melted cheese, lettuce, tomato and a Kentucky bourbon sauce (£17.45). It comes with a huge side of French fries, and should you eat everything, you will receive a free T-shirt to tell the world of your stomach-bursting feat.
Simon said: "The burger menu is probably the biggest change that we have made, as initially we only offered a cheese and bacon burger. Now I think we have eight different burgers. The Elvis burger will probably have to be moved on to the main menu. It was his favourite burger and as a fan of The King I created it for what would have been his 80th birthday.
"The burger is topped with cheese, lettuce, tomato, mayonnaise, red onion, gherkin and mustard. Our home-made burgers have become very popular. The big one is the ultimate burger. It started off as a bit of light-hearted marketing really as people like the idea of winning a free T-shirt. We were inspired by the American TV food show Man Versus Food, although by the show's standards this isn't too ludicrous.
"It is a good burger as it's all home-made. The mince comes from Countryside Meats in Adversane, and the buns are specially made by Jengers Bakery in Billingshurst. I told them what I wanted to do and they created a batch of buns for me, but the buns were a little bit too thin. So they made a second batch almost twice as thick and they're just right!
"We've now had 21 people complete the challenge. Quite a lot of others have tried and failed though. Some people prepare themselves by not eating at lunch time! I have tried it once, during a landlord's challenge event here, but I couldn't manage it."
Toby thought he was man enough for the challenge, but bowed out meekly, having barely munched into the second half of the burger and leaving most of his chips too! He did at least earn some respect from one punter with his ambitious eating style!
He really enjoyed himself though, as the meat was fresh and of a good quality, and the coleslaw was also singled out for praise. Unlike similar disproportionately sized meals seen on TV, the ultimate burger did look good. You set off wanting to eat it all.
Serious Sorbets
Also on the board is a range of hot dogs, including the American smokey, Frankfurter, and the very hot 'Satan'.
I played it safe though and went for the steak and ale pie. It was just the type of hearty, home-made classic pub food that I love. No frills, just good chunks of steak in a well-cooked pastry, swimming in gravy.
Toby's wife, Maria, chose pulled pork with green chillies served with rice pitta bread and home-made coleslaw (£11.95). Again, it was simply and reliably presented yet pleasing for its generous amount of moreish, spicily-flavoured pork.
Dessert options include a chocolate steamed pudding, sticky toffee pudding, spotted dick and jam sponge, all served with a choice of custard, cream or vanilla ice cream (all £5.75). On Sophie's recommendation, we shared a fantastic ginger pudding with custard and also a trio of ice creams and sorbets, supplied by Seriously Real ice cream company in Pulborough.
There are many flavours to choose from, but for what it's worth the three we tried - honeycomb, blackcurrant cassis and orange liqueur – were beautiful!
It doesn't happen very often, but we were surprised by The Blue Ship. I've always known it was there, yet have never heard enough positive comments to take that road. Now it has a friendly, family-run feel to it, the food is honest and hearty, and the building gives The Blue Ship a charm that few other pubs can match. I loved it.
Review: Ben Morris
Pictures: Toby Phillips