Restaurant Interlude, Leonardslee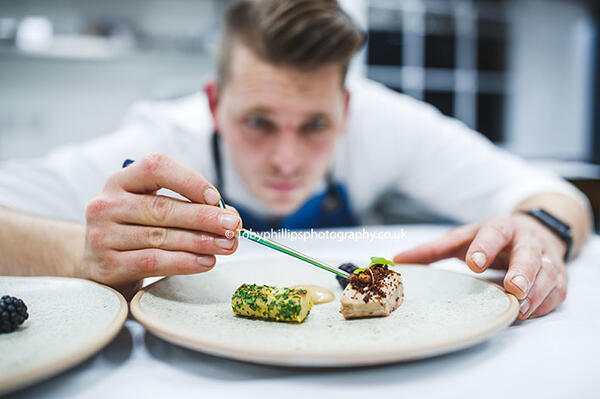 Published on 1 December 2018
From the moment the first dish arrives, it's evident that Interlude is going to be a unique experience.
The tree of crackers is described as a "visual representation of the gardens throughout the year." A variety of crackers made with seeds and squid ink are so thoughtfully portrayed as leaves that it seemed almost a shame to pluck them from the branch and coat them with the sublime smoked cream.
The menu continued to surprise and excite in equal measure. Whether it was a delicious ball of estate rabbit served in a ceramic pot or foraged acorn incorporated into a divine chocolate crémeux, the evening provided a culinary journey of the Leonardslee estate. And yet, the restaurant was almost empty. For whilst Interlude is up-and-running in the grade II listed manor, the gardens will not open tothe public until next spring.

Executive Chef Jean Delport said: "Initially, the idea was to open the restaurant at the same time as the gardens, but there has been delays due to planning regulations and building work. However, after extensive restoration, the house was ready. As far as Interlude was concerned, we couldn't stall any longer, as we'd employed staff."
"It's not the ideal scenario, as we don't have the footfall that we would expect as part of a major attraction. But it has given us the opportunity to work through the winter and prepare for when the gardens open. There's a lot of work going on around the estate, but the driveway is accessible and we want people here for a meal or afternoon tea."
SOUTH AFRICAN INFLUENCE
Leonardslee belongs to Penny Streeter, who also owns Mannings Heath Golf and Wine Estate and Benguela Cove vineyards in South Africa. Penny's son, Adam, has spent the last 18 months overseeing the intensive restoration of the historic gardens and Grade II listed house, as Leonardslee prepares to open to the public again.
Jean spent three years working at nom nom, a Benguela Cove restaurant in Somerset West near Cape Town, gaining a reputation for fine dining. He is joined by fellow South African chef Ruan Pretorius and together they have created a menu using ingredients from the estate and selected local farms.
There are dishes incorporating sweet chestnuts, some of the gardens' 150 varieties of pine tree, rowan berries preserved in syrup, watercress from the estate's fast-flowing streams, lavender petals, elderberries and birch tree sap. A decliously delicate ginger beer treat incorporates the scent of the meadowsweet flower. Occasionally, South African influence shines through, with the estate's four species of deer used in a biltong and mushroom dish.

"When we first arrived, we saw a beautiful botanical garden that wasn't producing much wild food," says Jean. "But through spring and summer, we discovered that the gardens were producing natural ingredients in a way we hadn't envisaged."
"Dealing with mushrooms was scary. There are wild mushrooms back home, but I've never had the opportunity to learn much about them. So, we brought in a wild food expert to help us identify what we can use and now have half a dozen mushrooms we're happy to work with. We're looking at other foraged foods and working with the gardeners to cultivate more, as we try to create a menu that tells the story of the garden."
"We harvested many fresh herbs, fruits, nuts, plants and leaves in the summer and that will carry us through autumn and winter. But going forward, we want to grow as much as we can here, so we'll be creating a vegetable garden and herb house so that the menu will be always evolving as the seasons change."

A LONG NIGHT

Diners be warned – it's going to be a long night! With the option of 16 or 20 courses, the experiencetakes time, especially as every dish has a story to tell.
The beef from Trenchmore farm in nearby Cowfold has been aged for 72 days on the bone to maximise flavour; honey has been harvested for months and blended with floral flavours to create a quirky s'more dessert; nettle and dock seeds from the estate are used to give earthly characteristics to the bread. Even the exuberant egg, potato and Exmoor caviar dish can be traced to the estate.
"I always loved chickens as my dad kept them," says Jean. "We have built a new chicken coop and have a small flock here. They move across the pasture feeding on seeds, grain and other nutrients in the soil. As a result, the eggs are amazing."
"We recreate these conditions in the dish, but there is a lot of work behind it, as even the yoke is cooked in oils very slowly for an hour and a half. There's a hint of nostalgia too, as we serve brioche soldiers that reminds people of childhood memories."
"There's nothing worse than having stiff fine dining and that's not what we're about. We want this to be a relaxing experience and that's why we start with the tree of crackers, as it helps break the ice. When people sit down, they're not entirely sure what they're going to get, as it's about enjoying something that's a little bit different."


REPORT: BEN MORRIS
PICTURES: TOBY PHILLIPS
Restaurant Interlude is open Wednesday to Friday: 5 – 10pm, Saturday: 5pm – 11pm. For reservations: (01403) 289490 or visit www.restaurant-interlude.co.uk or email info@restaurant-interlude.co.uk