The Windmill, Littleworth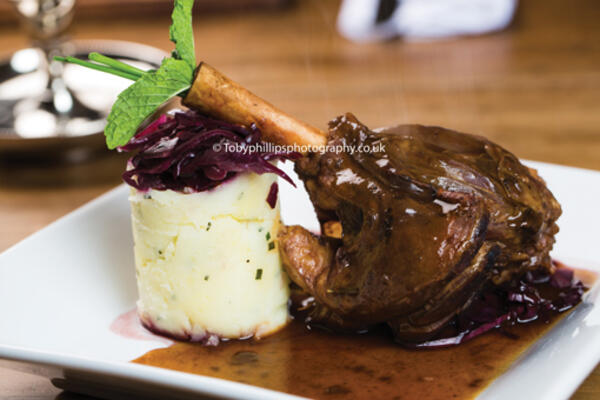 Publsihed on 3 March 2015
"So is there actually a windmill?" asks Toby, the AAH photographer, as we settle down for a pint of Sussex Best.
"I don't think so. It's just a pub name,'" I reply. "The dog and duck wouldn't necessarily have a dog and a duck in it, would it?"
Toby ignores my patronising answer. "But that is a standard pub name. You would expect a pub called The Windmill to have some connection to a windmill," he says. It's a fair point.
"I didn't see one, but then again, it is dark. There might be one out there somewhere."
As it turns out, I'm right. But it's quite a way out there, near Gatwick, in fact. The remains of the Jolesfield Windmill sit within a hotel car park, having been sold in 1959. Even without the mill, the pub continued to be the heart of the small community in Littleworth, on the outskirts of Partridge Green, for another 50 years.
But its days appeared to be numbered when brewery Hall and Woodhouse put the pub on the market.
The Windmill's manager David Lennon recalls: "I have worked at The Windmill for nearly 20 years, helping my dad for most of that, until I took it over the tenancy when he retired a couple of years ago. The brewery just wouldn't spend any money on the pub and in the end it became too much for us. It was frustrating as we knew that the brewery was spending money on improving other pubs.
"We've always primarily been a drinker's pub, as although we had a steady food trade we could only seat a handful of people, which limited us in terms of what we could offer. It reached the point where running the pub was actually costing us money, so we handed in our notice and the brewery put the pub on the market."
THE PUB RETURNS
West Grinstead resident Charles New sensed an opportunity, so put in offer, which was eventually accepted.
With a background in property development and no experience of owning or running a pub, Charles spoke to David, to see if he would continue as manager if he invested in improving the pub.
Charles said: "The Windmill has been an under-utilised pub. In the past, the only good area of trade was the locals bar. This side of the pub is brilliant because we have regulars coming in for a pint, and that supports two bar billiard teams and a darts team.
"Whilst that keeps the pub going during the week, we needed to create more space for dining so we could move forward. I think some of the locals were worried that I might come in and knock it all down and turn it into a big restaurant, but I was always speaking to Dave so I knew how important the drinking trade is here.
"So we created a new dining space from what was an old bathroom, and looked at offering good food.
"The food was okay, but was just limited as there were less than 20 seats. I think it was renowned for cheese on toast at lunchtime. I wanted there to be no compromise when it came to the food, so we now have a good chef in place and things are improving all of the time.
"We only started offering a proper menu in late August and it's really grown. "We also refurbished the five bedrooms upstairs so David manages the bed and breakfast side of The Windmill too."
CHANGING FORTUNES
David agrees that this has changed the fortunes of The Windmill.
He said: "The amount of people eating here now is massive, as now we can seat 50 or 60 people. We never used to do Sunday roast because it wasn't worth it but now we are fully booked and we going to move up to two sittings. We're really happy with how it's going. I'd quite like it if someone from Hall & Woodhouse could see it, as they will realise that it was worth investing in The Windmill."
The kitchen is now run by Taz Raven, who in addition to the main menu prepares weekly specials. Taz spent four years in the military before becoming a chef about 10 years ago. He has trained or worked at places including The Savoy and The Dorchester before coming to Sussex and landing head chef roles at Abingworth Hall in Thakeham and The White Horse in Storrington. He has been at The Windmill for about five months.
He said: "I use local ingredients whenever I can, so we have Hutchings butchers and source our vegetables and seafood nearby too. As well as that, nearly everything on the menu is cooked to order, even the sauces, and it's proving to be really popular."
F1 SPONSORSHIP
The first thing you notice when walking into the pub is a large display of pictures relating to the pub's sponsorship of the Caterham F1 team towards the end of 2014.
The move to support the financially-troubled team, inspired by Charles's love of Grand Prix racing, brought the Littleworth pub a good deal of media attention. Caterham F1 though has gone, and if The Windmill is to avoid being too far behind it, the recent changes must revive its long term prospects.
From a visitor's perspective, it's pleasing to see that all concerned have resisted the urge to recoup some of the money invested by inflating prices. Main course options are typically priced between £11 and £13, with only the steak dishes in excess of £15.
VALUE FOR MONEY
Starters include baked camembert (£6.50), home smoked trout (£6.50) and soup of the day (£4.95). I chose duck spring rolls (£5.50), a well presented dish with the sweetness of a moreish pineapple salsa blending with a rich plum sauce.
Toby's trout was fresh and well complemented by a liberal dousing of lemon aioli and a rocket salad, with some toasted soldiers to round it off.
Mains range from The Windmill Burger (£10.50) and the chargrilled pork loin (£10.95) to the Southdown duck breast (£12.95) and fillet of lemon sole (£14.95) with a 10oz rib eye steak topping the financial scale at £20.95.
I chose the slow cooked lamb shank (£14.95) with meat from local butcher S K Hutchings and served with minted gravy, braised red cabbage and mash potato. It was simple, effective and offered great value for money.
The dish might have benefitted from a bit more greenery, but every element on the plate was very good, with the tenderly cooked meat bathing in a good amount of flavoursome gravy. Much to the chef's disappointment (he wanted to present us with a more dramatic dish) Toby chose the cod and chips (£11.95) as any pub with a classic English menu should get this right!
Again, there was thoughtful presentation, with the locally-caught cod sat on a fish-themed newspaper report. The cod, battered in Harvey's Best and served with a pot of delicious mushy peas and chips, was another good dish.
There's a fairly standard smattering of desserts on the menu too. We sampled the devilish chocolate brownie, apple and raisin basket and whiskey and white chocolate crème brulee (all £5.95.) The raisin basket was just about the pick of the bunch, which were all pleasant enough without quite producing a wow factor.
But without doubt, for the second month in a row following our visit to The Blue Ship in The Haven, we have been
pleasantly surprised by a pub well off the beaten track. The food was good, the service genuinely pleasant and warm, and there's a good range of beers now on offer, with David now free of restrictions imposed by the brewery.
The Windmill is providing further proof that you don't necessarily need to sacrifice history and tradition to become a successful pub in 21st century Sussex. I would recommend a visit, particularly for a sociable evening out with friends or family.
BOOKING...
Littleworth Lane, Partridge Green, Horsham, West Sussex RH13 8EJ.
01403 710308
www.windmilllittleworth.com