The Queens Head, Barns Green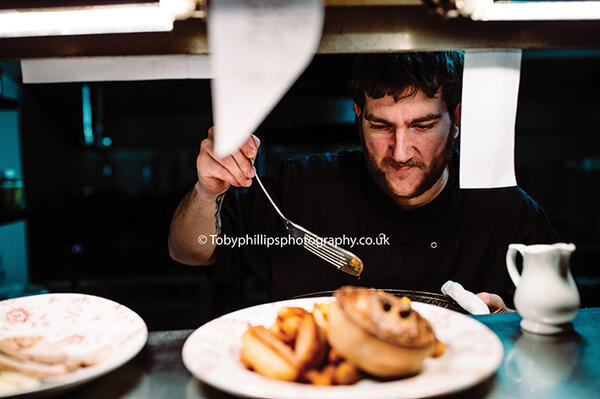 Publsihed on 1st January 2017
When visitors to Sumners Ponds in Barns Green ask if there are any traditional English pubs nearby, the response is very specific.
"Walk to the end of the driveway, turn left, walk for 100 metres."
There they will find The Queens Head, a quintessentially English public house.If you were to write down the 10 things most commonly associated with traditional pubs, you'd find them all here.
Oak beams protruding from a low ceiling at various angles? Check.
Polished horse brass and brass plates decorating oak beams? Check.
Inglenook fire place with a well-stocked pile of dry logs? Check.
Varied array of iron fire pokers, shovels, brushes and pliers with a centuries-old coal bucket? Check.
Photos of village cricket, football and rugby teams going back decades hanging on the walls? Check.
Tankards belonging to regulars swinging above the bar? Check.
The words 'Mushy Peas' and 'Treacle Sponge' on a chalkboard menu? Check.
Hairy dog under a wooden table? Check.
Dark red patterned carpet? Check.Chap with a beard sat at the bar wearing a flat cap? Well, he wasn't wearing a flat cap…
The Queens Head has been a key part of the village for centuries, but there has been changes in personnel of late. Now residing at the pub are Ben and Becks Shire, with their young family and pet spaniels. AAH spoke to the husband and wife team over a pint of Sussex Best.
How long have you been at The Queens Head?Becks: We have been here since February 2016. A friend of ours, Tim Skinner, bought the lease but he is busy running one of his other pubs, The Three Crowns in Wisborough Green. We have known Tim for a long time, so he asked me if I would be landlady here. He still works closely with us on key decisions. Ben works full time at The Butterfly Project in Horsham, so when he's here at the pub he'll do anything from maintenance to washing-up to changing the barrels.
Is this your first pub? Becks: This is my third pub. My first was The George Abbott at the bottom of Guildford High Street, and I then ran The Railway in Burgess Hill. They were both Greene King pubs, so this is my first pub tied toEnterprise Inns. Running a pub is hard and involves long hours, but it's worth it. I love talking to different people all the time and I couldn't do that in an office.
What was your aim when you first stepped through the door? Becks: We just wanted to make sure that the pub was at the heart of the community again. We wanted people to know that if they want to have a pint after work, or meet up with friends for the evening, or pop along for a meal with the family, then this is a good pub to come to.
Is there a vibrant community in Barns Green? Ben: It is a very community-focused village. As well as the pub, there is a social club, village hall, playgroup, school and shop. Barns Green has its own theatre group and choir, where Becks is a member, and I am on the committee of the youth club. We're also involved in the annual Half Marathon, which I'll be competing in, whilst Becks is on the fundraising committee. Barns Green is one of those places where everybody knows one another.
Do you rely solely on village trade? Ben: We do have a lot of people from Barns Green popping in, although we also draw in people from Itchingfield, Christ's Hospital and Southwater. People are happy to drive a few miles for a nice roast dinner. We are also very busy in the summer, because Sumners Ponds is just down the road. That's why it's important that we are welcoming to families with children and pets. Summers are lovely here, as we have a big garden and it's a safe place for young people.
Are you now a food-focused pub? Becks: When we first arrived, we had to decide what food would suit the pub. The Three Crowns is a gastropub with an excellent menu, and initially we thought about going down that route. But once we had settled in, we spoke to Tim and we all agreed that The Queens Head is a traditional pub that needed to be traditional with its menu. Pies had been very popular in previous years, so we looked at making them a key feature of the menu once again.
Where do you source your pies? Becks: We teamed up with Pieminister, who deliver fresh, handmade pies directly to us. They have a very good following and are well-known on the festival circuit. We met with people from Pieminister, talked about their ethos of using organic, free range produce, and we thought that they would be a brilliant partner for us. They offer high quality pies every time with some great quirky flavours, and we don't have to worry about whether it will look good on the plate as they always do.
What else is on the menu? Ben: Over winter, we reduce the menu slightly, so we have pies and pub classics including bangers and mash, burger and chips and fish and chips. In the spring, we'll be launching an extended menu with more dishes and sandwiches too. With the exception of some basic items, our food is fresh, so we have to run a smaller menu in the quieter months otherwise we'd be throwing food away.
Who is the head chef? Becks: Gary Davies runs the kitchen in the evening. He only joined us a couple of months ago, although he worked with me in Guildford so I knew what he could do. More recently, he has been working in catering at Mercedes-Benz World. Sue Roberts works in the daytime and she has been cooking for about 40 years.
You also host music events and themed evenings? Ben: We host a night of acoustic music on the first Wednesday of each month, a charity quiz on the second Tuesday and a curry night on the third Wednesday. Dave Grout, who lives in the village and used to organise the music festival on the Green, helps book local acts for some of the music nights. We have a long garden with speakers, so in the summer we can host acoustic music outside too.
Have you changed much of the pub's interior? Ben: I used to drink in here 20 years ago, as a friend of mine lived just around the corner. When I came here with Becks, I walked through the door and it was exactly the same. Nothing had changed. Over the last year, we have been decluttering. But it is difficult, as many items and pictures hanging on the wall are owned by villagers. We have photos of sports teams dating back decades, and even a random selection of Isle of Wight mugs hanging from the ceiling. We have taken a few things down here and there, but we don't want to upset anyone as the pub is part of the community and villagers have put their stamp on it in various ways down the years.
Which ales do you serve? Becks: We have London Pride, Harvey's Sussex Best Bitter and Spitfire Gold. I have two pumps for guest beers, one of which usually has the Best Bitter from Long Man, and on the other we rotate lots of different beers including Timothy Taylor and local brews from the likes of Dark Star and Firebird. In the summer, we serve cider on a sixth pump. We do have a lot of ale drinkers here as we serve a good pint.
Who do you think The Queens Head appeals to?Ben: We are a traditional pub serving good food. There are plenty of lovely gastro-pubs around, but there also needs to be pubs where people who don't fancy cooking for the night can just pop along and enjoy a cozy evening with good, home-cooked food.

Our Meal
We sat down for our meal on an old wooden table that's seen its fair share of beer mats over the years. Leaning against the window are a few books, including one simply called Sussex.Not that it would be particularly helpful as a guide to visitors. It's a 1949 edition of a book primarily focused on Sussex towns and villages with churches, with a few simple illustrations. Barns Green is not listed in the index.I would later discover that old books are often delivered to tables along with the bill, just to provide something interesting for people to read.
The menu was two sheets of A5 card on a clipboard. One sheet listed all the Pieminister pies, at £6.50 each. Flavours include Moo (British beef steak and craft ale), Deer Stalker (wild British venison, bacon, red wine and green lentil), Free Ranger (British chicken and ham hock with leek and thyme) and Heidi (Somerset goats' cheese, sweet potato, spinach and red onion.)Sides come with an additional charge, although pie and gravy with mash potato and roasted root vegetables costs a very reasonable £12.50.The second menu lists a handful of 'Picks and Nibbles' as well as three 'Kitchen Classics' and two fish dishes (fish and chips or scampi and chips) for those not enticed by the pies.
For starters, I chose the scampi with tartare (£4.50) which, whilst cooked from frozen, was presented in a charming little dish with a plentiful side of sauce. Toby opted for the leek soup (£5.50) which was nicely flavoured and served with petit pain.
With pies being the focus of the menu, for main course I plumped for the Deer Stalker with hand-cut chips and roasted root vegetables, which were particularly moreish.I have to admit, having been sceptical about sourcing pies from a Bristol pie maker (even an award-winning one with an ethos of using responsibly sourced ingredients), I was pleasantly surprised. There was a good gamey filling with the firm flavour of the lentils offering a warm contrast.
However, I would still take a slice of good home-made pie over a supplied one, every time.Toby went for a dish from the Specials board. His pork loin and mash potato was coated in a pleasant tarragon sauce, with seasonal vegetables. At just £10.50, it was a warm and enjoyable dish that offered very good value for money.
We both enjoyed guilty desserts, in the shape of the stickiest syrup sponge you can imagine, and a chocolate roulade with vanilla ice cream (both £5.50). Like all our dishes, they were served with a simple elegance.
As Ben and Becks eluded to, The Queens Head menu cannot match that of some of the better food-focused pubs in the Horsham area, and neither does it aim to. So, for those of you who read our meal reviews to experience the district's culinary delights, there are better options.
However, pubs serving good pub food at these low prices are now few and far between. So if you do ever have the urge to enjoy good food in a warm and welcoming pub, then The Queens Head ticks all of the boxes. It's a beautiful pub, and long may it be a step back in time.
For more information on The Queens Head or to book a table, call 01403 730436 or visit https://thequeensheadbarnsgreen.co.uk