Wiston Wine Estate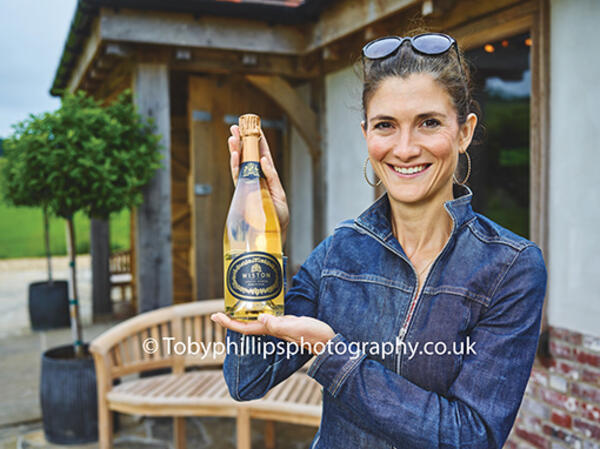 Published on 1st July 2018
The first vineyard was only planted in 2006, yet thefamily-run Wiston Estate has already gained international recognition.
Owned and operated by the Goring family, who have lived on the land since the 18th century, Wiston has contributed significantly to the remarkable growth of English sparkling wines. AAH met Marketing Director Kirsty Goring to find out more…

How big is the Wiston Estate? It's a 6,000-acre estate stretching from Washington in the west to Steyning in the east, fringing Ashington in the north and Findon in the south. Since 1743, it has been home to the Goring family.
Is the land predominantly used for farming?It is largely farmland, with a combination of arable and permanent pasture. Some of the estate is part of the South Downs National Park. There are over 100 residential properties on the estate, as well as a quarry at Rock Common. The Goring family no longer lives at Wiston House. Instead, it is the headquarters of Wilton Park, an executive agency of the UK Foreign and Commonwealth Office.
Where do the Gorings live? Since the Second World War, when the house was requisitioned by the government (it housed the 10th battalion of the Highland Light Infantry), Wiston House has been leased out and the family live at Findon Park and elsewhere on the estate. However, we reclaim the house for three weeks every year to host events, including Big Church Day Out.
Why create a vineyard? My mother-in-law, Pip, is from Cape Town. She met Harry Goring while he was on a gap year in South Africa and they fell in love. Even on the plane journey to England, Pip suggested that they should plant vines to remind her of home. But Harry, in his gracious English manner, didn't agree. For 36 years, Pip would occasionally raise the matter with Harry and the agronomist, who advises on the estate's crops. Then, in 2005, an agent of a major Champagne house enquired about renting some of the land to plant vines. Harry understood that it wouldn't go down well if he leased the land before giving his wife the opportunity first. So, in 2006, they planted vines.
Where did you find a winemaker? Initially, Harry and Pip were going to pick the grapes and have the wine made elsewhere. They visited some of the finest wineries in the region, including Chapel Down, Ridgeview and Nyetimber. It was at the latter that they met Dermot Sugrue, who became our head winemaker. When Dermot visited Wiston, he could see great potential in the chalk land and felt we could create vintage wines. He was also attracted to the freedom of an exciting, small-scale project.
Does being a smaller vineyard help when it comes to creating a vintage? Large scale winemakers predominantly make non-vintage wines. They blend from the crop of different years to create a consistent style from year-to-year. We have a non-vintage range of wines, distinguishable by a rectangular label. However, we are very proud of our vintage range, which have an oval label. We grow three varieties of grape – Chardonnay, Pinot Noir and Pinot Meunier – and our vintage wines can be a blend or a single varietal wine. The vintage wines are dictated by the conditions for that year and Dermot will discuss the options with Harry, Pip, my husband Richard and others in the family about what the best options are.
What do you currently have in the vintage range? We have our classic Cuvée Brut from 2009 and 2013, which is a blend of all three grapes. Our Blanc de Blancs 2010 is made with 100% Chardonnay and our vintage Rosé from 2014 is made with 68% Pinot Noir, 22% Pinot Meunier and 10% Chardonnay. One of the major differences with the vintage wines is that during the first fermentation, we use oak barrels. That's not to produce an oaky taste, but to encourage more distinguished textures. Consequently, during the second fermentation, you see more complex flavours.
You've already scooped several accolades? Last year, our Cuvée Brut 2013 won the sparkling wine category at the International Wine and Spirit Competition (IWSC) after picking up the Platinum medal for best English sparkling wine at the 2017 Decanter World Wine Awards, coming first out of 136 wines. Our Blanc de Noirs 2010 was awarded three separate trophies in the WineGB Awards 2018, including the top accolade of Supreme Champion. After eight years, it has a wonderfully developed taste. It's a very rich wine with great legs and has the potential for even more flavour to develop.
You also have a range of non-vintage wines? The vintage range is always of limited quantity and it's exciting when a new one is released. The more awards they win, the more demand there is. With our non-vintage wines, we work in partnership with other chalk vineyards along the South Downs. These tend to be initially fermented in stainless steel barrels before a second fermenting stage in the bottle.
What is the main difference with English sparkling wine to Champagne? Its fresh and incisive taste, coupled with its dry profile, makes it easy to pair with different dishes, so chefs have taken to it. Most people perceive Champagne as a drink served as an aperitif, but the English sparkling wines offer something else.
What do the French think of it? For several years, English sparkling wines have been winning international awards. It's worth noting that some French winemakers are planting vineyards in the south of England now (Taittinger has purchased a 170-acre site in Canterbury) so the French view appears to be, if you can't beat them, join them!
Is your success primarily down to location? That is certainly a major factor. We're privileged in that by owning a large amount of land, we could select the ideal site for a vineyard. Harry knows this part of the estate well and it has always been a spot that catches the sun and somehow avoids the biting winds. The vineyard is south to south-east facing and is partly sheltered by established woodland, with a nice open valley bringing in the sea breeze. There's also a natural slope to help fend off frost. Dermot was excited about the chalk here, as it's like what he experienced working for a Champagne house in the Côte des Blancs. Arguably, this ground produces wines of more sophistication and it's testament to how suited this site is that only two years after our first planting, we were taking a vintage.
Why are so many English vineyards based in West Sussex? The weather is very important and we're fortunate in that the south of England usually offers a long growing season. We often try to hold our nerve and not pick grapes until the middle of October. Many Champagne houses had to pick in August last year because it was too hot, which didn't allow the grapes to totally ripen. Different regions can have different problems, but we've been incredibly fortunate. Only in 2012, one of the coldest years on record, were we not able to pick. But it could be that temperatures continue to rise and in another 50 years, Scotland has the better climate for wine.
There seems to have been a tremendous amount of goodwill towards English wine producers? The growth in this sector has coincided with a trend towards people wanting to know where their food and drink is coming from. With supermarket shopping, there was a huge gap between the food we eat and where it had come from. Closing that gap and restoring local connections has been exciting for consumers. Also, a vineyard draws a community together because it employs a lot of people, from pruning the wines to pressing the grapes.
Does it help being a family-run business? People like the story of the Goring family and the estate's history. Pip, who has been the visionary from the outset, is still hugely passionate about the project. She never had a long-term business strategy and has been as surprised as anyone by the success we've seen. It's only 12 years since the first planting and yet here we are in 2018 as winners of the Supreme Champion award.
Is there competition between local vineyards? We work very well together. If it wasn't for the likes of Bolney, Ridgeview and perhaps most notably, Nyetimber, people wouldn't have heard of English sparkling wine. It certainly wouldn't have the reputation for quality that it enjoys and we all benefit from that. So, we have come together to create Sussex Wineries, with the aim of promoting Sussex as a winemaking region. We hope that people will one day come here in the same way that they visit the Napa Valley or Champagne.
Where can people buy Wiston wine? We deliver locally through South Downs Cellars and Hennings Wine Merchants. We also exclusively produce our Goring cuvées for Hallgarten & Novum Wines, which are distributed to restaurants. You can also find us at The Village Larder in Washington, Sussex Produce Company in Steyning and Findon Village Store. New opportunities seem to be coming up every day and just this week we've agreed to work with etch. restaurant in Brighton.
What's next for the business? We're not looking to rival the scale of some of the other wineries. Perhaps we're a little more like the French, in that we're happy to plant smaller vineyards. As well as the original 6.5-hectare site, we've planted another 2.5 hectares of Chardonnay and a hectare of Pinot Noir. They're small steps, but our ambition is to create some of England's best wine, rather than most of it!
Are more awards on the horizon? I feel we are still releasing more mature and exciting wines. We do see increased taste from the bigger bottles and our Cuvée 2008 Magnum is a true wonder. It's just phenomenal! We are just about to release the 2009 Cuvée in 75cl bottles too, having swept the board with the 2013 vintage, so we're hoping that will generate more international interest in what is happening here at Wiston.


For more information about the Wiston Estate, to book a tour or to find a list of stockists, visit https://www.wistonestate.com