Chalk opens at Wiston Estate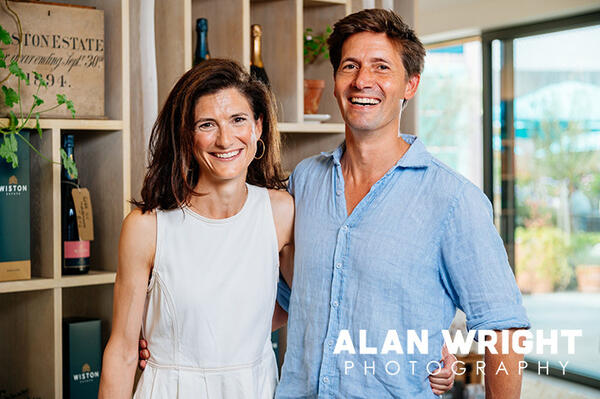 Published on 1st October 2023
Chalk Restaurant opened at the heart of the Wiston Estate last year. Under head chef Tom Kemble, the restaurant serves dishes that celebrate the heritage and purpose of the land, which has been owned and managed by the Goring family for 280 years. AAH met Richard and Kirsty Goring to talk about wine, food, South African hospitality and much more…
THE FAMILY
Before delving into the delights of Chalk, it is a good idea to talk a little about the Wiston Estate. Where is it? Who owns it? What do they do? Is there a spy base there?
Wiston is a small village nestled in the south of the district, with Steyning and Washington to the east and west, Ashington and Findon north and south. Much of the village is part of the Wiston Estate, owned and stewarded by the Goring family since 1743. Indeed, it was a teenage Charles Goring who is credited with planting the beech trees that formed Chanctonbury Ring, a hill fort of trees on the South Downs Way that sits on the parish border.
In the 19th century, the estate stretched to some 20,000 acres, but gradually parcels of land were sold, often to cover death duties. Today, it is a 6,000-acre estate mostly comprised of arable farming and woodland. It is owned by Harry Goring and his wife Pip, and managed by their son Richard and his wife Kirsty. They all have individual passion and personalities that contribute to the estate's running in different ways, with Harry combining his land stewardship experience with that of churchwarden of All Saints, Buncton, a small church that still hosts a weekly service.
The family has not resided in the huge, imposing 16th century grade-I listed Wiston House since 1926. Since 1951, it has been leased by Wilton Park, an executive agency of the UK Foreign, Commonwealth & Development Office. The other thing you may know about Wiston Estate is that they make wine. Very good wine...
THE WINE
It was Pip – perhaps the visionary of the family – who first mooted the idea of planting a vineyard. Pip recalls: 'When I arrived here from South Africa in 1972, I stood on top of the hill and looked out across the land and thought, "wouldn't it be lovely to plant a vineyard?"' I was only 21 and had no experience of viticulture, but I wanted something that reminded me of home. At the time, English winemakers were few and far between, whereas vineyards dominated the landscape in the part of South Africa where I grew up, so it was in my blood.'
Pip's dream was only realised many years later in 2006 when Chardonnay, Pinot Noir and Pinot Meunier vines were planted on the estate. This happened to coincide with Richard and Kirsty returning from Canada, where they had spent a year travelling around small-scale organic farms, learning about sustainable, self-sufficient agriculture. It was the beginning of a new chapter for Wiston, and it wasn't long before the estate was winning acclaim and awards, contributing to the UK's growing international reputation as a sparkling wine producer.
Kirsty said: 'Because of the size and variety of landscape on the estate, we had the space to experiment. Rather than committing all the land to vines, we could plant five acres of Chardonnay, for example, and monitor its progress. Across the estate, there are different soil structures, fields with different elevations and slopes, and areas that attract sunlight at certain times of the day; all these things impact growing conditions. With patience, we discovered which vines thrived in which environment.'
'We found that Chardonnay worked exceptionally well on thin topsoil, as the porous chalk beds of the Downs provided a steady water source. So, we planted more vines and our Blanc de Blancs, made with 100% Chardonnay, put us on the international winemaking map. Pinot Noir thrived on land that was southwest facing, attracting the late afternoon sun. The process hasn't been easy, and the weather ensures there will always be good years and bad, but we have given ourselves the chance to make fantastic wines and have fun doing it.'
'We're fortunate to have a fantastic team. Dermot Sugrue was our winemaker for many years, but we always knew he would eventually pursue his dream of running his own company (Sugrue South Downs). We were very excited for him and his wife, Anna. Now, our team is led by Marcus and Megan Rayner-Ward, who worked closely with Dermot and have maintained the same level of quality.'
THE TOUR
The biggest shift in recent years on the wine front has been a move into the still wine market. Having established itself as a leading producer of English sparkling wines, Wiston launched The Twenty-Six, a still red (Pinot Noir) from 2020's vintage, so called as the grapes used to make it were picked from the first 26 rows of the estate's Findon Park vineyard. This was followed by a still white, Tank Five, a blend of Chardonnay and Bacchus, and Fifty Summers, a still rosé made in celebration of Harry and Pip's 50th wedding anniversary last year. As the wine range has grown, as has demand for tasting tours.
A new winery opened in December 2021 and tours and tastings are now held from Wednesday to Sunday, with Kirsty often leading the groups around the winery, which includes a traditional Champagne Coquard press. Extended tours including meals and even off-road cycling excursions are available too, with some guests choosing to stay at the beautiful Pump House Cottage. Tours are now held twice daily, a reflection not only on Wiston's success, but the growing reputation of English still and sparkling wines around the world.
Richard said: 'When you think of the great wine regions, they are not dominated by one or two vineyards. There are many estates, large and small, and each wine has its own character and nuances. People like to visit several to get a full flavour and feel of the region. For that reason, we don't see other vineyards as competition, as they too are contributing to Sussex becoming recognised as a winemaking region. So, we try to push tourism, supporting schemes such as Sussex Modern, which
celebrates natural landscapes, art and wine. When people arrive in the UK, they typically head straight to London. We want to draw their attention to Sussex, so it's important to collaborate with other businesses and attractions that highlight the best of the area. We have hotels like South Lodge, historic gardens like Leonardslee, wildlife tours at Knepp, as well as theatres, art galleries and fantastic restaurants. By working together, we can provide visitors with a memorable experience.'
'Another thing we also have in this part of the world is natural beauty, which we need to protect. We are friends with the Burrells at Knepp and have worked with them on Weald to Waves, a project aiming to restore natural corridors throughout Sussex. Knepp has its pioneering rewilding project, which is helping to revive the fortunes of many species of flora and fauna. Wiston is mostly comprised of managed landscapes, but we have turned over 30 hectares of farmland to create a wildflower meadow, helping to connect the chalk grasslands to the Weald and the green spaces to the north.'
THE RESTAURANT
While hosting tours, Kirsty became increasingly aware of the need to offer something more, in terms of hospitality. The obvious solution was a new eatery, where people could relax after a tour, either to enjoy a three-course meal or even just a drink with a slice of cake. So, the decision was made to transform an old flint building - which at certain times in history has been a threshing barn and a turkey farm – into a restaurant. An adjacent farm building was demolished to create a courtyard, and wild ivy was cut back to reveal the original flint walls of the building, creating a picturesque scene below the rolling greenery of the Downs.
Kirsty sourced chunks of chalk from the estate and carved out sculptural pieces for display, while Kirsty's brother, who worked with Richard as a carpenter, designed the central bar. A variety of paintings and etchings by local artists were hung on the walls, all depicting or inspired by the landscape of the South Downs. Chalk finally opened in March 2022 and soon proved popular.
Richard said: 'Our vision was to create a place where people could taste our produce and truly connect with the land. We have footpaths across the estate, but prior to Chalk, there hasn't ever been a hub where we can share our values and ethos with visitors. The wine was the start of that journey and Chalk is the next step in our progression. For mum, this is the culmination of everything she ever wanted for the estate. Growing up, I remember that no matter who turned up at the house, she could magically conjure up enough food for everyone, as she simply loved entertaining. That harks back to her upbringing in South Africa, where it is normal for families, friends and neighbours to come together to share the spoils of the land and celebrate life. Mum doesn't so much as eat to live as live to eat, and the idea of bringing people together is what life's all about.'
THE FOOD
Chalk is open from Wednesday to Sunday for lunch and dinner. Much of the produce on the a-la-carte menu is sourced from the estate itself. The Walled Garden and Rock Farm supplies fresh salad, herbs and vegetables, the honey comes from the estate's apiary and the delicious focaccia bread is freshly made daily with wheat grown on the estate. One of the starters – heritage beetroot salad with smoked ricotta, walnut, caper and sultana dressing – uses home-grown beetroot, while on the main course menu, the wood-fired lamb rump uses Herdwick sheep, which graze on the estate. Danefold Farms graze White Park cattle on the land too, supplying Chalk with dry-age bavette.
Head chef Tom Kemble has vast experience, previously working at globally renowned Swedish restaurant Faviken. He has also been Head Chef at The Pass at South Lodge, and earned a Michelin star at Bonham's London. Tom has built relationships with high quality suppliers, both local and further afield. La Latteria Burrata, one of the starters, is served with Nutbourne tomatoes, whilst the British cheeses come courtesy of Alsop & Walker, East Sussex. Tom often serves fresh day boat fish too, while Cornish octopus is among the regular starters on his exciting menu.
But despite the pedigree of its chef, the Chalk team insist they are not chasing accolades. Kirsty said: 'We discussed different ideas, regarding where to pitch the food and who we wanted to appeal to. In the end, we felt that if we are serving world-class wines then the food needs to complement that. However, we also wanted Chalk to be friendly, comfortable and reflect who we are as a family, which is why we welcome people in just for a drink and also run an Air Stream bar that serves our wine, hot drinks and snacks.'
'A Michelin star brings with it certain expectations and we wouldn't want to lose the lightness of touch that we have at Chalk. Tom, however, is an exceptional talent and we are certainly delighted to have been recommended in the Michelin Guide. That was a huge honour for the team to achieve in such a short amount of time. Still, the most important thing is that people are made to feel welcome and relax here, without feeling the need to act a certain way. We also hope that the meal exceeds their expectations so that Chalk becomes an ideal destination for celebrating a birthday, anniversary or special occasion.'
WORDS: Ben Morris / PHOTOS: Alan Wright
Further details: Visit Chalk at North Farm, Washington, RH20 4BB
Email: chalk@wistonestate.co.uk
Call: 01903 877845