POLLYANNA'S KITCHEN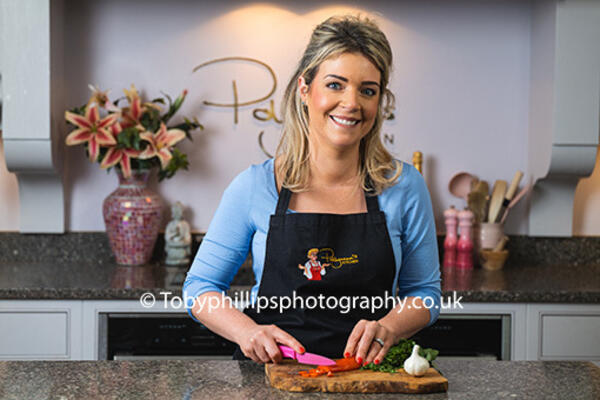 Published on 1st April 2020
Having started out making her own chilli sauce for family meals, Pollyanna Hutchinson has built an acclaimed business. A combination of distinctive branding and delicious flavours has seen West Chiltington-based business Pollyanna's Kitchen scoop several prestigious accolades.
Here, Pollyanna outlines her ambitions for the company…

MY OWN BOSS
I love cooking and always sprinkle chilli into dishes at home. Long before I founded the business, I would make chilli and keep it in plain jars. Whenever we visited friends or family for dinner, I would take a jar with me and it was always a winner!
Chinese chilli oil has a distinctive taste. Even in Chinatown, you can experience it. I like that flavour and although I don't add shrimp paste or deep fry chillies as the Chinese often do, my recipe follows similar principles. I've perfected the combinations over the years and used it on countless dishes.
While I enjoyed making it, I didn't think it was possible to launch a business. But I spent six difficult years in a job outside of the food industry and the experience left me broken. I didn't feel I had anything to lose by trying to be my own boss, so I set myself the challenge.
Being in the kitchen listening to music was therapy for me. My first child was only two-years-old, but as soon as she settled down, I'd start creating in the kitchen. I experimented with chillies, herbs and spices, writing every conceivable combination down. I was absorbed by the task of finding the perfect recipe.
Eventually, I came full circle and resorted to my original recipe for Chillish. It combines two chillies. Szechuan chilli brings the heat and the Ancho is a dark, leathery Mexican chilli that balances out the kick with its smoky flavour.

CHILLI FIESTA
I launched Pollyanna's Kitchen at the Chilli Fiesta in West Dean in 2017. I prepared 2,000 jars to sell over three days and almost sold out. It was exciting but also terrifying, as I knew I had to carry on! There was constantly a queue at the stall and it was a defining moment in my life. Soon, I had my first stockist, Dyke Farm Shop in West Chiltington, which has supported me ever since.
I'm often asked to explain how Chillish should be used and the answer is, "anyway you like!" It's very versatile. In the top half of the jar is the oil, made with a locally-sourced, award-winning extra virgin rapeseed oil. At the bottom is the 'gubbins' which has a stronger kick. The gubbins is my blend of caramelised onion, chilli, garlic and elegant spices. The variety works, as there is usually one person in every household that doesn't like hot food!
When someone tries it for the first time, they think it's mild. Then after seven seconds - without fail - they get a subtle kick in the taste buds! There's something comforting and warm about it. There's a Scandinavian word, Hygge, meaning a perception of cosiness, and Chillish has that.
There are countless ways to use it. You can pour the oil on pizza, use it as a condiment for cheese of pork pies or a marinade while cooking meat; add it to spaghetti Bolognaise, risotto or stir fry, or mix it in a quinoa summer salad. My second product was Garlish, the ultimate garlic oil. It felt like a natural progression to mix the same extra virgin olive oil with a rich, garlic flavour, combining caramelised shallots and spices.
The third product was Just the Gubbins, which is what's at the bottom of Chillish. That's ideal for adding to pies or for marinating meat without oil. Then finally, I launched Just the Crush, a punchy, ready-to-eat garlic sauce. Chillish is especially good when you spread it on Sussex Charmer cheese on toast. That's a great hangover cure! Garlish is lovely on ciabatta with some fresh chopped tomatoes or mushrooms!
BRAND AWARENESS
In my last batch, I made more than 4,000 jars, so I can't do it all at home any more. The house would permanently stink of garlic! So, I use a brilliant local kitchen with top marks for hygiene and food standards. Then I transport the jars home for packaging and presentation.
Branding is very important as it reflects the fact this is a unique product, created by an individual. It's in a jar because nearly all olive oils are bottled and I like being different. I attach charms and labels individually, which is labour-intensive but generates positive feedback. People love the informative leaflets provided as they give ideas and inspiration for recipes. It's worth going the extra mile when you're an independent business.
Pollyanna's Kitchen products are now available in farm shops, delis and other outlets across the Horsham District and beyond. They include Crates and New House Farm in Horsham, Spring Gardens Nursery in Washington, Weston's Farm Shop in Itchingfield, The Village Larder in Washington, The Village Deli in Storrington, The Deli and Dyke Farm Shop in Pulborough and Slinfold Stores.
I've very proud to have received Great Taste Awards for three of my four products. Just the Gubbins won two stars, which is a fantastic accolade. I've entered them all again for this year's competition and it would be great if Garlish made it a clean sweep! I have also been recognised as Best Newcomer at the Sussex Food & Drink Awards.
The next step will be expanding across the country and beyond. I'm meticulous in terms of standards. So, maintaining what I'm currently doing but on a bigger scale will be the challenge. I'm also planning to write two books; one a step-by-step recipe guide and the other for children.

INTERESTING TIME
Lockdown was an interesting time for me. I was sad that the food fairs and festivals were cancelled, as I love meeting customers face to face, receiving feedback and ideas. I'll just have to wait until the Christmas fairs! On the positive side, I have forged some fabulous relationships with new suppliers and as people have more time to cook, I have seen a huge increase in online orders. I have really enjoyed seeing our farm shops and delis adapt so they can keep going. It's been humbling to be a small part of that.

For more details about Pollyanna's Kitchen visit www.pollyannaskitchen.co.uk

Photos: Toby Phillips Photography Interview: Ben Morris