REVIEW: THE ROGER TICHBORNE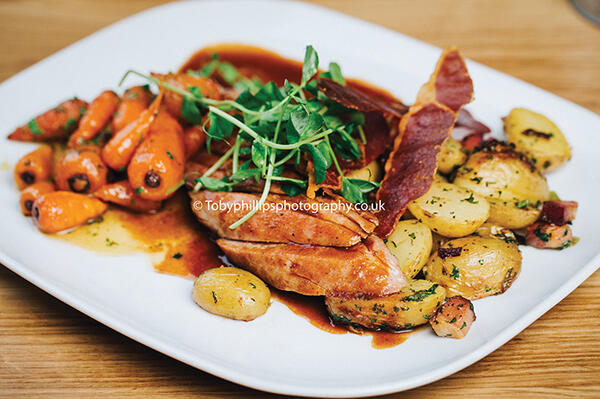 Published on 4th December 2015
Loxwood Road, Alfold Bars, Billingshurst, RH14 0QS
Films have been made about some of the great imposters. There's a movie about the Bristol cobbler's daughter who claimed to be Princess Caraboo from an Indian Ocean island.Catch Me if You Can was based on the story of American fraudster Frank Abagnale, who posed as a doctor and a pilot whilst passing over $2million in bad cheques.
However, it's unusual for a pub to be named after an infamous imposter...The case of Roger Tichborne gripped Victorian England. When young Roger, heir to the family's title and fortune, disappeared in a shipwreck in 1854, his mother clung to the hope that he might have somehow made it to Australia alive.
After she offered an award for information, an Australian man stepped forward claiming to be the missing heir. Despite startling differences in appearance, the hopeful Lady Tichborne accepted the man's story. However, other family members weren't convinced and a court case revealed that the claimant was in fact Arthur Orton, the son of a London butcher who had gone to sea as a boy! He was sent to prison for ten years, although some analysts believe there is an element of doubt as to his identity and he may well have been Richard Tichborne.
You may wonder how a Loxwood pub came to be named after a Victorian fraudster.
When Thomas Cramp turned the 15th century building into a public house in 1873, newspaper cuttings from the court case were all over the wall, so he named it after missing heir.The name remains to this day and the menu still plays on the doubt surrounding the case by depicting a faceless gentleman with a question mark placed in the middle of the pub name.It makes for a fun and interesting story.
But to the locals it doesn't really matter, as they refer to this popular pub on the village outskirts as simply 'The Tich.'We met Gyorgy Vasadi to talk about the pub's transformation since he took over early in 2016.
George, what was the situation when you arrived?
The Tich had quite a good reputation, but I felt that there were things lacking on the restaurant side; it felt a little cold. There was too much on the menu for it all to be fresh and the chefs were overworked. We now have a very good team in place at the front and back of house, including a team of eight or nine chefs, and they make it very easy for us to run.
Had you run pubs previously?
I was Operations Director at a company in London that ran three pubs, including The Lighthouse in Battersea, The Roundhouse in Wandsworth and The Cock and Bottle in Notting Hill. From there, I went to work at The Bluebird Chelsea, a fine dining restaurant on the King's Road. When the owners sold the company, my wife and I decided to move out to the countryside and run our own place.
Were you looking specifically in West Sussex?
The location had to be right for us and the children, so we wanted to live in a nice area. It also needed to be a good business with improvement potential. We looked at many places, as far south as Hastings and Rye, all the way up to Cheltenham. When I walked through the door of The Roger Tichborne, I thought it was a nice pub but a bit dated. It just felt behind the times and I wanted to give the pub what it deserved.
What exactly did you do?
We didn't want to change what wasn't broken, so we maintained the feel of the old pub, which has history dating back to the 15th century. We wanted to change the restaurant to give it character and warmth. The build quality was amazing and yet in terms of design it was dark and felt cold. Our plan was to refurbish immediately, but we found we were busy from the moment we arrived. Eventually, we had to bite the bullet, although it meant losing four weeks of trading. Interior designer Clare Hudson came in and we redesigned the whole restaurant with new lighting and furniture. We also upgraded the kitchen, improved the car park and landscaped the garden with new plants and a children's play area.
Have the changes been well received?
Feedback has been very good. We haven't had a party in – be it 10 people or 100 people - that hasn't had a good time. It is still a work in progress, but our ratings on TripAdvisor are going up.
Have you lost the traditional elements of the pub?
Lots of people still come in just to enjoy a drink. We are not tied in with a brewery and we have very good freeholders who like the changes we have made. We have excellent ales including Young's and several from local breweries including Firebird, Dark Star and The Crafty Brewing Company. On the wine side, we work with Berkmann Wine Cellars, who provide us with some very good wine. We also have our bin-ends, where our regular guests who know their wine can buy good bottles that they wouldn't find in stores.
Has much changed in the kitchen?
We recently received a 'Local Champion' award for using local producers, including John Murray Butcher's in Loxwood. Most of our meat though is delivered directly from the market, although we have several smaller suppliers including a licenced game hunter. Darren Todd, our head chef, has an excellent background having previously worked at The Savoy and The Fat Duck. He now has the team around him to produce what he would like, including a very talented sous chef, Michael Knott. We all work together on producing the menu, which changes every month.
Have you achieved everything you set out to do?
You can never achieve all your targets as once you achieve one thing, you set another target as you always want to improve. However, when we came here, we wanted to create a hub for the community where everyone is welcome. We certainly have achieved that and we are also increasingly seen as a destination pub. People know that the service we offer is very good with high consistency and people will travel for good food at a nice pub.
Starters

We sat down in what is deemed the restaurant side of The Tich, separated from the pub side which, even on a Tuesday night, is bustling with regulars discussing their day on the golf course or the next classic car on their shopping list.Whilst the restaurant side was indeed warm with simplistic modern class, we did pine a little for the atmosphere of the pub.
It was some comfort that Gyorgy, who appeared to know the name and occupation of at least half of the people in the pub, would regularly drop by to check that we were happy.
Despite there being only six dishes on the Starter menu, we had trouble choosing as they all held appeal. Eventually, I settled on Scottish smoked salmon (£7.95) whilst Toby chose ham hock and chorizo terrine (£6.95) from the daily specials.My salmon dish looked wonderful, with salmon slices flopped over a smooth, mild salmon mousse and topped with baby capers, pea shoots and horseradish.
The subtle smokiness wasn't quite as pronounced as I like, but it was moist, fresh and delicious.Toby's multi-tiered terrine was lovely, served with a piccalilli that was unlike most in that it was almost enjoyable. The dish was served with a generous amount of toasted brioche and pea shoots.

Main Courses

Having arrived with the belief that The Tich was an expensive place to eat, it was surprising to note that the priciest dish aside from the rib eye steak was the seared sea trout (£15.50). Most were pitched around the £12 – 14 bracket and included fish & chips (£12.95), liver and bacon (£13.95) and seafood tagliatelle (£14.95)
Chargrilled burgers are also popular at The Tich, with the cajun chicken burger and home-made beef burger (both £11.95) among the best-sellers.Toby enjoyed his pan-fried pork fillet (£14.50) served with sautéed potatoes, pancetta and honey-roasted carrots.
The pork was divine, with chunky slices of lean meat soaked in a red wine jus, well complemented by the restrained flavour of the honey roasted carrots. I also enjoyed every morsel of the seared sea trout, a dish that had fantastic colour thanks to a bed of pak choi and a fruity balsamic fish sauce. Like the pork dish, light, subtle seasoning allowed the freshness and natural flavour of the ingredients to shine through.

Puddings

As well as a selection of New Forest ice cream for £1.50 a scoop, The Tich menu offers cinnamon rice pudding, home-made pecan pie and cheesecake of the day for £4.95. Toby devoured his lovely raspberry cheesecake in a matter of seconds, whilst I spent a little more time enjoying each bite of my sticky toffee pudding, seeing as it had cost 55p more.
It also took a while to scrape up the last of the butterscotch sauce with my finger. It was a fine way to round off a very good meal.With great food, great beer and the regulars providing a politely vibrant atmosphere, The Roger Tichborne is well worth a visit.
Unlike its namesake, The Tich is the real deal.

WORDS: BEN MORRIS
PHOTOS: TOBY PHILLIPS
For more information visit the website at www.thetichborne.co.ukTo book a table, call 01403 751873 or email bookings@thetichborne.co.uk