Pure Seafood & Pure Oyster Co.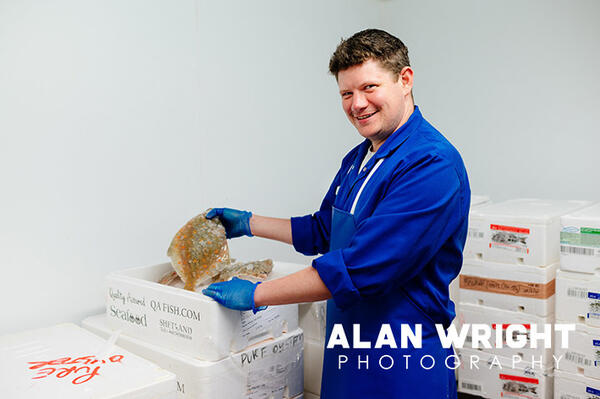 Published on 1st August 2021
The Pure Oyster Company was no doubt a fitting name for the business when it was founded by Janet Tabor with her sons Joe and Harold in 1907. More than a century later, the business remains in family hands, now fronted by brothers Nick and Tom Tabor. But while oysters remain, there's much more on the menu today.
Each generation of Tabor has contributed to the fine reputation of the business, which now delivers wholesale seafood across the South East, supplying pubs, restaurants, care homes and even schools. The brothers' tenure may come to be defined by their recent decision to sell fresh and frozen seafood directly from their Pease Pottage base, while also launching a second business focusing on nationwide delivery.

FAMILY PASSION
The Tabor family's association with oysters goes back even further than 1907. They were trading oysters long before the business was founded, with George Tabor known to operate around Brightlingsea in 1520. Early in the 20th century, The Pure Oyster Company was based in London, near the old site of Billingsgate fish market. The company developed tank systems for purification, which helped halt the decline in popularity of oysters. Previously, they were known to make people ill, if they'd been harvested from polluted waters.
At its peak, the company shipped many tonnes of oysters around the world every week. But increased competition forced the business to evolve and offer a wider range of seafood. It was Anthony Tabor who moved the business to Pease Pottage, sensing an opportunity in a less-congested marketplace between London and Brighton. Today, he is still involved in the business, with his sons Nick and Tom.
They still sell oysters (both Pacific or "rock" oysters as well as the native "flat" oysters.) But Pure Oyster Company also offers a range of seafood including plaice, sole, hake, cod, haddock, salmon, swordfish, tuna, mackerel, anchovies, clams, cockles, crabs, mussels, langoustine, lobster, squid and scallops. Nick trained as a chef and formerly worked at The Chequers in Rowhook, while Tom studied Business. They employ these different skills to grow the company's wholesale trade while also exploring new opportunities.
"The business is a blessing and a curse," says Tom. "We don't want to be the generation that lets it go when there's so much history. But you still need a passion for fish to succeed and Nick definitely has that. I'm more interested in the business aspect, so we each contribute in our own way."

NEW DIRECTION
Traditionally, Pure Oyster Company has focused on wholesale trade, with nearly all its customers based in Surrey and Sussex. The Tabors have resisted the temptation to expand much beyond that, happy to serve loyal clients. This way, they're able to maintain control over the quality of the product, something that big companies struggle with.
However, there is still potential to grow, with care homes and schools looking more closely at their menus as part of a continuing drive towards healthier food. Tom and Nick are also initiating their own ideas, selling directly to the public for the first time. In 2011, Nick created a sister company, Pure Seafood, with the idea of delivering frozen seafood direct to people's door. The concept of home delivery was then in its infancy, but despite his foresight, Nick's idea was premature and after four years the business was put aside. However, 2020 was to offer an unexpected opportunity to revive it…
Nick says: "I always wanted to offer seafood direct to the public. Apart from fishmongers, which are few and far between in this area, there's nowhere to buy great-quality fish. So, I wanted to offer the public the same fish we sell to restaurants. However, the home-delivery market wasn't there for Pure Seafood and we shelved the idea."
"It wasn't until Covid that we could look at it again. Suddenly, our regular business was gone as pubs and restaurants were forced to closed. Some offered takeaways but demand was far less than usual. People had to isolate and even after lockdown, many chose not to go out food shopping. So, there was a market for us and we had the time to focus on it. What we can do that others can't is process fresh fish quickly. It comes in through Pure Oyster Company and deliver it to customers as Pure Seafood."
"Initially, we were only delivering in the south east, but now we can deliver nationally. Demand is growing too, as we can sell smaller amounts than wholesalers. Customers don't need to buy two kilogram bags of prawns if they don't want too. They can buy smaller bags that fit in a freezer, like you would at a supermarket but with the bonus of knowing it's fresh, high quality fish."

DUTCH AUCTIONS
As well as selling online, there's a shop at its Pease Pottage site, where the public can buy fresh seafood. But where does all the fish come from? Most people's first thought of a fish market is Billingsgate, the historic London market where fish landed all over the country are sold. However, most wholesalers like Pure Oyster Company buy their produce from specialist seafood auctions that operate across the country, from Cornwall to the Shetland Isles. The competition is fierce and the Tabors must compete with buyers not just in the UK, but on the Continent or even Asia.
Tom says: "They tend to be Dutch auctions, with prices starting high and coming down until somebody bids and takes the catch. We liaise with agents to bid across the country, as the south coast is limited in terms of fish. The Cornish coast has more variety, with high quality cod and haddock. We also buy a lot of pollock, coley (coalfish) and hake."
"Prices fluctuate as some agents will sometimes buy certain species and that inflates the price. The Spanish love hake – more than we do in the UK – and there have been times where they've bought the entire stock. Holland buys a lot of the UK's shrimp as they have factories that can process it in vast quantities. Auctions allow fishing quotas to be monitored too, which is hard to do when fishing boats sell directly from port. The management of the seas is vital and the system helps keeps fishing numbers sustainable."
COD & CHIPS, PLEASE!
We are largely unadventurous when it comes to seafood with cod, haddock and salmon remaining the most popular fish. Tom says: "Our tastes haven't changed in generations. South coast cod used to be more abundant and there was a time where people were aware of cod being overfished, which led to higher demand for haddock and pollock too, until it was reclassified as a cod fish and the price went up. Hake is a good-tasting fish that has surged in popularity in recent years. Coalfish used to be derided, but it's now being eaten more. But in the main, people stick to what they know and that's cod and chips!"
Occasionally, the Tabors receive unusual requests, such as sea urchins and spider crabs. "The big driving force for these is television," says Nick. "Whenever we're asked about Scottish sea urchins, it's because a chef from a top restaurant has used it on a TV show! But we need to be more selective about what we offer and when it comes to finding niche foods, it's still best to head to Billingsgate Market. There, you see traders offering specific seafood and they may be the only person in the country selling it. But for the more common seafoods, we are here for everybody!"

Pure Seafood, Imperial House, Old Brighton Road South, Pease Pottage, RH11 9AH
Tel: 01293 549843
Email: sales@pureseafood.co.uk