Review: Haldi in Southwater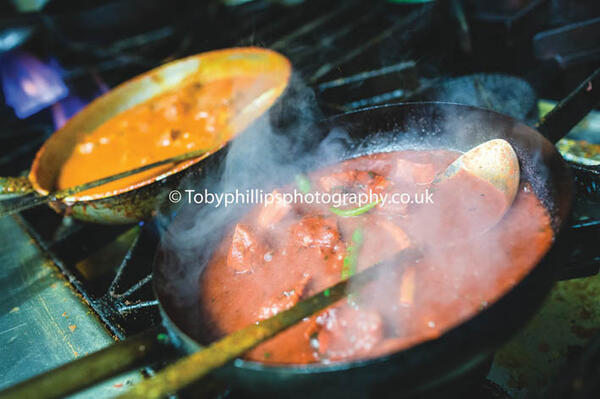 Published on 7th March 2014
Mention the word 'Haldi' to Sherlock Holmes, and several dictionary definitions may appear magically above his head.
There's the Haldi River in West Bengal, or Haldi the chief deity in the biblical Kingdom of Ararat in the Armenian highlands, or Haldi, the Hindi word for the spice turmeric. But to the people of Southwater it's just a place to go for a decent curry.
Haldi was one of the first businesses to open at Lintot Square in the centre of Southwater, along with Capital Chinese takeaway and Southwater Cycles, which recently moved to Loxwood. The restaurant is run by Jay Choudhury, a man who admits that he is often mistaken for the New Curry Centre owner Rana Zaman. To
confuse matters, the two have been long-established business partners, and sometimes cover for one another during holidays.
But like the Horsham restaurant, Haldi has managed to hit upon a winning formula, to the extent that Jay soon plans to expand by extending the shop front by several feet to provide space for more diners.
He said: "This restaurant actually takes up three different units of the original precinct plan, one of which is the kitchen and the other two being the dining area. That is why we have two front doors. I had an option to take another unit, which eventually became a bookmaker. I regretted not taking it, but now that the bookmaker has gone I cannot take the unit as it would mean totally restructuring the restaurant.
"Instead, we have planning permission to knock through the front and create a new entrance with an extra 10 or 12 tables. We can go out six foot, so it'll be a chance to remove the second door and put in more window seating."
Jay certainly has vast experience when it comes to Indian restaurants, both in the kitchen and at front of house. He started out as a 17-year-old working alongside Rana in Dorking, where he remembers arm wrestling with the actor Oliver Reed, who was an occasional diner. Another visitor was Andrew Ridgeley of Wham! Jay recalls: "He let me take a photo with him, but he didn't pay for the curry. I was on £50 a week and I had to pay for his whole meal!"
When he was only 18, Jay opened his first Indian restaurant in Hove and ran chain there for about 18 years before opening a restaurant on Steyning High Street. Then in 2004, he and Rana decided to sell everything they had and moved to Horsham, where they agreed to base themselves and help each other out in business.
Jay said: "I worked at the New Curry Centre in London Road for a time, but I wanted to do my own thing. There is a big population in Southwater and a lot of families, but people were going into Horsham for their curry, and I thought there was an opportunity here in Lintot Square. So when the units were being built, I was one of 32 applicants. The council wanted people who had previous experience in business, so they chose my bid, which was fortunate.
"Ever since we opened, we have been growing. At the start, we were seeing mainly customers from Southwater and surrounding villages like Barns Green and Shipley. But now, people come from much further afield.
"They like the fact that there is plenty of parking here and also it is very relaxing in the restaurant. I also think that the food we offer is slightly different to a normal curry house.
"We serve food from Bangladesh, Punjab, Rajasthan, and other Indian regions. My favourite region for food is actually Malaysia, as they have these sweet and hot fish curries. So here, we try to mix Indian spices with other Asian spices to see if it makes a new flavour. Sometimes it works, sometimes it doesn't. But people want something different and to experience something other than dhansak or vindaloo. So every few months we bring in new dishes to give customers a wider variety of tastes.
"Every chef at every Indian restaurant is different as they all create their own spices and herbs, so if you go from one restaurant to another even tikka masala will be different as everyone has their own way of blending the spices. But people are being more adventurous now as our most popular dishes are our house recommendations."
So would Haldi leave us feeling cold like frozen ice cream trapped inside the body of a plastic penguin toy that is bizarrely popular at Indian restaurants? Would it be the kind of curry experience that would have you sitting on the toilet singing a certain Johnny Cash song the following morning?
continent theme. It helps omit a relaxed aura. The staff are kind and friendly in that forgiving manner which means that, unlike ordering at a French restaurant, you'll get a smile no matter how to pronounce the dishes on the menu!
4.95). The dish offered a soothing little garlic kick with some enjoyable tender chicken. The rather mundane salad side indicated that that any flair was focused on flavour rather than elaborate presentation though.
The mixed starter consists of a kebab, chicken tikka, lamb tikka and onion bhajis. The bhajis was very good, free of the soft doughy centre of a poor bhaji, with a crisp and thin batter. Despite the combination of meat flavours, it remained a clean dish with a mildly spicy sauce that refused to hog the limelight. At £4.95 it offers good value.
As Jay's old friend Rana reported when AAH visited the New Curry Centre towards the end of 2013, people are becoming more intrepid when browsing an Indian menu, and at Haldi most diners tend to order one of the chef's recommendations.
On Jay's recommendation, we went for the Roshini Mirchi Chicken (£8.50). This strikingly coloured and relatively hot dish, with sweet and sour flavouring, garlic and fresh chillies, is a new and fine addition to the Haldi menu.
As it transpired, I ill-advisedly chomped down a whole chilli at the start of the meal. But after enduring an uncomfortable few minutes when I sweated like an overweight tenor on a rowing machine in a sauna, I recovered and properly enjoyed the dish. As my taste buds were slowly revitalised, they were well rewarded with a lovely mix of flavours, with a hint of Asian cuisine, and a generous amount of good, well cooked meat.
10.95) with tandoori, chicken, lamb and kebab cooked Begali style. Like me, Toby is a fan of food cooked in the Tandoori oven, as it not only gives that lovely charred personality, but allows the flavours to come through without the cooking oil upsetting the applecart. But it always needs a good sauce, and once again Haldi's flavour combinations were excellent, with the curry having a subtle kick.
We also had a pleasant and conservative garlic rice, and a well-balanced Sag Aloo (spinach and potatoes for £3.75). Despite Toby's sizeable appetite, and the fact that we shared a naan and rice, it was too much for the two of us to manage. If you think you could do better, you could try the popular 'Eat as Much as You Like' buffet every Sunday. It costs £8.95 for adults and £6.95 for children. Monday's banquet night, with a five course meal for £12.50, is another Haldi promotion that has put bums on seats on a traditionally quiet night for Indian restaurants.
In truth, the desserts are not worth climbing a mountain and shouting about. Like the final few runners in a downhill skiing event, most people have packed up and gone home before you can say 'Ice cream in a plastic penguin sir?' The desserts are not where the action is at an Indian restaurant. But as well as Punky the plastic penguin (£3.70) you have Fantastica or Choco Mint ice creams, and an array of other frozen sweets you'll find in restaurants the world over.
If we must pick one to timidly recommend, it would be the Mouchak Vanilla Ice Cream. It's the only Indian sweet on the menu, and whilst it may be too sweet for some, is really rather lovely when going in with low expectations!
Jay said: "We did some research into Indian desserts but most people thought they were too sweet, so we just brought in ice creams as that tends to work well after a spicy curry.
"Running an Indian restaurant is very difficult and there is a lot of hard work involved, so I think we focus on the food, and we'll leave good ice cream to the Italians!"
Overall, the food we were presented with were well cooked and delicately flavoured, whilst Toby (who photographs more than is share) noted how clean the kitchen was. Haldi is now part of the furniture in Southwater, and it's really down to a simple formula; it is warm, inviting, considerate and most importantly busy.
You may not be presented with anything overly exotic or elaborately graceful, but Haldi does serve consistenly good food, with plenty to satisfy the seasoned curry lover.
To book visit https://www.haldirestaurant.co.uk/ or call 01403 731461