The Crabtree Pub, Lower Beeding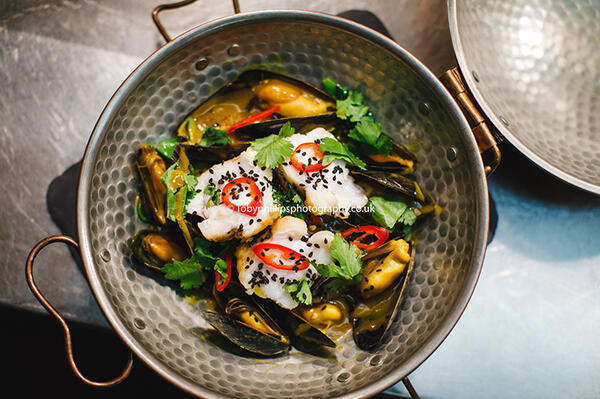 Published in November 2018
There are many wonderful pubs in the Horsham district, but it takes something special to impress a critic from Michelin. A one star rating is notoriously hard to secure and Restaurant Tristan remains the only eatery in the Horsham District to receive such recognition.
The nearest restaurant to have received a Bib Gourmand award, described as a place that delivers "simple yet skilful cooking and great prices," is The Cat Inn at West Hoathly. However, several local pubs have been listed in the Michelin Guide 2019 with a Plate symbol. This indicates a restaurant "where inspectors discovered quality food." Those to have received this accolade include The Queen's Room in Amberley, Chequers at Rowhook and The Crabtree in Lower Beeding.
AAH visited The Crabtree to find the pub in a transitional period. Abilio Oliveira has been settling into the role of general manager, whilst a relatively inexperienced yet exciting kitchen team are starting to gel.
Abilio, commonly referred to as Bill, has vast experience in the industry, previously working at El Bodegón tapas restaurant in Piries Place, Restaurant Tristan in East Street and Limes of Lindfield. He has ambitious plans for The Crabtree.
"The pub owners wanted to bring it back to a certain level," says Abilio. "It was felt that things had dipped just a little bit. Maybe people were too relaxed and certain aspects of the dining experience weren't being given enough attention. A food-led pub must maintain a consistent standard to stay at the top. When you go out to eat, it's usually a celebration with friends, family or a partner, be at an anniversary, birthday or a date. So, the experience is important for everyone, so we have to offer consistency.
"In recent months, we've been improving and taking the pub to the next level. There has been a changing of the guard, as Dean has joined as executive chef. We have stability and consistency and now can look at ways to stand out from other gastropubs around Horsham. We are not like The Pass at South Lodge, as we are not aiming for a Michelin star. Our aim is to produce good food and good service for every customer, in a pub with a good atmosphere and ambience."

Keeping it Local
Achieving that will partly be the responsibility of the kitchen team, led by Dean Brackenridge. He worked for pub owner Simon Hope whilst still at school, before embarking on a career change, working for the immigration department at Gatwick Airport. Missing the heat of the kitchen, he joined the team at The Crabtree and has spent the last few months making alterations to the menu.
"I have great support in the kitchen," says Dean. "My head chef is fantastic and we also have a couple of very talented youngsters here. We source our produce locally whenever possible and bring in fresh, seasonal ingredients every day. As a Sussex pub, we want to promote the best the area can offer. Increasingly, we're creating daily specials, calling the butcher and fishmonger to find out what they have as we like to prepare new dishes."
Currently, the menu remains fairly modest and traditional. The cider-battered fish and chips (served with a surprisingly enjoyable malt vinegar gel) remains a firm favourite, whilst the hay smoked pork loin was beautifully lean and well complemented by a colourful combination of crispy cabbage and heritage carrots. The pan-fried monkfish with mussels and the roast garlic gnocchi dishes also demonstrate the growing confidence of the chefs.

Pub on the up?
Having undergone a difficult period that apparently left some diners underwhelmed, there is an air of optimism at The Crabtree and Abilio is expecting big things for 2019.
"The Crabtree has again been listed in the Michelin Guide and there are some very good pubs that missed out," he said. "We don't strive to be the best, but we want to be among them. So, I personally would love to target the Gourmand Bib in future. To do that, we will need to create more of an experience through our menu. That is not something you can do overnight. That comes through development, training and hard work. But I do believe we have a team in place that is capable. We are coming up to Christmas, a very busy time for us, so now is not the time to implement big changes. But slowly, during the first half of 2019, you will see new things as we push on and get people talking about The Crabtree once again."

Visit The Crabtree at:Brighton Road, Lower Beeding RH13 6PT