Review: The Sussex Oak in Warnham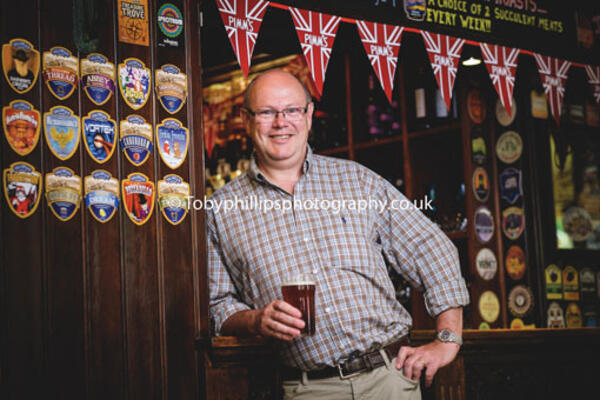 Published 8th August 2014
The last time I visited The Sussex Oak in Warnham was on account of my son's involvement with Horsham Ambassadors Under-9's Football Club.
The team's coach had chosen the pub for an end-of-season awards dinner because of its garden, particularly the large area of grass at the bottom end. It was transformed into a football pitch for a game that kept 15 boys occupied all afternoon.
Meanwhile most of us parents joked about the number of trophies on offer. 'Our nineteenth award is for the Parents' Most Improved Holding Midfielder of the Year...' One local trophy retailer must surely be sunning himself on an exotic resort right now, thanks to the business of the Ambassadors Under-9's.
It was handy, and somewhat surprising, that the pub's management had no qualms about the boys using the space for a full-bloodied match. In fact, they keep footballs and rugby balls behind the bar for such occasions.
I recall talking to one parent, who after commenting on how nice the garden area was, said that the front of the pub could do with a lick of paint. So it was good to see a man with overalls up a ladder with a paint brush in hand as we visited to arrange a meal review...
The Sussex Oak is one of the few true ale drinker's pubs in the area. It has been featured in CAMRA's Good Beer Guide every year since 2002, and is independently assessed for Beer quality by Cask Marque every six months.
The focus on beer will not be lost on visitors. Pump clips of all of the beers sold at the pub, hundreds of them, decorate the walls and oak beams, filling every nook and cranny. We're told that one of the questions at a food and drink quiz required teams to guess how many pump clips there are, and that people were running around trying to count them.
I tried too, reaching over 500 with some way still to go when I paid too much attention to one particular design and lost count. Regular ales include Timothy Taylor's Landlord, four times a Champion at the Brewers' International Exhibition and four times CAMRA's Beer of the year. The Sussex Oak also serves Fuller's London Pride, Harvey's Sussex Best Bitter, and local ales including Dark Star's Hophead and Ranmore Ale from the Surrey Hills Brewery.
All of the local brewers have had guest ales on two pumps including beers by Hepworth's, Hammerpot, Kings, and Welton's. The August Bank Holiday Beer Festival will feature over 20 beers, including nine beers from Dark Star and many champion beers of Britain.
So you get the point. The Sussex Oak likes beer, and beer likes The Sussex Oak. But these days, good beer is rarely enough for a pub to survive. Good food is important too, and it is in this department that The Sussex Oak has made changes since the arrival Peter Nottage and his wife Angela in October 2001.
Peter said: "I was general manager of The Fire Station, a big converted station in Waterloo, and before that I ran a brasserie in Covent Garden. I reached a point where I was fed up with London. I was brought up in a village in Kent, my wife in a village in Sussex, and we wanted to give our children a village upbringing too. So we started looking for a nice village with a town nearby.
"We looked all over the south, as far as Cornwall, then we came across The Sussex Oak. The lease was up through Enterprise Inns. We signed a 20 year lease and haven't looked back. The pub had been run down. When we arrived, it needed a lot of decorative work, so we bought new furniture, put new drainage in the cellars, and improved where we could.
"There were only two real ales, neither of them were very good, and only a small amount of dishes of the menu, with most of the food coming straight out of the freezer. I think that, since the smoking ban came into effect, pubs that don't serve food struggle to survive.
"We are a pub that does good food rather than a pub restaurant. We arecentred on great beer – that is what we are known for – but we have built up the food side, and now we have a comprehensive menu using locally sourced food.
"We are also involved in the Horsham Food and Drink Festival, in that we host the closing event, a food quiz in aid of the Sussex Air Ambulance. It is a charity close to me, as they saved the life of my niece. Without the Air Ambulance she wouldn't be here, so we do what we can for them. Certainly, the food side has consistently improved since we've been here."
The pub itself is one of the oldest in the district. The oldest part, with flagstone flooring, inglenook and Horsham Stone roofing, is reputed to have been the home of the Bishop of Horsham in 1700. The pub was then extended in Victorian times, and a restaurant area added in the 1990s.
It has charm, and whilst it is a large pub, it never feels quiet - even when it may be - due to its compartmental layout. Looking over the menu, there is a strong focus on classic pub dishes made with locally sourced ingredients. The seafood comes from the Pure Oyster Company in Pease Pottage, the cheese board has a strong Sussex aroma and the popular village butcher, A&R Bailey's, supplies sausages, and venison steak direct from Warnham Park.
Appetisers include moules marinière with crusty bread (£8.25) and avocado prawn salad (£6.75), as well as a sharing combo platter that includes ribs, potato wedges, onion rings, garlic bread and chicken crunchies (£9.75).
We tried the deep fried brie with cranberry sauce (£5.45) There was nothing more exotic to a ccompany it than a slice of orange, but the brie oozed out of a lovely, lightly crisped batter and the sauce had a pleasant sweetness and texture.
The homemade smoked mackerel fishcake with sweet chilli sauce (£9.25) was also an enjoyable, if somewhat large, starter. The tightly packed fish was fresh and carried good, strong flavours, whilst the chilli sauce had a mild, sweet kick. A smaller version is available (£6.25) for those who want to leave space for a main course.
There are no less than 24 mains available, not including the specials board. You'll find most of the staple foods of a classic English pub menu, from hand carved ham, Sussex laid eggs and chips (£9.95) winter game casserole with mashed potato (£13.25) homemade steak, ale and mushroom ale pie (£10.75) and beer battered cod and chips (£11.25).
We liked the sound of the chargrilled handmade burger, bacon, cheese (blue or cheddar) and red onion relish with chips and a dollop of coleslaw (£10.75). As you'll see from the pictures, the Sussex Oak cares not for minimalist presentational flair! A rasher of bacon is slapped on top of a good slice of beef, cheese is then well melted on top, onion relish is shovelled on and it's up to you to try and keep it all in the bun. We loved it!
We also enjoyed the pan roasted Warnham Park venison steak with red berry sauce, dauphinoise potatoes and vegetables, well priced at £12.95. It wasn't the largest fillet, and I'd be tempted to pay a little more for a little more, as it were, but the meat was fresh, succulent and well cooked, with again a good sweet sauce to add a little life and colour to the dish.
The steak came along with a cube of nicely textured creamy dauphinoise potato and a good selection of vegetables. Desserts include treacle tart, prune and almond tarte and Toblerone cake. But this was one of those rare occasions when there is simply no storage space left, so we could do little more than nibble at our apple pie (£4.95) and chocolate brownie with chocolate sauce and mini marshmallows (£5.25).
However, all of the desserts are home-made and reasonably priced between £4.95 and £5.25. Throughout the meal the service, primarily from a young, presentable team wearing black Sussex Oak shirts, was friendly and relaxed, and whilst we didn't visit during a particularly busy time (the garden can be busy at weekends) the food was served efficiently.
You will find better food served at country pubs in the Horsham district, but the dishes on offer at The Sussex Oak comfortably fall into the bracket of good, hearty, home-made pub food served at an honest price.
With a lovely setting and a large garden well away from the main road, which in itself is hardly bustling with traffic, it is also a safe place to go for families, with a good children's menu on offer too (£6.75 for a meal and ice cream pudding).
Very few pubs successfully manage to find the right balance between an ale drinker's regular and an eating out destination. The menu may not earn the Sussex Oak the same recognition as its ales, but we'd suggest the Warnham pub is doing a better job than most.
For more visit https://www.thesussexoak.co.uk/