La Piazzetta in Horsham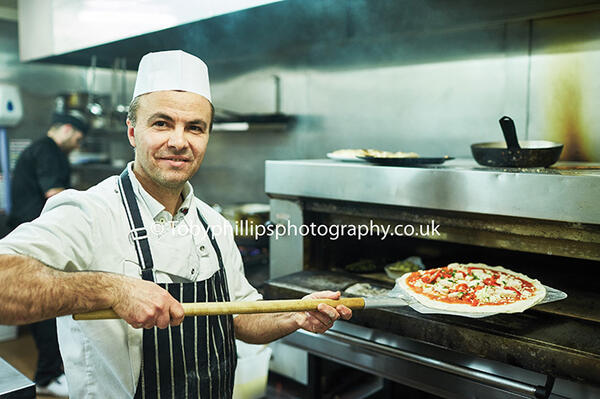 Published 4th May 2016
If Italy is the home of pizza, then Naples is its capitol city. When Condé Nast Traveller went in search of its top 10 pizzas in Italy, it declared that four of the top five were Neapolitan, with Di Matteo pizzeria topping the list.
It's good news then, that La Piazzetta – Horsham's newest Italian restaurant – looks to Naples for its inspiration.
Authentic Neapolitan pizza must be made with San Marzano tomatoes grown on the volcanic plains of Vesuvius, and the milk from water buffalo raised in the marshlands of Campania.
Whilst that may not be the case here, in the spirit of classic Italian eateries, La Piazzetta recipes are still a closely guarded secret, as though the future depended on it!
And they're very good...
Before we get on to that, let's find out a little more about La Piazzetta. The restaurant opened on the site of the old Merrythought Restaurant in The Bishopric, Horsham.
If there was sadness at losing a family-run business which had been serving diners for 80 years, there is relief that a small, independent restaurant has stepped in to replace it.
SECOND BRANCH
The Horsham branch is the second La Piazzetta restaurant. It follows very much in the style of the well-established first restaurant in Petersfield.
Tomasso Zak, who manages the Horsham branch, spent many years working alongside the owner, Dino, at the Petersfield restaurant before taking the reins in Horsham.
"Horsham is a very good place for La Piazzetta," said Tomasso. "It's a nice town with fantastic people. "The owners were looking for somewhere that was very close to Petersfield, and a building with a similar style.
"Our first restaurant is in a listed building with low oak beams, and this site in Horsham is also one of the oldest restaurants in the town. We like that element of history as we want to create a traditional, homely feel.
"It made sense for the two restaurants to be fairly close together, as it means we can use the same fresh meat and seafood suppliers and the same flour too, which is important."
FERRARA'S LEAD
After a slow start, La Piazzetta has started to gain quite a reputation.
Initially, renowned Italian chef Salvatore Ferrara, who helped establish the Petersfield branch, was based in Horsham. For two months, Salvatore helped to establish the consistency of the recipes, before leaving Gianni Bovanzi and his team in charge.
Tomasso said: "Salvatore ensured that everything made here had the same taste and flavour as our Petersfield restaurant, where our food has very good reviews.
"Everything is made fresh; we make our own pasta and sauces and even our desserts – with the exception of ice cream which we bring in from a very good supplier.
"Our tiramisu, panna cotta, banoffee pie and cheesecake are all home-made. In Horsham, there are quite a few Italian chain restaurants, which people will always go to, but we offer something different, making pizza to our own special recipes.
"It was quite difficult at the start, as a restaurant needs time to show what it can do. Now people have seen what we offer, we are hearing very good customer reviews and hopefully people will love us for a long time."
RUSTIC CHARACTER
La Piazzetta has certainly given itself every chance with its choice of building. There is a cosy, homely feel to it, which is no doubt what served the Merrythought Restaurant so well for so long, whilst fleeting enterprises came and went in the shops all around them.
The new owners have been modest with their refurbishment, letting the exposed brickwork and timber frames provide the character, and stylish lighting, a rustic wall clock and a scattering of generic Venetian images sprinkling a little colour.
It's a pleasant contrast to the clean, clinical presentation of most Italian chains, and partly explains why there are no tables free on a cold Thursday evening in April.
Most of La Piazzetta's success since opening in October, however, can be attributed to the food. Like any good Neapolitan restaurant, the menu is short and simple and offers excellent value for money.
There are nine primarily classic pizzas – Margherita, Pollo, Fiorentina, Nepture, Caprino – they're all here. All cost less than £10, with the Margherita costing just £7.
Having sampled the pizza of the world famous Il Pizzaiolo del Presidente and L'Antica Pizzeria da Michele in Naples, I wouldn't go as far to say that La Piazzetta accurately recreates that same distinctive flavour and texture.
But the pizza does have that same tender dough and delicious tomato sauce and soupy mozzarella.
PERFECT PASTA
There's far more on offer than just pizza, though. The pasta too has a delightful texture, and each sauce we sampled had all the hallmarks of a lovingly prepared, home-made, traditional Italian recipe.
Popular pasta choices include Linguine Vongole (fresh clams, shallots, fresh chili, white wine and parsley, £8.90) and one of Tomasso's favourite, Penne Verdi (basil pesto, chicken, sun-dried tomato, cream and parmesan, £9.50)
With the Anatra (duck breast with mash potatoes) costing £13.95, and Filetto al Peppe (fillet steak) at a far from wallet-busting £18.50, La Piazzetta is an affordable night out, whatever your taste.
The wine list is okay, if somewhat conservative – Trebbiano D'Abruzzo is the house white – and there are some pleasing home-made desserts to explore here too, all for less than £5.
With one very good and popular family-run Italian restaurant (Carmela) already established in the heart of Horsham's restaurant hub on East Street, La Piazzetta is a welcome addition to the other end of town.
With swift and friendly service combined with good food in a homely setting, who knows - maybe La Piazzetta will be here as long as Merrythought.
We'll definitely be back…
THE FOOD
Linguine Marinara (£9.50)
We tried a starter sized portion for a cheaper price (a Primi dish costs £11.50) and found it a pleasing offering, with a good variety of seafood and fantastic colour. The tiger prawns were fresh and packed great flavour, and although the mussels were a bit on the small side, the dish was held together by a delightfully moreish pasta and a nicely seasoned sauce.
Insalate Pollo (£6.95)
Also available as a Primi dish (£9.50) There was a generous amount of grilled chicken, complemented by sundried tomatoes, fresh avocado and goat's cheese. A crisp, clean, fresh salad.
Anatra (£13.95)
A superb Italian duck dish, with an honest price tag. The rich, pink meat was almost swimming in a wonderful reduced apricot sauce. It was served with lightly-season, flair-free but softly textured mash potato, and fresh green beans. This shows that there's more to La Piazzetta than its name suggests!
Pizza Pollo (£8.95)
Created in a southern Italian style, with a soft, doughy texture and lightly crisp base, it's a delicious pizza. The tomato sauce carries that pleasing sweetness of Italian tomatoes, and there was plenty of oozing puddles of melted mozarella and chunks of fresh chicken to satisfy pizza lovers.
Visit La Piazzetta at 5 Bishopric, Horsham, or call 01403 273133 or visit
www.italian-restaurant-horsham.co.uk
REPORT: BEN MORRIS
PHOTOS: TOBY PHILLIPS