The Pass, South Lodge Hotel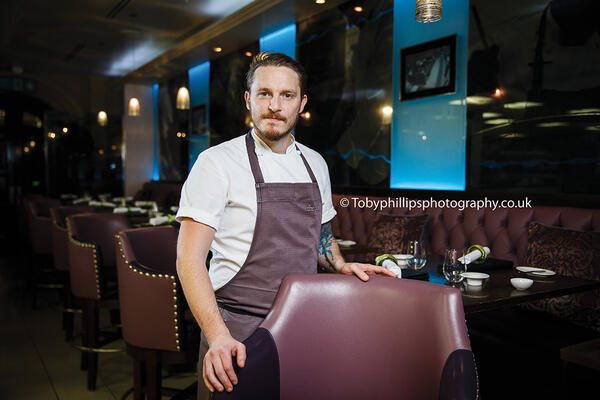 Published on 5th December 2016
You can make a case for cooking - even in its simplest form - being an artistic process. For instance, is there an art to boiling the perfect egg?
However, the new head chef at The Pass at South Lodge Hotel is taking this a step further with dishes directly inspired by his favourite artists. Ian Swainson cites surrealist Joan Miró as an inspiration and this influence is evident in his exciting, occasionally daring menu.
Several dishes are presented almost as if they are small works of art, ready to be discussed and debated by diners, who have the added bonus of eating them. Like a trip to a modern art gallery, The Pass menu is full of talking points. It's unusual and divisive. At times, it may leave you pining for something more traditional. But still, you can't deny it's fun!
Ian has stepped into the sizeable boots of former head chef Matt Gillan, who led The Pass to new heights during his time in Lower Beeding. With Matt preparing for a new business venture, the timing was fortunate for Ian, also a Michelin-star chef.
"I had been working at The Samling at Windermere, where I earned one star for three consecutive Michelin guides. It was a good job for me, but I wasn't particularly happy living in the Lake District and wanted to move somewhere close to Brighton.
"I was looking for a good work/life balance and felt that to do that I needed to come down south, closer to where I grew up. I believe that in order to be as inspired and creative as you can be, you need to be happy in every aspect of life.
"I moved down to Brighton without a plan, but found it really difficult to find a job. When you have a Michelin star on your CV, there are only certain jobs available to you.After some time, I stumbled upon The Pass. Matt was moving on, so my timing was fortunate."
A SURREAL APPROACH
Having taken on the head chef role in April, Ian quickly set about stamping his mark on the menu. In some cases, a previous focus on local produce was forsaken for taste and flavour, and the chef's love of art came to the fore.
Ian said: "I'm excited by and interested in art; it is a big influence in my life and my work.I don't paint myself but I find it particularly easy to put food on to a plate and create a picture with the tools of my own trade.
"Surrealist artists like Miró have shaped the look of dishes like the red mullet, with lots of splashes of colour. We also consider the seasons, so our menu is quite earthy in tone and flavour. We are looking to create a journey, with dishes flowing from one to the next.
"In this industry, there are trends, and chefs indirectly copy one another to create similar dishes. I try not to look at what other chefs are doing too much, as I want to innovate and work outside of trends. I want to be an individual chef and create my own story through the menu to challenge the customer. Sometimes it works better than others, but generally our dishes are very well received."
INSPIRING YOUNG CHEFS
With The Camellia, South Lodge's other restaurant, offering a more conservative menu, there is scope for The Pass to take risks.
As a result, there's invention in terms of flavour as well as concept, with reindeer moss, squid ink and charcoal ice cream among the experiences on the menu.
With such ingredients fitting into a themed menu, the service team are keen to share their knowledge with guests. This in turn, coupled with the open kitchen layout, creates a close relationship between the staff and diners. It also creates an inspiring working environment for the next generation of promising chefs at South Lodge.
Ian said: "As a young chef, I worked at several restaurants where - if you asked why something was done - the answer was 'because I said so!'We don't want to be like that. I want my team to understand every single ingredient on the plate. That helps them to better portray ideas to the customer.
"There is a very good atmosphere amongst the team here. There's usually a bit of a divide between the front of house team and the kitchen, but I set my stall out on day one that we are part of the same team. Because of the layout of the restaurant, there is a mutual respect.
"Still, I absolutely believe in driving forward in every department of the restaurant, starting from the moment people walk through the front door."
EARTHY THEMES ON A DARING MENU
There are two menus available; an eight-course menu for £80 (with a sommelier pairing for £70) and a 10-course menu for £90 (pairing for £80). We went for one of each, although the first five dishes are the same.
Before the menu began, we were presented with bread; partly a white seeded sour dough and part treacle and local ale sour dough. The bread came with a mushroom meringue and reindeer moss, sourced from a Nordic nation.
If the thought of dining out to a diet of a grazing Scandinavian mammal doesn't appeal, then it's worth noting that the couple dining next to us asked for a little more! It's fried to give it earthy flavour, establishing a theme that would crop up throughout the evening.
The menu story begins with Crab in the Shell. An edible clay lid covers the centre of a ceramic shell dish. Underneath the lid, we enjoyed the warm and earthy flavours of crab meat with hints of walnut and elderflower, all beautifully enhanced by a green olive puree, which gave the dish a dose of colour too.
The next dish, Geometrics, is a clear nod to the chef's passion for abstract art. Here, he plays with flavours like an artist plays with colour. There are some subtle tastes from a thin, triangular slice of sherry vinegar jelly and a salty celeriac, with a dollop of tarragon mayonnaise delicately placed within it. Stealing the limelight here though is the smokiness of a dark celeriac ball.
Whilst the modernistic concept of the dish hinted at a menu of playful colour, the next dish – entitled Black – suggests that the chef likes to keep people guessing. Here, black rice paella has cuttlefish at its heart, with cuttlefish ink and cuttlefish black rice crackers. Whilst the gothic appearance didn't raise a smile, the flavour generated by the cephalopod and its ink sac certainly did. One for the 'more pleasant than it looks' category.
A consistent earthy theme to the menu was perhaps best defined by the fourth dish, Deer in the Wood. Venison tartare formed the heart of this sublime autumnal dish, with shiitake ketchup, roasted shiitake, puffed spelt and sorrel leaves, all floating in a wonderful woodland consommé.
The menu could quickly travel the entire width of the colour spectrum. This was demonstrated once again as we went from black to autumnal to white with 'A New Italian Classic.' Personally, I found the dish to be more of a concept dish and it left me underwhelmed. Here, the taste and texture of pasta has been replaced by a pasta foam. It looks great (gorgonzola ribbons mimic the look of spaghetti, with 20-month old parmesan and black truffle flakes adding variation) but for me it lacked substance.
The pan-fried mullet of the 10-course menu had a delicious, lightly-crisped coating with a warm, subtle smoky flavour. The presentation was a surrealist's take on bright colours of the fish – flashes of red and yellow sauces on a translucent plate. The sauces – langoustine bisque and a harissa (roasted pepper and chili puree) all helped to create a vibrant and moreish talking point.
Then came what is - in essence - the 'main course' of the 10-course menu; Grouse in the House. Dark and mildly gamey, the meat carried a delicate sweetness to form a perfect culmination of the autumnal tones of the menu.
LARDO FROM TUSCANY
This gorgeous dish eclipsed what was still a beautiful rabbit dish on the eight-course menu. The Rabbit Gian Paolo is named after the father of restaurant manager Tommaso De Cristofaro, who supplies The Pass with Lardo. Lardo is a salami made by curing strips of fatback, and is made by Gian Paolo at his home in Tuscany. It is then wrapped around a braised shoulder of rabbit, with the dish brought together by a cappuccino style sauce with hints of celery and tarragon and a bold, dark mustard sauce.
The 10-course meal reaches its conclusion with three ludicrously tasty desserts. These include 'Sustenance' which is essentially a divine aloe vera sorbet with frozen apple clouds, causing us to have a bit of fun with mouthfuls of frozen smoke.
The meticulously detailed 'Aromas of the C-word' is a small pot of a pine custard with a candied pine crumb and cranberries, and a white chocolate baked wafer lid, finished with pine granite. It looks incredible and tastes every bit as good.
Arguably though, the most intriguing dessert is on the eight-course menu. Out of the Embers includes horchata mousse and a charcoal flavoured ice cream with smoked meringue. The concept came from the greys and whites produced in the kitchen barbecue from a salmon dish made in the summer. The chefs looked at how to translating it in to a dish, and charcoal ice cream is the result. The effect is odd but brilliant!
It seemed a fitting finale for an extraordinary menu which, despite its huge swings in colour and content, did maintain a consistent theme and 'tell a story.'
PLENTY OF TALKING POINTS
As the chef takes great inspiration from art for his flavours and presentation, it seems fitting to review his food in the same way. Joan Miró once said: "Works must be conceived with fire in the soul but executed with clinical coolness."
This could be applied to The Pass menu. It is daring and modernistic, and there will almost certainly be pieces that might not be to your taste. However, consideration has been given to every morsel.
Whilst some way people may prefer an oil painting of the South Downs, The Pass menu will reward a more adventurous palette. You'll certainly be talking about the experience long after leaving, which is always a sign of good art!
Visit The Pass at South Lodge Hotel in Lower Beeding. You can book a table on 01403 891711 or visit https://www.exclusive.co.uk/south-lodge/