Max's Diner in Horsham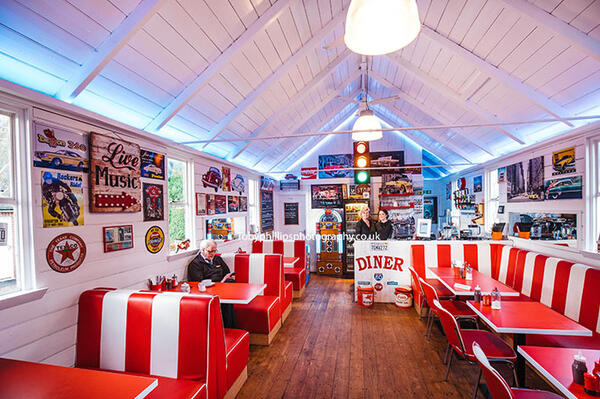 Published 31st January 2018
On the Graylands Estate, near a landfill site on Langhurstwood Road, you'll find a quaint little chapel.
It is thought that the chapel was originally built as a place of worship for those employed at the Manor House.Nowadays, it has the front assembly of a classic Chevrolet Camaro hanging over the door. Pinned to the walls are the sleeves of vinyl records by the same artist playing on the Jukebox; The Shadows, Elvis Presley, Buddy Holly and Johnny Cash.
Any gaps are taken up by vintage giant bottle caps of American drinks companies, framed front covers of classic comics or posters of iconic Hollywood movies stars including Marlon Brando, Marilyn Monroe, James Dean and Audrey Hepburn.The automotive theme is bolstered by advertisements for Cadillacs, Pontiacs and Mustangs, whilst a set of working traffic lights beam above the espresso machine. Customers sat on classic red and white striped seats are served burgers so big that to bite into them properly would require the mouth of a plankton-feeding whale. All of which makes Max's Diner quite unlike your average chapel on your average business estate.

Spanish Adventures
The diner was established nearly two years ago by Julie Talbot, who lived and worked in Horsham for many years until taking her family to Spain, where they opened a restaurant.
Julie said: "We were on the Costa Blanca for 10 years and opened our first restaurant in the same square as Eduardo's, owned by Elliott Wright (star of ITV's The Only Way is Essex). We served an English menu, mainly for Brits on holiday, but the economic downturn hit us hard. We returned to England where I continued to work in the restaurant business. I was at The Star in Rusper for four years, then at Red in Dorking. When this site came up, we thought it would be a perfect location for our own restaurant.
"It had previously been JoJo's Café, which for whatever reason never quite worked out. So, we knew we had to do something different if people were going to come this far out of town. That is why we came up with an American theme. Except for Smith and Western, there was nothing else like it around."
Whilst Julie was never heavily into the rock 'n' roll scene, her father loved rockabilly and was always playing Elvis records, so she knew enough to make a start. Julie's husband created the look of the restaurant - named after the eldest of her three children - buying memorabilia from American themed events and antiques shops, whilst a friend sourced the front end of the Camaro. When the diner finally opened, the couple couldn't believe the reaction to the American nostalgia.
"Once you start delving into the 1950s and 1960s rock 'n' roll scene, it's amazing how many people love it," says Julie. "When Horsham District Council organised the Americarna event in the town centre, they were knocked for six by the sheer number of people who showed up. There is an awful lot going on, with American car owner clubs and bikers coming together at shows across the country. With muscle cars, hot rods or the classic cars comes certain music and fashion too. People love dressing up and Americana can be a way of life for some.
"People were soon arriving in American cars, a lot of them from the Horsham area. Some have become good friends. We've also seen biker groups like Hogs Back and the Hells Angels visit and they're always friendly. "In the summer, we keep the front door open and occasionally you hear the roar of a Harley or a V8 coming up the driveway. The chapel vibrates and everyone looks out to see what it is. We've even had a couple of NASCAR racing cars visit. We happened to have Americans in the diner at the time and they thought it was out of this world.It's particularly pleasant here during the summer weekends, when all the other businesses on the estate are closed. There's lots of parking space and we have a nice little garden area, so it's a lovely place to be."
Big Appetite
In terms of the menu, Max's Diner caters for those with a big appetite. Favourites include The Gourmet for £10.95 (6oz steak burger with cheddar cheese, bacon, salad and bourbon sauce) and the £10 Red Hot Dutch (6oz steak burger with a hot Dutch chilli cheese, salad and spicy barbecue sauce).
Cheaper options include the quarter pound American beef burger (£6.95) and chicken breast burger (£8.95), whilst a kids' menu is available too. The burgers come with onion rings and chips served in mini deep fry baskets. The chips and onion rings might be cooked from frozen, as you would expect in a small diner run by a small team (Julie was assisted only by her daughter, Hayley). However, the burgers offer great value for money.
We chose The Gourmet and the Chilli Burger (8oz steak burger with home-made chilli, mature cheddar cheese and jalapeno relish) and whilst it was a challenge keeping it all in the bun, it was undeniably great fun and the food was very enjoyable. For the more discerning diner, Max's lacks refinement. But anyone complaining might ask themselves what they expect from a restaurant with a guitar hanging on the wall and a Jerry Lee Lewis soundtrack.
Julie said: "We try to vary the choices through our Specials board. Those that prove popular can be added permanently to our menu. We currently have The New Yorker, The Chilli Burger, as well as wild boar sausage and a full rack of ribs with home-made coleslaw. During the summer, we serve seasonal dishes like chicken skewers and chilli dogs.
"A lot of it is home-made. We source the meat from local butchers and make the 6oz and 8oz burgers ourselves. We also offer gluten-free or vegetarian food, which surprises a few people. Our burgers are big as people want a proper American experience. Not everything works, because the English have different tastes. The Americans add peanut butter or pineapple to burgers and that doesn't work here. But we try lots of combinations to see what people enjoy.
"Last year, we started serving breakfast until 12pm. As well as offering a full English, we serve waffles and pancakes, which are popular with children. Young people love coming here as it's different. They even enjoy the old songs on the jukebox. Unfortunately, we don't have an original Wurlitzer, as they are now worth more than the entire building! But still, the jukebox is a talking point and gives people something else to remember us by."

WORDS: BEN MORRIS
PICTURES: TOBY PHILLIPS
Max's Diner is open Tuesday – Friday, from 11am – 4pm and on Saturday and Sunday from 9am – 4pm. For more details about special events, visit the Max's Diner Horsham page on Facebook or call (01403) 252272.