The M Bar, Horsham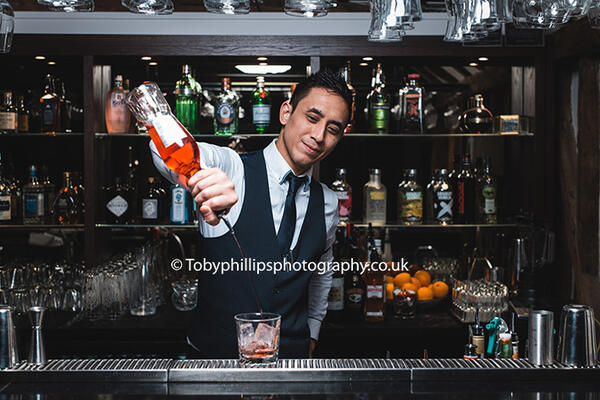 Published on 1st February 2020
The M Bar has quickly established itself as one of Horsham's most popular bars. Located in the former B52's unit at the heart of a rejuvenated Piries Place, cocktails including the Porn Star Martini and The Silver Fox have helped it attract a well-heeled clientele.While stylish drinks ensure busy weekends, The M Bar is also enticing diners with a stylish fusion of Asian cuisine…

The Origins
For anyone who visited Wabi, some faces may look familiar at The M Bar. At its heart are key personnel from the Japanese restaurant, which closed towards the end of 2018.Former Manager Benz Suwangmongkol fronts the project, in partnership with former Wabi colleague Nico Spurrier and Sophie Burstow, whose father, Don, was one of the original Wabi owners.
The M Bar is named in tribute to Sophie's late mother, Melanie, owner of China Brasserie and a well-respected businesswoman.Sophie said: "I've always wanted to follow in mum's footsteps and it meant a lot for me to dedicate this bar to her memory. My dad is a well-known businessman in town and I managed to persuade him to support me in the venture. So far, it's been a great experience, although we're still on a learning curve. There is a fantastic team in place and I'm happy for Benz and Nico to lead the way."

Long Time Plan
Opening their own place is something that Benz and Nico have been talking about for a long time. Having become friends at Forest School, they worked together at Wabi, which is now a Brewhouse and Kitchen. The closure of the Japanese restaurant was a sad day for staff who had become a close-knit group."I spent fours there as manager," said Benz. "We had loyal customers and a strong team that didn't want to disband. When it closed, we went our separate ways, all seeking to gain more insight and experience in the trade. But we always said that when the time was right, we would get back together. We hoped this would happen as it is like a family. We have Yossi and Luke in the kitchen, as well as bar staff, waiters and even doormen from Wabi."
"However, we don't want to copy Wabi. This is our own concept. We looked at what worked at Wabi and also why it didn't work in the end. It served beautiful dishes, but there was too much on the menu. Certain items like black cod were difficult to source, so it was brought in from far afield, which meant it was expensive. Also, the intensive preparation of some dishes meant that we occasionally required seven chefs, even when there were only a handful of customers.""So, we have streamlined the menu at The M Bar, selecting and modifying the best and most popular items, adding our own twist."

Asian Fusion
The M Bar serves a variety of dishes, primarily as tapas, ideal for sharing. The food is inspired not only by Japanese cuisine, but also Thailand, Korea, China and Vietnam. Initially, the kitchen was led by Yee Wang, the experienced Head Chef at China Brasserie in North Street. Yee, who has invested in The M Bar, created an Asian fusion using traditional cooking methods. Yee will soon return full-time to China Brasserie with Luke Green, another former Wabi employee, ably stepping forward.
Benz said: "With a name like The M Bar, people think of us solely as a drinking establishment. However, we want to successfully balance the bar and restaurant. The night-time trade is wonderful, but our food is great too.""People are gradually finding out about us as word spreads and hopefully by summer, we'll be busy throughout the week. Certainly, there isn't anything else in town like it. Other restaurants serve Asian dishes but we offer a more relaxing experience. It's somewhere you can enjoy a nice bottle of wine or Champagne alongside quality food that's different to what you'll find elsewhere."

Character Building
In February, Luke will be tweaking the menu, keeping the dishes that have proved popular whilst adding new and seasonal plates. Meanwhile, Nico hopes that the finishing touches he has been busy making to the building and facilities will bring the extensive refurbishment project to its conclusion."When we took over the unit, it was an empty shell," he said.
"There have been a lot of hurdles to jump through, not only in terms of the building, but also things like licensing approvals to serve alcohol. Taking on a unit that had been completely gutted was beneficial in one sense, in that we had a clean slate to create our own vision. The building does have great character, particularly the upstairs area with its oak beams. But it also means it's taken time to come up with the right look for our brand."
"Sophie has worked closely with a design specialist, Concept, for the principle ideas and we have boosted this with additional touches like LED lighting. People often remark on that attention to detail."

Asian Flair
As a dining experience, The M Bar works best when sharing a selection of dishes. The menu includes delicious meat skewers cooked on a robata - a method commonly used by Japanese street vendors where food is cooked over hot charcoal. The bao buns (pork belly or chicken Karaage) have been one of the most popular dishes. The pork belly (£6.75) was lovely, with slow roasted pork, pickled cucumber and daikon (Japanese radish) brought beautifully together by the sweet tang of a Sriracha mayonnaise.To add colour to the table, a couple of nibble dishes help. We tried the Edamame (soybeans) seasoned with Maldon sea salt and lemon (£4). Dim Sum options include chicken and vegetable gyoza (£5) and Shumai pork & prawn (£6.50) topped with Tobiko (flying fish roe) and Sriracha soya sauce.
For those willing to try something different, The M Bar serves up some intriguing dishes, including tempura soft shell crab (£10.50). The crustacean is taken after it has shed its shell and deep-fried, so that the earthy flavour can be appreciated. The firecracker chicken is another favourite, with the crispy dish getting a hefty kick of Gochujang sauce, a red chilli paste that lends the dish its name. There is of course maki (fish/vegetables and sushi rice on seaweed sheets) and nigiri or Sashimi (Sushi balls with wasabi paste and raw fish) options too.And for those seeking a more hearty meal, there are dishes more akin to traditional main courses, cooked on the Teppanyaki (hot plate) and grill.These include lamb chops with honey Sriracha sauce (£18) and the Teppanyaki 7oz ribeye steak with Ponzu sauce (£18). We went for a beautiful salmon dish (£18), with the refreshing fish complemented by a spicy miso sauce and a wonderfully flavoursome crispy nori rice on a deep-fried seaweed sheet.

Something New
By presenting something different amongst an abundance of culinary experiences in the town centre, The M Bar is already winning over diners. "We've already got regulars coming in," says Benz. "Currently, we don't need to worry about Friday or Saturday nights. But we do need to work on promoting the restaurant, as what we offer is very good and the team provide excellent customer service."
"We have people here that are fluent in Japanese, Korean and Chinese who know Asia and its cuisine, which will only benefit us going forward. I'm sure that when people try us out, they will definitely come back!"

Visit the M Bar at:19 Piries Place, Horsham RH12 1EH
www.thembar.co.uk or email: info@thembar.co.uk
Tel: (01403) 253063