Rising Talent at Gwyn's Bakery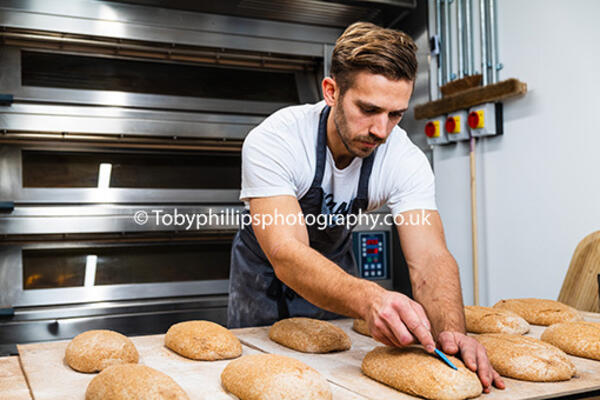 Published on 1st January 2021
Gwyn's Bakery opened its doors on the Bishopric, Horsham, shortly after the end of the first lockdown.
Its arrival was so eagerly anticipated that customers arrived before sunset and formed a long queue to be amongst the first to sample the new bakery.
For barista Tavian Townsend, it was an experience that will stick long in the memory. "The first couple of weeks were incredible. There was a one-in, out-one system that was largely dictated by our customers. People would wait patiently, then spend a couple of minutes in the bakery, choosing what they wanted. By the time they left, there would sometimes be two more in the queue! Because of social distancing, with people needing to stand two metres apart, even a line of 20 people stretched half way down the Bishopric! Fortunately, we now have a more stream-lined system, so people are served much faster!'
Gaining Experience
Gwyn's Bakery is owned by Ben Lines, who has invested all of his savings into the business. He moved to Horsham last year, having gained vast experience working in the food industry. Previously, he has worked at Michelin-star venues including The Fat Duck, which also took him to Melbourne for six months for the launch of a successful pop-up restaurant.
Stints in Oslo and London ensured Ben expanded his culinary knowledge. However, it was while working at The Snapery Bakery in London that Ben developed the essential skills needed to start his own business. "The Snapery is a wholesale bakery, supplying restaurants and cafes," he said. "It is run by a relatively small team and working there is intense. During my time there, I was able to gain experience of working in every section of the bakery in a short timeframe. I shaped hundreds of loaves there and had a full learning experience that wouldn't have been possible at a larger bakery. That was important to my learning process. Then eventually, after working in London for so long, I reached a point where I'd had enough of working for other people and wanted to do things my own way."

Long Time Coming
Ben relocated to Horsham, moved in with his partner and quickly saw the potential for an independent bakery. Although the town centre has a Truffles bakery and bread is sold at the Carfax market and farm shops, Ben felt there was an opportunity for something different.
During lockdown, Ben's vision of an open-plan bakery – where customers could see loaves being shaped and baked and also sit down – started to formulate. "The idea was to bring the quality and feel of a big city bakery into the town. I came across this unit, formerly a furniture store, and it was ideal. The landlord had invested in getting the building prepared, so we had an empty shell to work from. It was a big investment for me and that always brings risk, but I believe there is scope to be successful and grow."Ben was reluctant to put his own name above the door, and chose instead to honour his mother's great uncle. Gwyn's Bakery opened its doors for the first time on 14 November.
Ben recalls: "We were fortunate in that we could stay open during the second lockdown, with bakeries being an essential service. Of course, I was worried that there wouldn't be any customers, but from our very first day, there was huge demand. People appreciate us being here and many have said that they've been waiting for a bakery for a long time."

Sussex Loaf
Initially, Gwyn's Bakery is offering a core menu, with specials on selected days. The range of sourdough breads includes a Sussex loaf, a 50-50 loaf of white grain and wholegrain flour (which is milled in East Sussex) and rye bread. The bakery also makes croissants, chocolate croissants, linseed croissants and fruit Danish pastries, while its cinnamon buns have been a runaway success.
Ben said: "That was something we hadn't predicted. I added them as an afterthought and they've proved very popular. Across all of our products, we use high quality ingredients, including many that I've used before at Michelin-star restaurants. That is why we are more expensive than the supermarkets and some other outlets."
"I appreciate that some people find it difficult to spend that amount of money on a loaf of bread. But the quality warrants it, because of the time we take in preparation and the ingredients used. People don't always realise the work that goes into it every item on the shelf."
"In time, we may expand our core range slightly, but the idea is to keep the essentials the same and introduce specials on certain days to entice people in for something different. In the New Year, we'll perhaps introduce things like sausage rolls. We also sell items by some of our favourite producers, including flour we use in our own loaves. We're still new, but we'll be ready to adapt to meet the needs of customers."
Further Details: Gwyn's Bakery26-28 Bishopric, Horsham, RH12 1QN
Open: 7.30am - 4pm (Tue - Fri) 8am - 4pm Saturday. Closed Sunday and Monday.