The Moon, Storrington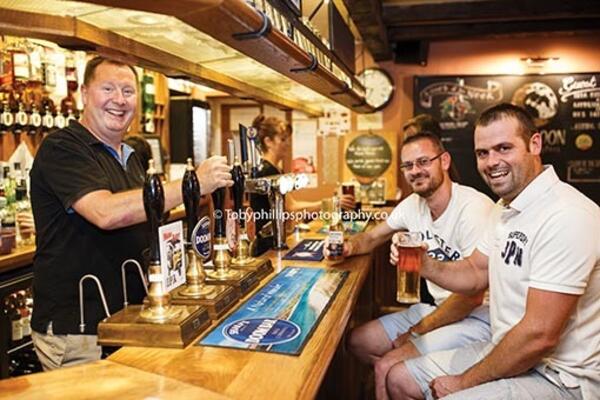 Published on 4th December 2015
Over the years, we've shared a restaurant with various people who have made our meal reviews a more memorable experience.
Our visit to The Greets in Warnham coincided with a night of Morris music, providing a wassailing soundtrack to our meal. We were distracted by the presence of a rock star at the bar of Hayward's at Hurtwood Park, whilst at The Hare and Hounds in Cowfold, Toby and I spent much of the evening answering questions posed by members of a Women's Institute group, taking advantage of the OAP lunchtime special offer.
This month, we visited The Moon in Storrington on a Tuesday night and found it dominated by gaming fanatics. The South Downs Siegebreakers had taken over a large section of the pub for their wonderfully elaborate board games, including Warhammer, Freebooter's Fate and X-Wing. Many members ordered one of The Moon's home-made pizzas, which they enjoyed whilst discussing Game of Thrones or potential spin-offs for Star Wars characters.
The Siegebreakers certainly contributed to a friendly, sociable atmosphere at a pub that has quietly built up a good reputation. The secret of its success is not down to an exotic menu, budget meals, or contrived elegance in the form of sauces smeared across a plate with the back of a spoon; it's simply good pub food for people with a big appetite.
A Regular Lick of Paint Required
That The Moon attracts so many people is a credit to landlord, Richard Messenger and his wife, Lawrene. For in terms of location, it's far from an idyllic setting. Storrington may be a prosperous village on the fringes of the South Downs, but it has a considerable traffic problem with 22,000 vehicles a day passing through.
Whilst that may bring some benefit, it does mean that The Moon – just a few feet from the roadside - regularly requires a fresh lick of paint. Richard is one of a number of local business owners fighting the tide, trying to make the village look pretty despite a constant stream of passing cars.
This year, he was awarded an 'In Bloom' award, and in the past has been interviewed by BBC reporters whilst firing a pressure washer at buildings along the High Street. Inside the pub, a traditional approach is paying dividends, with hearty dishes and a sociable bar area promoting a communal atmosphere.
Richard said: "We are tied to certain beers and ales through our association with Punch Taverns, but we also serve ales by local brewers including Long Man and Firebird. People appreciate that and they also love coming here for our food.
"Our kitchen is run by two young chefs, Marc Claydon and Elisha Dickensen-Bland. They've really progressed over the last 18 months and the feedback has been excellent. I have told Marc and Elisha to cut back on the portion sizes and explained that I have to make a living, although they don't seem to listen! However, I know that everybody loves the big portions and that is one of the reasons for our positive ratings on TripAdvisor. People do get value for money here."
Keeping it in the family
Richard has been at The Moon since 1999 but now it is very much a family-run operation. He met and married Lawrene whilst at the pub, and her daughter is our waitress for the evening. Chef Marc is Richard's step-son, whilst the bar is usually managed by his nephew, who is currently away travelling.
Richard said: "I was running a pub in Devizes and was looking for a new place closer to my parents. I found this pub, which wasn't doing particularly good business and looked like it needed a bit of love.
"I reached an agreement with Punch and we invested in improvements. We've been doing well ever since. The pub was called The Half Moon, but six years ago we had another refurbishment and we wanted a new beginning so resorted back to The Moon."
Giving the People Want They Want
Whilst amendments to the name have been minor, menu changes have been more dramatic.
"We've tried everything from fine dining to ordinary pub grub," says Richard. "To begin with, we served pub food like ham, egg and chips and a couple of steaks, then we tried seafood and Italian dishes. At times, there has been a bit of an identity crisis and certainly through the recession it was very difficult to work out what people wanted.
"I have been in the trade for 26 years and it's always changing. You can work hard for years to see business grow until you reach a point where you are happy and everything is working well. Then the world slowly changes and without you really noticing, business starts to drop off.
"People's expectations are always changing and you have to reinvent yourself every few years. It's really only in the last couple of years, since we went back to serving ribs and burgers, that business has picked up. So we've gone full circle.
"We want people to enjoy themselves. Here, they can eat, have a drink and meet friends. We provide good service and a friendly welcome in a nice environment with fast Internet access. The customers have all of the things they have asked for."
Best Burgers Around?
The Moon brings in produce from a host of local suppliers including Farncombe butchers in Storrington. Richard even contributed towards a machine which allows the butcher to produce bigger patties, as he doesn't like big buns with a tiny burger.
"All of our burgers are home-made, as are our pizzas, with the dough prepared here. We supply our own onions and spices to the butcher, so we know exactly what goes into our burgers.
"The fishcakes and several pies are home-made, whilst we buy in others from Devilish Desserts in Littlehampton. Our philosophy is, if we can buy better than what we can make, then we will. But if we think we can make it better then we'll do that. Lawrene and I eat out regularly and we believe we serve some the best meals you can find locally."
But would AAH find the dishes up to scratch?
The Dishes
There's certainly no shortage of options. The Moon has a wide range of burgers, including a brie and mushroom burger and a chili bean with spinach burger. There is also a long list of gourmet pizza and pie options, whilst The Moon's Sunday carvery is enormously popular. There's a selection of tapas too, so it's likely you'll find something that takes your fancy.
We started with a selection of tapas. The meatballs bravas (beef and pork meatballs) were enjoyable with good garlic, tomato, paprika and parsley flavours coming through. The gambas tempura (tiger prawns) also hit the spot, with a beautifully light batter complementing the fresh prawn.
The gambas and chorizo (pan-fried paprika sauce) was a little less remarkable. Served in large Trivial Pursuit style segments, the dish offered good value (particularly as it was served with tiger prawns) but lacked flair. However, all three of the £6.95 tapas dishes offered reasonable value for money compared with less generous tapas dishes that we've seen elsewhere.
Where is my Calories Calculator?
We'd heard enough good reports about the stone-baked pizza from the gamers, so didn't need to offer our own appraisal. However, if you're tempted, they range from the £9.95 Margarita to the £13.95 Oceana.
For her main, Maria chose a chicken, ham and leek pie (£11.95). The shortcrust pastry was light and pleasant, and well filled with a creamy white sauce and plenty of chicken breast. The home-made mashed potato and fresh vegetables made for a deliciously homely English meal.
Toby went for one of the burgers, all made with locally supplied beef and served in a strong brioche roll. The spicy sloppy Joe burger is served with chili-con-carne and cheddar cheese, and like most of the burgers represents a challenge. Alas, Toby was unable to finish his meal, but certainly enjoyed a fresh, very well-seasoned burger that held together. The home-made onion rings and chips make this a rewarding treat for those unfamiliar with calorie counting.
I chose the slow roasted baby back pork ribs from the specials board. The meat (plenty of it there was too) fell beautifully from the bone, and it was coated in a moreish barbecue sauce. Again, the dish was worthy of The Moon's reputation for big portions, with hand-cut sweet potato fries and lovely home-made coleslaw providing great colour.
Is The Moon worth checking out?
In truth, we had gone to The Moon with low expectations. Not once in five years had anyone told us 'You should go check out The Moon!'
However, we left having had a genuinely enjoyable night. Richard is certainly right when he says that "the outside of the pub betrays what we have inside."
The Moon is a vibrant and lively pub, with chatty and friendly staff and chefs keen to impress with their developing skills. Those who seek refinement in presentation and a 'less is more' approach to the menu would be wise to consider other options first, as would those requiring an aura of romance.
But for those who want to enjoy hearty, home-made dishes whilst young men celebrate as The Imperium of Man (a totalitarian interstellar empire) defeat the orks in their dystopian science fantasy universe, then The Moon is the place to be. Sounds daft, but you'll probably enjoy it far more than you thought you would…
Visit The Moon at 13 High Street, Storrington. You can book a table by calling 01903 744773 or email bookings@themoonpub.co.uk Visit www.themoonpub.co.uk for full menus