Review: The Crown Inn at Dial Post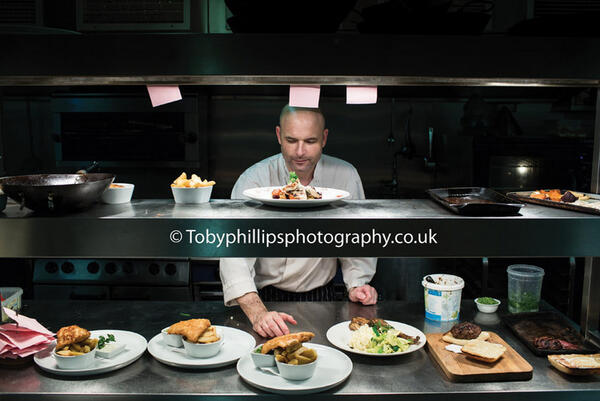 As you approach the bar of the Crown Inn at Dial Post, you'll see a large picture of book shelves, several of which have had titles added to them.
There's 'Horsing Around' by Anne Hawes, who operates a livery yard off Swallows Lane in the village, and 'Fast Cars and Choppers' by Jonathan Palmer, the former racing driver who lives just across the fields, as the
helicopter flies.
Two of the titles have been devoted to the owners of The Crown, James Middleton-Burn and his wife Penny, whose would-be book is entitled 'Multi-Tasking.' They could well have another, called 'How to Run a Successful Pub in a Tiny Village in the Middle of Nowhere' and no doubt there would be a few landlords around who would be keen to read it.
There are not many houses in Dial Post - a tiny hamlet just off the A24 where horses probably outnumber people and residents chat about how many pheasants they shot at dawn or the four-cylinder powerplant on the new Massey Ferguson tractor.
Yet somehow, the pub is one of the busiest around, and at weekends you'll do well to find yourself a table. If the Vintage Rally is on its monthly pilgrimage to the pub, you're hopes of finding a seat are about the same as finding a 1958 Aston Martin DB4 in an abandoned barn.
Part of the reason for its success is that James and Penny have not rested on their laurels. It is fair to say that The Crown at Dial Post reflects their own passions for rural life and that warmth, in turn, attracts more punters.
But there have been considerable changes to both the interior of the pub and to the food James offers on the menu.
Penny said: "Last November, the recession had meant that, whilst things were okay here, we were plodding along to some extent. We thought the pub needed a new lease of life, so we changed a few things.
"We put a new carpet down and painted the walls, and made some quite radical changes to the menu. Food costs have gone up a lot recently, but customers do not expect to pay any more than they have been paying for pub food.
"So James changed the menu. We made the Crown Comforts a focus of the menu. Some of the dishes had been on the old menu, yet suddenly more people are ordering them. The market has changed and we are selling a lot more traditional pub dishes, such as fish and chips, beef burgers and cottage pie. "Customers want the classics these days and they are moving away from fine dining dishes. I think, unless you are like Restaurant Tristan (in Horsham), it can be difficult to maintain the standard at that level of high-end food.
"For certain, we started to lean that way for a time but we have pulled it back and it's really helped to kick start the pub. "Whatever business you have, you need a bit of a rebrand from time to time, and since that happened people have remarked on it. People don't say anything until you've changed things, and then say 'this is much better – it was becoming quite tired!'
At first glance, the changes are not obvious to the occasional drinker, but the new colour scheme does add warmth to the area around 'The Snug', a popular, enclosed area that can seat about 15 people. But on the menu there have been more obvious changes.
In an effort to make life easier for James, a fine chef who takes control of the kitchen whilst Penny handles the front of house, the menu has been simplified, with fewer dishes on the specials board. Penny said: "James was working himself into the ground, and trying to do too much. The specials board became too big and it reached the point where every day we felt we had to put the steak on there, and we had to provide more vegetarian options.
"In the end, we put the most popular specials on the menu permanently, and now we have just three daily specials. It's made it much easier for James to take a break.
"He can't work every single day of the year, but beforehand he felt he had to.
"To a degree, he has tried to standardise the dishes. He has prepared specific instructions for the other chefs. It means nobody ever goes home and says 'it wasn't as big a portion as last time' as all the chefs are working to the same portions."
Thankfully, the standard has not slipped. Everything is still hand-made, the service is still efficient and swift, and it is clear that James, whilst he may be serving from a simpler menu, is a chef who doesn't want to disappoint.
Starters include crispy crumbed devilled whitebait with lime and spicy aioli (£6), and the chef's free-range chicken liver and pork pâté with crisp breads. We plumped for the delicious home-potted prawn, crab and crayfish crostini (£8). It was a neatly-presented dish that had that clean, moreish taste that fresh, quality seafood should have.
We also enjoyed the chef's delicious free range chicken liver and pork pate with crisp breads (£6).
You can also pick from several nibbles. The Sussex cob loaf with extra virgin olive oil and balsamic dip (£2.50) is a nice social selection, and the garlic bread with Sussex Charmer (now based in Rudgwick) is worth a try too (£4.50).
On the winter menu, there are several main dishes from the chargrill, including the Sussex sirloin steak (£19.50) and gammon steak (£15). However, we went for the escalope of chicken soaked in wild flower honey, natural yoghurt and lemon (£13). The sauce carried real zest and perfectly complemented the colourful vegetables and tender chicken, sourced directly from Etherley Farm in Ockley, which also occasionally provides duck for dishes on the specials board.
All of the dishes on the winter menu are offered with a choice of The Crown's scrumptious hand-cut chips, (warning - don't get Penny started on pubs who claim to have hand-cut chips when they're not!) olive oil crushed new potatoes, or dauphinoise potato. Most people, however, tend to veer towards the Crown Comforts menu.
Options include the Harvey's beer battered haddock (£12), Sussex smokie (£13.50), cottage pie (£12) and ham, egg and chips (£10). The ham is hand-carved local ham from S K Hutching's in Partridge Green, with free range eggs and chips (they really are hand-cut!)
13.50). This is a wonderful example of how The Crown creates the classic pub dishes with style. This potless wonder was regally presented as a decorated crown, with a generous filling of beautiful cuts of steak and kidney, sourced from Hutching's.
Much of the meat used comes from there, but James also brings in sausages from another local farmer, Dave Jesse of Ashurst, for its sausages. When not running his own smallholding, Dave also works at the pub a couple of days each week. The Partridge Green butcher also supplies the meat for another Crown best-seller, the home-ground beef burger with chips, balsamic caramelised onions, rocket, fresh tomato, bap and mayonnaise (£11).
The burger is, as it always has been, superb. However, we do recommend you spend an extra £1.50 and add some local bacon or Sussex Charmer to your burger, just to have something to inject a variety of flavour.
It was also a touch of a disappointment to discover that the delicious freshly-made coleslaw is no longer a part of the dish. It can be ordered as a side for £2.50. Looking around at the various dishes coming out of the kitchen, you couldn't deny that most represent great value for money, in particular the pies. But order cheese with your burger and a coleslaw side, and you're talking about £15.
It's a great burger, but it's hard to convince yourself you've bagged a bargain at that price.
6). One of the puddings we chose was the Kumquat and honey bread and butter pudding with homemade Cornish- style vanilla ice cream (£6). This is one of the pubs gluten free meals, and carried a consistent, smooth texture, not too sweet or creamy. It tasted terrific with the Cornish ice cream.
James points out that he is happy to prepare gluten –free meals (repeated on the menu). There are also a couple of vegetarian dishes including the Haloumi cheese burger, grilled and served with homemade pesto and roasted aubergine slices on ciabatta (£10.50).
The Crown has a nicely balanced wine list, with some nice mid-range wines including the Chateau la Grave Privilege Rouge (2009) and David Moreno Rioja Blanco (2012). It's nice to see some local beers at the pumps too, including Bedlam (brewed in Albourne) and bottles from the new Firebird brewery in Rudgwick.
Despite the changes to the menu and the building, little has really changed at The Crown, and that is a good thing. The pub's strongest asset, really, is Penny and James, and the experienced team they have in place, led by manager Dan Rains. Many other pubs might promote the fact that they 'buy local'. But at The Crown Inn, it's a given. If other places simply buy from a local farm, Penny and James probably know the farmer's favourite tipple and the name of his horse.
The couple, who have two children, offer a pub full of character and characters, where you feel you can walk in with a bit of mud on your boots, or some oil on your hands as your 1968 MG Roadster has broken down.
In return, you might have to put up with a dog called Chops snuggling up under your table. If you like a more intimate experience or you don't think you could sit there whilst someone at the bar expresses his love of the hunt, then perhaps The Crown isn't for you.
But it's still one of the very best rural pubs in Sussex. James may have gone back to basics with the food, but The Crown is back to doing what it does best. I'm sure it's many regulars would agree that long may it continue.
For details visit https://www.floatingcrown.co.uk/