Jengers Craft Bakery in Billingshurst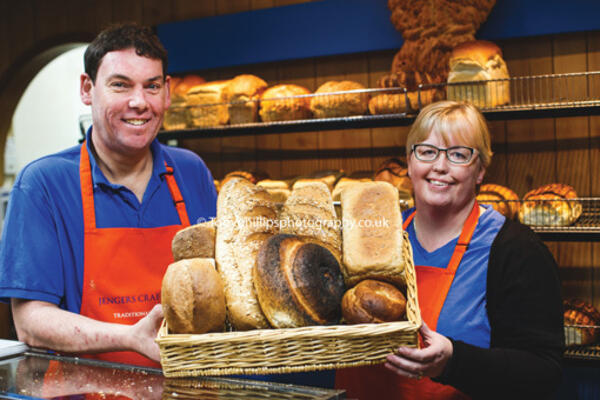 Published on 4th December 2015
Have you ever heard of Bimbo Bakeries? No, they don't think that a 'baker's dozen' is eleven, or that dough is a deer. A female deer. Bimbo Bakeries is a genuine company, based in Horsham, with 60 bakeries selling 12 different brands, with annual sales totalling about £75 million.
Despite its staggering success, it's unlikely you will have heard of Bimbo. It's based in Horsham, Pennsylvania. We've just called on it here to help make the opening paragraphs more interesting, and to highlight the decline of bakeries in our own Horsham district.
In July, Forfar's bakery in Horsham's Carfax closed its doors and three months later several other Sussex branches closed as the company went into liquidation. Personally, I thought they made a lousy sausage roll, but there is still sadness that a familiar name has disappeared after 198 years in the county.
So is this a sad indictment of supermarket domination? Perhaps, but it does not signify the end of the village bakery.
We still have The Bakery in Partridge Green, Barnard Bakers in Henfield, The Model Bakery in Steyning, whilst Truffles (whilst being a chain bakery) has branches in Horsham, Storrington, Henfield, Steyning and Billingshurst.
Oh, and there's Greggs, with its unique interpretation of what coffee should taste like...
One of the very best in the district is Jengers Craft Bakery in Billingshurst, where every Saturday morning you can witness a timeless scene of people queuing for a loaf whilst bread is simultaneously delivered by bicycle around the village. If could be a Hovis advert, were it not for the most dastardly, opportunist parking enforcement officers on the planet.
Jengers Craft Bakery is run by husband and wife Mark and Helen Sheath. They've been at the bakery since March 2014, although a bakery has been on the site for over 45 years.
Mark said: "The previous owners, who were here for 25 years, decided to retire and we had been looking for a bakery business. I've been in the industry since I was 16-years-old. My first job was at a small bakery and when I moved to Sussex in 2006, I worked for Kate's Cakes in Ashington, developing products for the likes of Waitrose and Marks & Spencer.
"I reached a point where I wanted to do something for myself and it was a dream of mine to run my own bakery. We were fortunate that this came up in Billingshurst as there are not many good bakeries left.
"I think supermarkets took a lot of their business away, but I believe people are returning to the high street. Customers want to know where their food comes from and programmes like The Great British Bake Off have helped, as they inspires people to cook and seek out better quality produce."
The arrival of the Sheaths was a relief to many Billingshurst residents, who were concerned that the village would lose its bakery. Not just any bakery, but a craft bakery. So, what exactly is that?
Mark said: "The best way to describe a craft baker is somebody who makes it by hand, with little in the way of mechanical assistance. We are not an artisan baker, as they tend to produce smaller quantities as each loaf is mixed and shaped entirely by hand. They also create sourdoughs and more specialist loaves.
"What we are is a good, traditional baker. We might introduce sourdough in the future, if there is a demand from the people of Billingshurst and the surrounding area, as we have to consider what will sell.
"We have a white dough, split into different sizes from a small 400g to a large 800g loaf. Then we make a
gorgeous 100% wholemeal loaf, a split loaf with 50% wholemeal and 50% white, and a harvester loaf. This is
similar to a granary loaf, made with malted wheat.
"We also make speciality breads, including a Sussex Nutty, which is a local blend of oat flakes, linseed,
sunflower seeds, wheat and barleys. Then on a Thursday we bake a sunflower loaf, and for Halloween we introduced a pumpkin loaf. We'll soon be introducing a tea loaf soon, so as well as our the small buns, brioche and traditional breads, there is something for everyone.
"We make all of our own cakes and I do believe that our doughnuts are the best in Sussex! The only thing we don't make here is the puff pastry, simply due to time constraints."
In addition to the bread, Jengers Craft Bakery makes an array of cakes and treats, including caramel shortbread, gingerbread men, meringue, marshmallow cones, apple turnovers, Bakewell tarts, treacle tarts, mince pies and Viennese whirls.
But of everything on the shelf, it is the white loaf that is the best seller. Helen says: "Statistics suggest that white bread sales are down, so we are bucking the trend. This suggests people are coming here rather than going to the supermarket for a white loaf.
"We can offer a loaf sliced in different sizes, thick or thin, so customers prefer our product to that of major brands."
Even if you're not a visitor to Jengers Craft Bakery, you may well be enjoying its bread more than you think, as they supply pubs including The Selsey Arms in Coolham, The Greets in Warnham, The Wisborough in Wisborough Green, The George and Dragon in Shipley, The Foresters in Kirdford and The Blue Ship in The Haven.
Restaurants including Meat in the Middle and the Camelia Botnar Bistro rely on the bakery, as do farm shops including Union Jack in Cowfold, Sussex Farm Foods in Pulborough, and Weston's Farm Shop in Itchingfield.
Still, on a Saturday morning, they will be queuing out of the door, which makes the job of Darren Henty all the more satisfying. "I hardly ever get to see the shop team," he says. "But on Saturday morning I finish at 8am, so I see the start of the rush.
"I start at 5pm on Friday evening and work until 8am Saturday, as we bake three times as many loaves for the weekend. Just as I'm riding off into the sunset, or sunrise, I see people queueing around the corner."
Darren has spent 28 years as a baker, describing himself as a 'nocturnal being.' But he says he wouldn't change a thing. "You have to travel further to work these days as bakeries are closing, but for me the effort is worth it," he added. I get pleasure from every loaf that comes out of the oven. The job satisfaction is the reason I do it, as I'm always looking to make the perfect loaf. It's just a matter of nurturing the dough in the right way."
Far from being concerned about closure, the Jengers Craft Bakery is looking to expand. Mark and Helen recently added Londis in Southwater and a new farm shop at Hillier Garden Centre to their list of clients.
However, they do not want to lose what has made the bakery a success in the village. Mark said: "We don't want to lose what we have by stretching ourselves. It is a serious business, but we have a bit of fun and chat to the customers as we feel we are an important part of the community in Billingshurst.
"I don't want to create a chain of bakeries as I think you lose that, so we'll be happy carrying on as we are."
The doughnuts really are amazing.You can find out by visiting the bakery at 4 Jengers Mead Billingshurst
RH14 9PB or call 01403 784088 www. jengersbakery.co.uk