Street Food Vendors in Horsham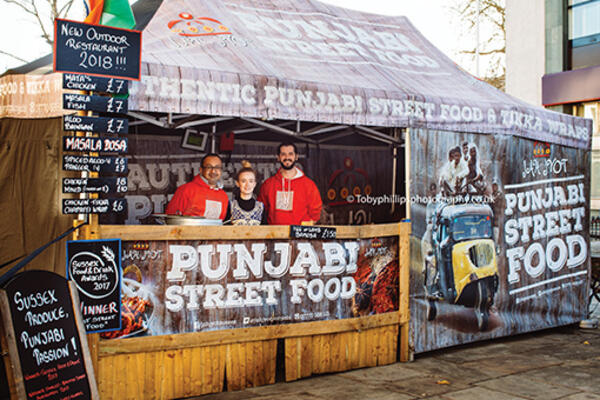 Published 1st December 2017
Every Thursday, Food Rocks brings a host of great street food vendors into Horsham's town centre. AAH spoke to just a few to highlight the market's diversity and the superb dishes available...
JAH JYOT
Three years ago, Ranie Sirah decided on a career change, having been inspired by the words of his son, who was just ten-years-old at the time. Understanding the need to do something that gave him job satisfaction and made him feel happy, the obvious option for Ranie was to pursue his life-long love of cooking.
Working in partnership with his friend Paul Jacobs, Ranie established a Punjabi food stall on a budget of just £500, initially setting up a small gazebo with two burners in the Piries Place market.
The Southwater-based business was named after Ranie's children, Jack, Alana and Hollie. Their initials were combined with Jyot, giving it a Hindi translation of 'God's Light.' As well as inspiring his father to start the business, Jack designed the logo, featuring a turban and lights. But the food was itself was inspired by Ranie's own childhood.
Ranie said: "When I was only young, my mum was very poorly, but she taught me how to cook so that I could feed my family when she passed away. "My love of cooking stems from those memories and most of the dishes at Jah Jyot are based on my mum's recipes."I'm a Ugandan national and came to England after my family were made refugees in 1972, when I was only six months old. It was a time when Asian minorities were being expelled by Adi Amin. My father was born in the Punjab region of India and also loved to cook, but it was my mother - who came from a Sikh family - that truly loved to feed people.
"So, we cook dishes that would typically be enjoyed by Sikh and Punjabi families at home. These are not dishes you will find in most curry houses."In Horsham, we are lucky in that we do have some good Indian restaurants. However, most of them still create dishes to suit the British palate at a time when people want original and authentic food. That is why restaurants like The Chilli Pickle in Brighton are doing so well. If I took my father into a typical Indian restaurant, he would look down the menu and wonder what all the dishes actually mean! I believe that one of the main reasons why we've been shortlisted for so many awards is because we recreate genuine, traditional Indian food."
In its first year, Jah Jyot was a grand finalist in the Sussex Food and Drink Awards. The following year, the team scooped two awards, including one for best street food, and progressed to the national finals held in Manchester. Jah Jyot are again one of the three finalists in the street food category and have also become the first ever street food vendor to be short-listed in the Best Newcomer category at the British Asian Curry Awards.
Ranie and Paul visit the Carfax on Thursdays and Saturdays, offering at least two meat-based curries as well as a vegetarian or vegan option. Firm favourites include masala dosa, a gluten-free rice flour pancake with rich masala sauce and chicken tikka pieces drizzled with herbs and spices.The masala fish is made with a white South Asian fish with strong Punjabi spices, whilst Mata's chicken, cooked in fenugreek leaves and yoghurt, is named after Ranie's mum, as it was a dish he was only allowed if he and his siblings were good at school!
The keema baba pays homage to a recipe of Ranie's father and is based on slow-cooked minced lamb.Ranie said: "All the dishes are cooked fresh on market day. I have a fantastic team, including Paul who is a great chef and a fun person to work with. We arrive early to begin preparation and our attention to detail has earned us a five-star food hygiene rating. This is testament to the high-quality of the ingredients too, with meat sourced directly from the award-winning Hutching's butchers in Partridge Green or occasionally Garlic Wood Farm butcher's in Steyning. Our vegetables are bought from Jeremy's of Henfield.
"Horsham has been the perfect place for us to grow as a business and we've come to know many of our regulars as friends."That's why we have ambitions to expand. We hope that in the not-too-distant future, we will open the first outdoor Indian restaurant in the south of the country, right here in Horsham."
THE PIG AND JACKET
The Pig and Jacket had its first trading day at the Horsham Christmas market three years ago and has since become a leading street food vendor.
Run by Cheryl Swinburn, sister Sue West and Richard Groves, The Pig and Jacket specialises in burgers made with free-range pork and grass-fed beef direct from a family farm in Laughton, East Sussex. Cheryl said: "The farm produces the most amazing pork, so we decided to take it on to the streets as the only other place it can be bought is the farm shop. Initially, we sold jacket potatoes too, hence the business name, but the demand was for sausages and burgers. "People often associate grass-fed meat with high cost, so our aim has always been to make it affordable for families."
The signature burger is the Dirty Hog, which is served with bacon jam and pulled pork. Like all Pig and Jacket's burgers, it is served in a fresh roll, sourced from a specialist bakery in Newhaven. Also on the menu is slow roasted pulled pork, buffalo chicken wings and the Dirty Elvis. The burger is inspired by The King's favourite combination, with banana jam and peanut butter sauce! It was created for the Americarna event in Horsham and proved such a success that it now regularly re-appears.
As well as being on the market on Thursdays and Saturdays, The Pig and Jacket has a flourishing events-based business. They have also been recognised at the Sussex Food and Drink Awards, having already been placed in the top three street vendors on two occasions.
CHEESY FINGERS
You're unlikely to meet anyone who knows more about cheese than Ben Rosling. Whilst he only established Cheesy Fingers a little over a year ago, he has vast experience of all things derived from the coagulation of milk!Ben worked for Sainsbury's for 18 years, where he was responsible for the quality control of many food and drink products. Every Monday, he'd spend hours testing a huge array of cheeses from around the world.
His knowledge is so vast, that for the past four years Ben has been a expert judge at the World Cheese Awards, nibbling his way through 65 short-listed offerings at the 2017 competition."I love cheese and want to impart some of that love on to others," said Ben. "We're fortunate as we have right on our doorstep some superb cheese makers, including High Weald Dairy near Haywards Heath (which makes Brighton Blue), Bookham Harrison Farms in Rudgwick (which makes Sussex Charmer) and Golden Cross in East Sussex.
"As a nation, we make more cheese varieties than France and they're increasingly interesting in terms of texture and flavour. This year's Supreme Cheese Award went to Cornish Kern from the Lynher Dairies Cheese Company. It blew all of the judges away and that is what a great cheese can do. It makes me go weak at the knees just thinking about it!"
Ben is keen to promote exciting cheese to his customers, so has created a cheeseboard on his stall, which is at the Carfax on Thursdays and Saturdays. It includes the Mini Baronet from The Old Cheese Room and Old Winchester from Lyburn Farmhouse. However, Cheesy Fingers is primarily popular for its fantastic gourmet cheese toasties. Ben has created combinations including The Great Brit and The French Connection. Each toastie has a blend of three cheeses to create a taste vastly different to regular cheese on toast.
Ben said: "My Great Brit includes Sussex Charmer, red Leicester and Lincolnshire Poacher, so packs real flavour. I am selective about the bread too, which I source from Coburn & Baker in Hove. It's a blend of rye and white flour with burnt sugar crystals to give it a crunchy texture."
As well as being on the market, Ben hopes to take his business to cultural events and weddings, having recently made a four-tiered wedding cake with layers of Brighton Blue, Somerset brie, Miss Muffet and an ash goats' cheese pyramid on top!
VEGELUTION
Mother and daughter team Louise and Imogen Baber launched Vegelution having grown frustrated by the lack of options at local restaurants. They sell vegan and vegetarian dishes from a vintage Citroen van and have been on the market since August.
Louise said: "There is no other vegetarian café, restaurant or street food vendor in Horsham, so we saw an opportunity to cater to a growing market. "I am vegetarian and Imogen is vegan. We're both tired of seeing the same options in restaurants. It's always stuffed peppers, mushroom risotto or goats' cheese tart.
"Sometimes, there is only one option and chefs are uninventive when you ask for something else. Recently, we were served Portobello mushrooms with plain spinach on top! Generally speaking, standards of cooking have come on leaps and bounds, but that's not reflected on vegetarian menus."
For breakfast, Vegelution serves baked bean bowls which includes mushroom, avocado and facon (fake bacon - made of thin strips of parsnip cooked with a smoky marinade sauce.) The main menu includes an American Sloppy Joe sandwich, a stuffing and red cabbage Christmas wrap and a Korean tofu burger with fresh kimchi and home-made bulgogi sauce. They also serve daily specials, currently macaroni cheese without the cheese!
Imogen said: "People have said that they're pleased to see more adventurous vegan cooking in the town. Some even visit us for advice. They may have a family member who is vegan and they don't know what to serve them, so we're often busy dishing out tips rather than food!"
As well as visiting the market twice a week, Vegelution hopes to branch out to other events, having recently attended the bonfire and fireworks night at Horsham Rugby Club. However, they are limited by their vehicle, which is yet to exceed 43mph!