Black Horse Inn, Nuthurst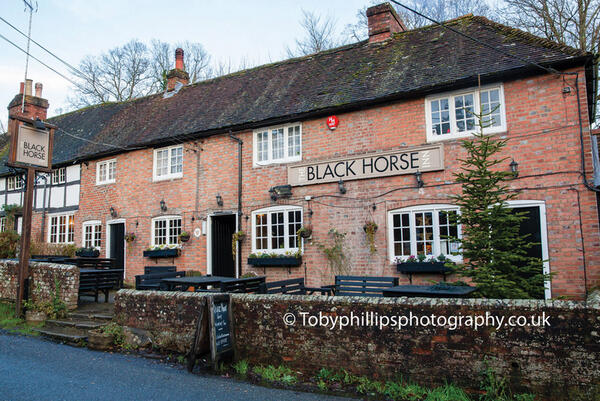 "It's lovely from the outside, and you walk in and there's an inglenook fireplace right in front of you. It's a quintessentially British pub."
Those are the words of Brian Denton, who runs the Black Horse Pub in Nuthurst. Not a great deal happens in Nuthurst, although Architectural Plants is based there and the beautiful church has been the centre of the village for a thousand years. But it is a close-knit community and having a good pub at its heart is important.
Brian took over the pub in the spring of 2011. Living just a couple of miles away in Monks Gate, he was a regular at the pub and after taking over quickly set about establishing a reputation for good food and drink. When he arrived, the Black Horse served Sussex Best Bitter and London Pride. Now, there are four beers with one
national been and any three others.
Usually, there are at least two local beers on tap. All five of the local breweries (Dark Star, Hepworths, Westons, W J King and Kissingate) have had their beers for sale at some point in the last year. Brian said: "It makes us popular with the real ale drinkers and we've been voted into the 2012 Good Beer Guide, which is the beer drinker's Bible.
"People like to drink local ales and in a place like this, which is a destination pub they expect to drink the local beers. We have a lot of visitors from further afield. They turn up and want to know the local ales and it's a good selling point. It also supports the local economy, but we're happy to that as the local breweries are also very good. For me, Dark Star is one of the best around."
Next, Brian set about changing the food, bringing in two chefs; Damon Paul and Viki Marki. He realised that it was important for the food to be right if the Black Horse was going to maintain its reputation as a destination pub.
"The food was not great," said Brian. "(The previous owners) had lots of good ideas and were trying to do the right things, but perhaps in the wrong way. When I came to the pub it didn't need a complete overhaul.
"We just started playing around with the menu, saw what worked and what didn't and put in a menu that would work. Pubs are not drinking holes anymore. It is about the food as much as the drink."
"We try to serve good, honest food. We don't oversell the menu as we don't want to sound pretentious. We make it simple, but when it comes out it looks impressive.
"It might be a shepherd's pie, but it might be the best shepherd's pie you've ever had. You order a steak and that's what you get – good steak from a local butcher that is cooked well, presented well. We use New Street Butchers and the meat we get from there is just fantastic."
Chef Damon said: "We want to put different touches on the food so people go 'wow'. It's not too fancy – there is no pork terrine with shaved truffle, pea shoot and parsnip puree. Not yet anyway. It's simple and not over the top, and it's well priced. People just want good food in a nice atmosphere.
"I like adding flavours that work. Maybe it's not quirky, as that would suggest that we are taking it away from being traditional. But we'll have lamb with buttered carrots, with dauphinoise potato that is compressed ad properly flavoured. It's going the extra mile on making something simple. But we are working with a fantastic butcher, and when I'm working with ingredients as good as this it really is difficult to mess it up. There is no need to dress it up as anything else.
"So the menu doesn't tell you all of the ingredients, there are a few little surprises."
We visited the Black Horse on a busy Wednesday evening. The pub runs an enjoyable quiz night every Wednesday, raising money for St Catherine's Hospice. Confident of my own general knowledge, we took an answer sheet and settled down with a pint of Dark Star's Hophead.
At about the time that the quiz master declared that round one was about 'opera', we realised we might be set for an embarrassingly low score. As Toby declared he was far too busy taking photos and did not wish to be
associated with the last placed team, our starter arrived.
There are only four starters on the menu: Sussex Smokie baked with cheese topping served with bread (£6.75),
Portobello Mushroom topped with balsamic onion marmalade and baked with creamy goats cheese (£5.95), Soup of the day (£4.75) and Ardennes Pate with an onion marmalade, pickled baby vegetables and toast (£6.50).
But you can also choose from one of two platters to share. There's a £13.95 Meat Platter with prosciutto, Milano salami, chorizo, Ardennes pate, sundried tomatoes, marinated olives, salad garnish, crusty bread and butter.
We opted for the Seafood Platter at the same price, comprising peppered mackerel, crab pate, prawns, smoked salmon, capers, salad garnish, marie rose sauce, lemon mayonnaise and wholemeal bread and butter.
It was very nicely presented on slate. The strong, intense flavour of the peppered mackerel ensured it was tasty as well as being nutritionally dense brain food. The delicious salmon was thick in texture, and deep and oaky in taste. It's always nice to see a decent amount of crusty bread on the side of the plate too, as oppose to thin slices of wholemeal that pate tends to rip right through.
As I sat trying to think of a reasonably educated guess for a question relating to Munch's famous painting 'The Scream' in the vain hope of finishing second to last in the quiz, the main course arrived. Mains include Rack of Lamb marinated with Dijon mustard, mint and honey served with dauphinoise potatoes (£16.95), Chicken Supreme served with crushed new potatoes (£13.75), Beef Bourguignon served with creamy mash and buttered carrots (£13.75), Fish Pie with a cheese and herb topping (£13.75) and Beer Battered Cod (£11.95).
The Black Horse also has a selection of steaks. You can choose between Fillet (£20.50), Sirloin (£17.50) and Rump (£15.50) with baked rarebit Portobello mushroom, roasted vine tomatoes, mixed leaf salad and hand-cut chips. You can opt for peppercorn or blue cheese sauce for an extra £2.50.
As it transpired though, Brian had noted that steak seems to come up frequently in our food reviews! Toby, who does like a good steak, felt the pressure to pick something else so went for the Baked Salmon with a cheese and herb topping, mashed potato and flash fried green beans (£14.75).
The salmon was moist, fresh and flavoursome and once again beautifully presented with moreish mashed potato and a little log pile of green beans. I went for the Rack of lamb, which was again a neatly presented and vibrantly colourful dish. The meat was conservatively cooked but was very well flavoured and the lightly seared compressed squares of potato were wonderful.
There was no fuss with the service; it was friendly and informal with few of the formalities of a restaurant, which suits us just fine. We were, however, given a brief description of the wine list, which includes Surrey Gold from Denbies.
A glass of Pinot Noir washed away the shame of finishing last in the pub quiz before the desserts arrived. There is chocolate brownie, apple crumble, banoffee pie, lemon meringue pie and home-made ice cream on the desserts menu, all costing £5.50. Toby chose the brownie, served warm with a delicious home-made vanilla ice cream. I sampled the cheese board (which carries a £2 supplement) with goat's cheese, cheddar, brie, dolcelatte and parmesan shavings, apple chutney, red onion confit and celery.
It came with a huge selection of crackers, so if you are going to try these cheeses there is plenty to share between two or three people.
We really enjoyed our visit to the Black Horse Inn. It is a beautiful little pub, and it has a nice garden which is being prepared for the summer. The fact that the pub continues to attract people from the surrounding villages and further afield speaks for itself. It is a charming place with good food, good ales, and it is no great surprise that this appeals to a good number of people.