CURRY VILLAGE, BILLINGSHURST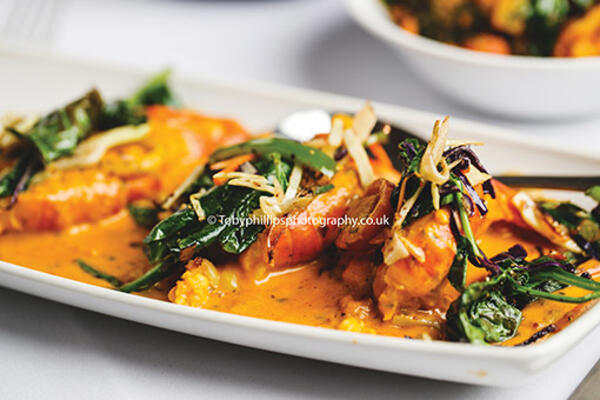 Published 1st March 2019
In 2001, Foreign Secretary Robin Cook famously cited chicken tikka masala as the national dish of Britain. He said it was an example of the way that the country "absorbs and adapts external influences".
But recent times have seen a gradual decline in the success of curry houses, as "going out for an Indian" became "staying in and making an Indian" or "going out to the supermarket to buy an Indian banquet for two for £8." Having invented our national cuisine, there must have been a degree of resentment amongst Indian chefs as Mexican, Thai, Chinese, Lebanese, Spanish and even Vietnamese restaurants exploited the Britishenthusiasm for international flavours!
The consequence of all of this competition is that Indian restaurants must offer something different. That's something Curry Village co-owner Belal Ahmed is only too aware of.
"If you go in most curry houses in Horsham or anywhere, they are making the same food, using the same sauces, served in the same steel dishes, just like they were 20 years ago. People are bored of it. They want something new."
"You still need to have korma and tikka masala on the menu, otherwise you won't survive. Some people have enjoyed such dishes for years and will order the same thing every time, which is fine. But they are not truly Indian dishes. Our Signature Collection includes dishes from all over India and we encourage people to try it. Slowly, people are becoming more adventurous and when they do that, they leave here happy with their choice."

Know Your Market
Curry Village in Jengers Mead, Billingshurst, opened in October 2018. Having previously worked at Blue India in the village, Belal turned down opportunities to open a restaurant in Crawley, preferring to stay in Billingshurst, where he knew the market. By slowly winning over local customers and growing through positive word of mouth, Curry Village is already attracting repeat business. Whilst it's only a small restaurant, of its 47 reviews on Trip Advisor, every single customer has given five stars.
Belal, who co-owns the business with Nurul Alam, with Lilu Miah at front of house and Rajkumar Rao and Mehbub Rehman in the kitchen, cites Chilli Pickle in Brighton as an example of the direction Indian restaurants can take to meet modern demands.
"They proved that if you have the courage to offer something different, people will try it. Chilli Pickle is now one of the busiest restaurants in Brighton and attracts people from all over Sussex. So, we also wanted to offer a fresh perspective on Indian food and encourage our customers to try new dishes. As you can see from the reviews, we love to talk to people. We ask them what they traditionally like, whether it's chicken, lamb or seafood, and if they like mild or spicy dishes. Then, we can make a recommendation."
With its Signature Collection, Curry Village has dishes like Shahi Chicken Lababdar, a tandoori dish inspired by Old Dehli cooking, and the famous south Indian style Chicken 65. With fresh seafood coming in from Newhaven, fish dishes have proved a hit too. The Goa Goan Fish Curry has halibut chunks with coconut milk, whilst Jaltarang of Jaipur combines lobster, scallops, seabass and calamari.
"We invest in better ingredients, even buying in high quality rice that can make a big difference to the dining experience for only a few extra pennies," says Belal. "Customers are very discerning now and they recognise average ingredients, so we use good local produce. People often comment on our Chicken Malai Kebab, as we use fresh fillet, coated with mozzarella cheese. You can immediately taste the difference between fillet and breast chicken and that's the quality people now expect from an Indian restaurant."
"If you love seafood, our dishes include Shabnam Chingri (a Kerala dish of shelled, fresh water baby lobster) and pan fried Atlantic scallops. We appreciate that people don't expect to pay the same here as they might be prepared to pay on a night out in Brighton, but you can be competitive whilst also creating authentic dishes with quality ingredients."
Visit the website at https://www.curryvillage.co.uk