The Chequers, Rowhood Road, Horsham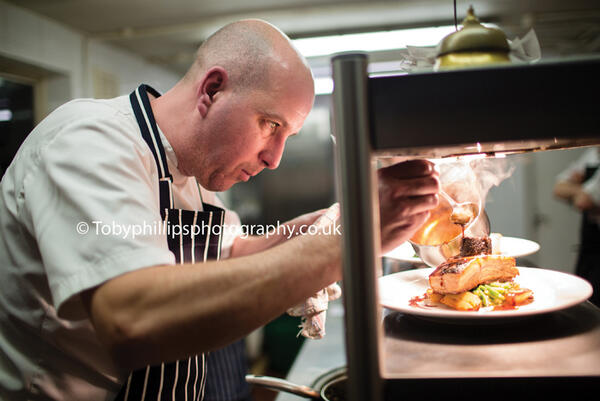 Some villages or hamlets are often associated with one single landmark, which can come to define its existence to outsiders. Shipley, for example, is often recalled as 'where the windmill is' and Buck Barn is of course world famous for its wonderful crossroads.
Probably the best local example, however, is The Chequers Inn at Rowhook. If you've heard of Rowhook at all, it is in all likelihood because you've been to The Chequers, making it the perfect definition of a destination pub.
Rowhook is a tiny hamlet off the A281 Guildford Road, a mere four miles from Horsham centre yet, to a degree, in the middle of nowhere. Yet for more than a decade, its pub has drawn people in from miles around.
It's no longer the well-kept secret or hidden gem that it once was, as word-of-mouth has ensured that you have to book ahead if you want a table at the weekend. But despite its success, The Chequers has managed to maintain its charm – and of course high quality food – over the years.
The pub has been run by Tim Neal and his wife Kate for 12 years. They met at South Lodge Hotel in Lower Beeding, where Tim spent three years as Head Chef at The Camellia. With Tim at the helm, the restaurant gained three AA Rosettes.
Tim then worked as Head Chef at Newick Park, but a desire to run a business of their own led the couple to look to The Chequers, which at that time was owned by Punch Taverns. Kate said: "The pub had been closed for three months before we came in. We had expressed an interest but then Punch found someone else to take it on.
"But 24 hours later the keys were handed back to the brewery and the place was shut again. We still don't know the full story of what happened there, but Punch called us back and we came in."
Tim said: "When you are a chef, your dream is to be your own boss and to own a restaurant. I had worked in hotels since the age of 16 and it reached the stage where we wanted our own business. We briefly looked at restaurants, but we chose a pub because you have wet sales and dry sales.
The idea is that if one is not doing so well, the other will keep the business going. We were looking for a food led destination pub and this was ideal. It was very hard going at the start. As a chef, you always work hard, but only when you run your own business do you realise how hard it really can be.
"Kate and I didn't take a single day off in our first year here, simply because we needed to generate money. We couldn't afford to employ staff so we ended up working all of the hours ourselves.
"From day one, we said 'This is the bar we're going to set.' Our background is in country house cooking, so when we opened up our doors, we aimed for that level of food. But although the people who come here are discerning diners who appreciate good food and good service, they don't want the pomp and ceremony of a country hotel.
"That was a formula that worked for us.
"Gradually, we reached a point where we could see that the business was turning around; money was coming in and we had paid a lot of the debts we accrued when we first opened. Then it's a snowball effect; you keep the momentum going and become more successful."
Tim and Kate were, to a degree, left to their own devices by Punch Taverns as they paid the rent and bought the brewery's beer. But after four years, the couple reached a point where they wanted to own a pub. They asked Punch Taverns if they could buy The Chequers, but the brewery had no intention of selling.
Having looked at other freehold properties, Punch eventually had a change of heart, and accepted an offer.
Tim said: "We ended up going in one big circle. Perhaps Punch realised that, if we left, they would be left with an empty pub and wondering what they should do with it. Some of our customers had heard through the grapevine that we might be leaving, and kept asking where we were going. It was only after we signed the contract that we told them that we were staying. The rest is history."
They've now been at The Chequers for 12 years, and whilst there have been changes, it's been done gradually so as not to impact the pub's familiar charm. There's a new secluded patio in the garden, which also has vegetable patch with 12 raised beds.
There's nothing too flash or bold in terms of the décor. The restaurant area feels fresh and contemporary, yet doesn't seem out of alignment with the more traditional bar area where drinkers sit, chat and enjoy a pint of Firebird Heritage or Harvey's Sussex Bitter. Tim said: "We haven't really altered The Chequers in terms of character. It's the same as it was 30 years ago, but we've made it nicer for people to come here."
But it is the food that people come back for...
The concept of a country pub serving good food is not uncommon, but doing it well is not easy. Tim believes that The Chequers continues to set the standard. He said: "We offer a bit more than your classic English pub food.
"Food reaches a level where most people can't make it themselves at home. So in January and February, when it's cold and raining, people will drive here as they want to eat foie gras or pigeon, and other foods you're unlikely to be able to cook in your own kitchen. I think that's the level we are at.
We've always kept the menu small, as it means we can prepare all of the dishes daily. The food goes out fresh, cooked to order. I have pretty much the same ethos that I had when I was at South Lodge. You buy the best produce you can, because you can't pass off cheaper ingredients for something it isn't. So we buy the best, charge accordingly, and hopefully our customers appreciate that.
"We have a good product. We have a Rosette from the AA, and we are an Inspector's Choice in the Michelin Guide. I don't actively chase awards as I have done in the past, because now it is more important to fill seats and pay the mortgage.
When you go out there and talk about places to eat, people always say The Chequers at Rowhook. We don't
advertise; that is all word of mouth. We have young chefs now, and they want to change things and make their mark, but I say to them 'The formula is working, so don't mess around with it.' If bookings drop off and we're not fully booked over the weekend, then we'll have a rethink.
"But right now, that's not the case, so we must be doing something right."
It might be good enough for pub guides and for a lofty ranking on Trip Advisor, but would The Chequers impress the AAH critics? There is a very good bar menu, with dishes including Harvey's beer battered fish and chunky chips (£11.75), baked ciabatta of smoked bacon and Somerset brie (£5.95) and the local sirloin steak with tomato, mushrooms and home-made chips (£16.75).
7.50). We plumped for the salad of pan-fried chicken breast (£5.95) and pan-fried Scottish scallops (£9.95). The parsnip puree gave a subtle but moreish flavour to the fresh but lightly cooked scallops, and the parmesan beignets were an enjoyable side attraction on this simply but sweetly delivered dish.
But at almost half the price, there was certainly more value in the pigeon. There was no great flair in terms of its presentation or flavour combination, with the bird complemented by nothing more exotic than crispy pancetta and toasted hazelnut dressing. But the fine cuts of bright pink pigeon were delicious.
17.95). The pork was placed on top of a generous bed of Savoy cabbage and served with sauté potatoes and a top hat of black pudding. Whilst there could have been a little more of the succulent sauce, the dish was nicely balanced (in terms of flavouring and its multi-layered presentation!) with the tender pork chipping away nicely with a light scraping of the fork.
The chef had been more generous with his thyme jus with the chump of lamb, an uncomplicated but delightful dish with the fresh spinach and roasted shallot puree offering a variety of tastes without stealing the limelight from the excellent cuts of meat.
There are only seven dishes on the main course menu, yet credit must be given in that it's hard to easily dismiss any one of them. They all sound fabulous, from the pan-fried calves liver on pomme puree (£16.75) to the tartlet of Beauvale blue cheese (£14.95).
8.50 and include sticky toffee pudding with toffee sauce and homemade vanilla ice cream, and vanilla bean rice pudding with sherry and raisin syrup. We chose the pavlova of poached pineapple with mango coulis and crème Chantilly, and rich chocolate and raspberry tart with white chocolate sorbet.
Whilst the pavlova wasn't quite as exciting as its description would have you believe, the tart was delightful. The fruity flavour combined nicely with the chocolate to ensure the palette could cope with such a rich dessert. However, a little more of the delightfully soothing sorbet wouldn't go amiss.
All in all, it was an excellent meal. The prices are noticeably higher than what you would find at your average pub, but you couldn't reasonably call into question its value for money. There is a consistency to the dishes, which are all cooked with good ingredients, but with few unusual or potentially divisive touches that you mind find elsewhere.
And there is a warmth and homely feel to the pub itself. No wonder Tim and Kate have little desire to change very much at all...
For more visit https://www.thechequersrowhook.com/