The Heritage at The Chequers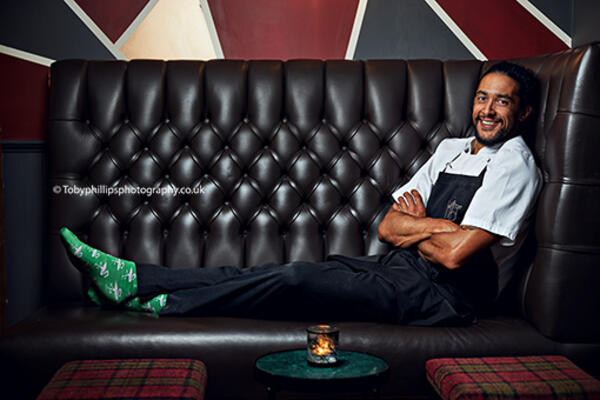 Published on 1st November 2018
Matt Gillan was touted as one of the most promising chefs in the country. During his tenure, The Pass at South Lodge Hotel in Lower Beeding was awarded a Michelin Star for five consecutive years and he also impressed on BBC2's The Great British Menu.
Since leaving South Lodge for an ambitious venture on the coast, Matt has gained an insight into all aspects of business – the highs and the lows. Now, he's back, taking over an Edwardian pub brimming with character in the idyllic village of Slaugham. Once again, he's dazzling diners with a daring, vibrant menu to showcase his undoubted culinary expertise…
When you left The Pass in 2016, you were on the crest of a wave, weren't you? I'd been at South Lodge for ten years and when I left, we'd had the Michelin star for five years. I had been on The Great British Menu and my main course was selected as the winning dish for the Women's Institute banquet. We then introduced that goat dish at The Pass and we were full every day. Bit I was at a crossroads. Should I huddle down there and see what we could achieve as a team, or branch out and try something new? I chose the latter…
So, what have you been doing? It's been an emotional ride! I went into business with others who provided the direction, working at the dual format Pike & Pine and Red Rooster in Brighton. The venue had been operating for a while as one of the first gourmet coffee houses. We went in and transformed it. When a place becomes an institution, it upsets people when you make changes and I learned a lot there. Without that experience, I wouldn't be where I am today. It taught me about business outside of the kitchen.
You were also involved at The Foresters pub in St Leonard's Road? I established Electro Pirate, a casual dining experience, and created a menu at The Foresters. The pub needed someone to look after the food and I saw an opportunity to try something different. We offered a great range of burgers, as there wasn't anywhere in the town where you could find a high-quality burger. We did well in the summer, but when it went quieter the management wanted to go down a different road, so I left. I could have carried on, but I felt this Heritage required my full attention.
How did Heritage come about? I was attending an event in Brighton when somebody mentioned this lovely building sitting empty in a quiet village. I was working, so I didn't pay much attention, but it stuck in my mind. I wanted to have a look, just out of curiosity, but I forgot the name of the village! A few weeks later, I was speaking to a friend who was working at a private function at a stately home in Slaugham. That's when I remembered the name!
What were your first impressions? I fell in love with the place. Living in Horsham, I've driven along Hammerpond Road, but never taken the turn off at The Wheatsheaf. I was heading along the lane passed the furnace pond, and then I reached the village. It felt like a "destination", which is often the case with top restaurants. The whole journey was genuinely amazing. It's not a million miles from anywhere, but feels like the middle of nowhere.
The building has had a turbulent history? It was very successful in its heyday. When it was The Chequers, this was an excellent seafood restaurant. Then came a difficult period when different people came in and tried various things. But the pub had been closed for a couple of years before we arrived. That meant whoever came in was going to be received by the community with open arms.
Were you tempted to return to South Lodge? There's always a temptation. But when I left, The Pass needed to go in a different direction and it has done that. It's been refurbished recently and Tom Kemble is now head chef, so I have no doubt that the restaurant will soon get where it wants to be. At this point in my life, I need to be working for myself, making my own decisions.
Why is the restaurant called Heritage? I'm not telling anyone why just yet. There's a story behind it and it'll come out further down the line…
Are you hoping to achieve a Michelin Star? It's not about that. What I'm aiming for is to deliver a two-star level of service, whether we achieve accolades or not. Before guide books existed, success and reputation was down to word of mouth and there's no greater endorsement than a customer telling others to visit you. I want to build a reputation where people know they can take a nice drive and experience something special. We're not a town centre location - it's a commitment for people to come here. So, we need to make sure it's worth the effort. I have a loyal team, with the front of house led by Hannah Bamford, who I've worked with previously, and we're focused on the full experience.
Is it nice working without the pressure of a star? Some of the best times I've had as a chef were in the days before we had the accolades. We could play with food as there was no expectation. A Michelin Star changes everything. Suddenly, you try to cater for somebody else's thought process. In Brighton at Pike & Pine, the experience was very casual and it was nice to not get stressed every October when the Guide is published!
Do you feel you have something to prove? No. It's more an ego thing than proving a point. I know where we can sit as a restaurant and it would be nice to fit back into that circle again. After a few years away, I do miss it.
Is there a theme to the menu? I use familiar ingredients and add extra interest through texture, flavour combinations or different cooking techniques. I want people to engage with the food and talk about it. We're already working with great local producers including South Downs Venison and Pure Oyster Company. I'm told that some of the cows in the field behind us end up at Hutching's butchers in Partridge Green, who I use too. You can't get more local than that.
Does it matter that competition has increased locally? It's great that we have new Michelin Star restaurants nearby. As well as Restaurant Interlude at Leonardslee, we have excellent restaurants at The Pass and No.1 Broad Street in Cuckfield. If we can make this corner of West Sussex a destination dining area, we can all benefit.

Kickstarter Campaign
Even getting Heritage off the ground has been a notable achievement, requiring a successful internet campaign on Kickstarter. And Matt accepts that it may take time to build a profitable business.Not only is there minimal passing traffic, but the former pub has been closed for some time. The days when The Chequers was renowned as one of the best village restaurants around are a distant memory.
So, every visitor is important. And after only a few months, the efforts of Matt and his team are beginning to reap rewards, with Sunday lunch sittings particularly popular. Even on our visit, on a weekday lunchtime, there were several tables occupied. One group sought out the chef to enthuse about both the food and the venue before heading home.While the venue itself (which includes five guest rooms) has charm - with modest decor preferred over garish extravagance - it is the food that steals the limelight. However, a range of cocktails, including a signature drink to pair with Matt's famed goat dish, is worthy of mention.

Return of the Goat
Heritage has two tasting menus, with one being a vegetarian option. Both offer seven courses for £65, with a wine flight (including bottles from the Wiston estate) £42.50. There's also a five-course tasting menu available at lunch time (and Wednesday and Thursday evenings) for £37.50. A more affordable option is the lunch time menu (two courses £22, three courses £27) and a Sunday menu (two courses £27, three courses £35).
Or, you can go á la carte, where there are many enticing options. We would happily return to try the roasted halibut with cauliflower cheese puree, clam chowder and kiwi fruit (£26) or the salt-baked pork rump with pork belly, pork shoulder croquette, roasted plums and spiced sauce (£26). Many will be delighted to see Matt's winning goat dish from The Great British Menu too. Inspired by his mother, who hails from St Helena, the dish showcases a widely under-appreciated meat.
However, for our visit, Matt selected dishes from the signature tasting menu. First to arrive was a ceviche of scallop with coriander ice cream, pumpkin seed and salsify. Unlike any scallop dish I've tried before, this Peruvian-inspired plate was a treat. It was immediately apparent that Matt is having fun with his dishes…Next came a deliciously moreish ballotine of pork with mushroom farce, spiced sauce and bacon jam. The pleasant surprise was how a plate so small and relatively simplistic could pack such incredible flavour.
The coal-finished monkfish with apple puree and white cabbage was better still. One of the ugliest creatures you're ever likely to see, the monkfish was once known as "the poor man's lobster" as it's similar in its texture and mild taste. But in Matt's capable hands, it's a pearl of a dish, with dashes of xo - a spicy seafood sauce from Hong Kong - providing wonderful bursts of flavour. Next came a shin of beef with crispy chilli beef, roasted carrot and beef fat crumb. This is as close as we had to a classic English dish, with the rich taste of the tender shin married perfectly by the sweet chilli flavour.
We finished the meal with a beautiful chocolate fondant with yoghurt sorbet and cumin caramel (£13.50). It was a stunning meal. Matt Gillan has been one of the most exciting chefs the town has produced. It'll be interesting to see what he achieves now the shackles are off…

Heritage, The Chequers, Slaugham, West Sussex, RH17 6AQ
Tel: (01444) 401102
Email: info@heritage.restaurant
Web: https://heritage.restaurant