The Solid Chocolate Company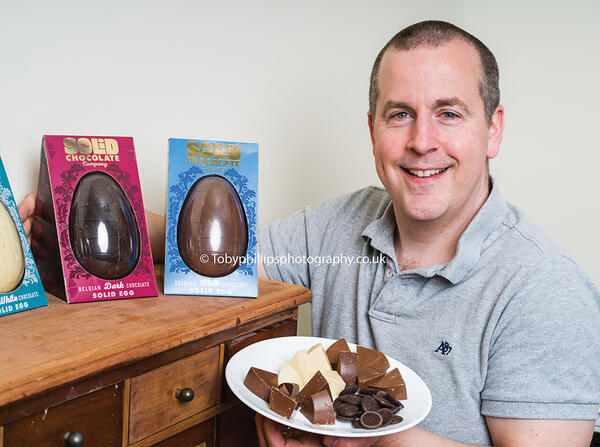 Published on 4th May 2017
When did you first have the idea for a solid chocolate egg?
I've had the idea for about 20 years, since when I was a teenager. I realised that at any time of the year you could buy a chocolate bar for about 60p and yet at Easter the same weight of chocolate shaped like an egg cost ten times as much, which is unfair.
Unfair on the consumer?
Yes; we're getting less for our money. We have a situation where the eggs are thinner than they used to be and chocolate companies are mixing in other ingredients to reduce costs. So, I thought it would be a good idea to create a solid chocolate egg that offered better value. Every summer, I would think about the concept and make a little more progress with the idea, without ever having the time to devote all my efforts on it.
What was holding you back?
I've been an osteopath for 19 years and run by own practice in Southwater, called Back to Health. It's a very common name for an osteopath business, although I maintain that I thought of it myself! After I married and had children, I wanted to adjust my work/life balance and that allowed me time to develop my egg. Three years ago, having finally created moulds, I was able to make the first batch of 100 solid milk chocolate eggs in my kitchen. It went well, so we wrapped them up in simple packaging and sold every one of them very quickly.
What has happened since?
For the last few years, we haven't really pushed the product as we have focused on branding, packaging and market research. This year, everything was in place, so we decided to do a bit of PR. To my surprise, we went viral! From an initial press release, the story was picked up by a video website called LADBible, which has a huge following on Facebook. Before long, I was being interviewed on radio stations including Capital, Heart and Smooth. We had calls from Ireland, America and Australia, and the egg was featured in The Daily Mirror, The Daily Mail, The Sun, Cosmopolitan and Hello! It just snowballed.
Did this translate into sales?
We sold out of stock in one day. Our previous best day on Amazon had been 30 eggs sold, which we were very happy with. Then, on one day about a week before Easter Sunday, we sold 372 milk chocolate eggs alone. When Amazon sold out, people started to look on our own website, which crashed! Still, we have 76 eggs already ordered for next year. They retail for £25, so are not cheap. But there's a lot of chocolate in them and if you compare them to premium Easter eggs on the market, the pricing is very reasonable.
A solid chocolate egg seems such a simple idea...
A lot of people say, 'I always wanted one of these!' but have never done anything about it. I just took it a step further. Of course, it's not rocket science to make two solid halves of an Easter egg and stick them together, but you couldn't fit a solid half into your mouth. So, my idea was to make the egg from small pieces of chocolate, which isn't as easy. Our egg can stand up and you can take a chunk from anywhere. You can knock it all down and rebuild it, if you like. There 42 pieces, so you could eat one chunk a day and it'll last six weeks, although I don't know anyone who's managed to do that. There also a puzzle aspect, although it's chocolate, so you don't want to handle it too much.
Are the eggs good for sharing?
They are, so we also offer them with corporate branding. Businesses can brand the packaging with their own colours or logo and give them to staff, suppliers and customers.
Is this the world's first segmented solid chocolate egg?
There have certainly been things made with chocolate that fit together before, but not in an egg shape, as far as I'm aware. Following our early publicity, we heard from a company in Norway that has made solid chocolate eggs for many years. However, my understanding is that they remove the inside of an egg and use a blow-fill technique to create solid chocolate within a shell. Clearly that is different to what we are doing. We do now have intellectual property protection on our design.
Why haven't the big chocolate companies made something similar?
There are a couple of reasons why that hasn't happened. If you look at the profit margins that a major company expects on a single Easter egg and apply those same margins to a solid egg, then they couldn't do it because of the price they would need to charge. To make the same level of profit on a 750g chocolate egg that they make on a 100g egg, the retail price would be too high. Solid eggs are heavy and labour-intensive to make and you're going to run out of chocolate very quickly if you're producing 100,000 solid eggs.
Do you make the chocolate yourself?
We use a chocolatier in Stoke-on-Trent. There are many people doing brilliant things with chocolate all over the world. I am not a chocolatier; I'm somebody who makes a product using chocolate. So, I rely on the expertise of others. During our market research, we had a good response to the flavours, as it is a good quality Belgian chocolate. We now offer the egg in four flavours: milk chocolate, dark chocolate, white chocolate and caramel. Some people like very strong dark chocolate, but for most people an 80% dark chocolate is too rich, so ours is 55%. I am not a fan of white chocolate as I find it too sweet, but others love it!
What are your plans for Easter 2018?
Next year, we may do some markets and fairs. We haven't done much in terms of retail yet as the margins are so small. However, if we can increase production a little we may approach local farms shops to see if they are interested in selling our product. Also, we are hoping to add a Fairtrade egg to the range and perhaps a more sophisticated egg made with Colombian single origin chocolate. There are many different chocolate flavours available and it is great fun discovering them. if you ever have the chance to do chocolate tasting, then don't pass on it as it's great fun. It's like wine tasting without all the pretension.
Will you give up osteopathy if your eggs become more successful?
I'm not thinking along those lines, but I will take some more time off work in the run-up to Easter next year. This year, I allowed one day off a week for chocolate; I'll give myself two days next year!


INTERVIEW - BEN MORRIS
PICTURES - TOBY PHILLIPS
You can find out more and even place an order for your 2018 Easter Egg at www.solidchocolateco.com