Horsham Brewery Company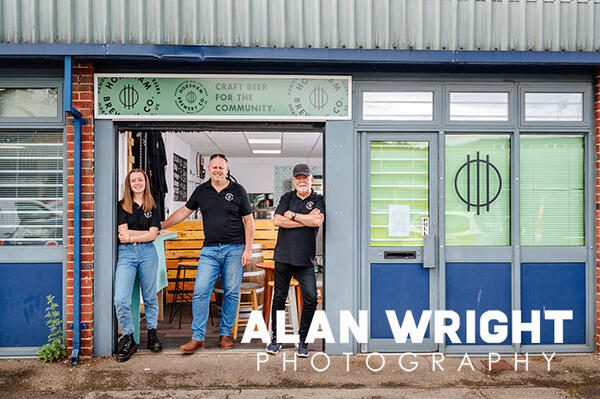 A new micro-brewery has opened in Horsham with the aim of bringing craft beer closer the community. The focus on local traditions is evident in the name of the beers at The Horsham Brewery Company Ltd: Normandy, Carfax, Bishopric, Causeway and HBC Best.
There's a wide range of flavours and aromas in the beers, from Causeway, a 3.8% session pale ale, to Carfax, a 6% IPA made with a combination of Mosaic hops (fruity notes) Citra hops (citrus) and El Dorado hops (giving a firm but balanced bitterness). HBC Best is proving a good seller too, thanks to support from The Kings Arms in Bishopric and Barns Green Social Club, two of the first venues to sell the brewery's beers.
As well as taking inspiration from the local area for its beer names, Horsham Brewing Co hopes to embed itself into the community by welcoming ideas from customers. "The idea is that anyone can come in and brew in a safe environment," says co-founder Rohan Hill. "If you fancy a lemon meringue IPA, we'll create a recipe and host a brew day where you can make the beer and try it on tap. If the beer goes well, we could replicate it on a bigger scale. One customer has asked to make an elderflower pilsner, which we're calling Denne Hill, as elderflowers grow there. Perhaps if it goes well, we'll harvest our own elderflower in future."

FIREBIRD INSPIRATION
The business is fronted by Tim Pitts and Rohan Hill, who met through a mutual passion for craft beer. Rohan's daughter Lucy completes the team. She helped Tim create Normandy, which has been so well received that a larger batch is now in production.
Rohan's journey into brewing was inspired by Firebird Brewing in Rudgwick. He attended a brew day at the award-winning beer-maker, run by Richard Peters and Bill King, whose family has a rich history of brewing in Horsham through King & Barnes. "My visit to Firebird cemented my interest in ales and ignited a passion for brewing," says Rohan. "I started home brewing soon after, before joining friends to form Shed, a group of amateur brewers who made some beers for The Fox Inn in Rudgwick. It was there that I met Tim, as he would try our brews. He had this idea of starting a brewery and I wanted to join him for the ride."
Tim is well-known locally, as joint organiser of the Horsham Beer Festival, with Nick Southon. Tim and Nick have run the event since 2019 after the sad passing of Gareth Jones, owner of The Beer Essentials in East Street. With the blessing of Gareth's family, Tim and Nick are continuing the event in the same spirit, with tickets for this September's festival at The Drill Hall selling fast.
"What I love about the festival is there's nothing corporate about it," says Tim. "The breweries help each other out, as it's a close-knit community. They work for the benefit and promotion of all small breweries and create a positive feeling."

KEEPING IT LOCAL
Tim and Rohan hope to mirror the collaborative spirit of the festival with their new brewery, and contribute to the growth of craft beers in Horsham.
Brook Saunders of Brolly Brewing, Ray Welton of Welton's and Mike Nugent of Chapeau Brewery are among those who have already offered the newcomers encouragement and support. Although the District has an abundance of breweries including Kissingate, Hepworth's and Dark Star, Tim and Rohan believe there are still opportunities in the market. Rohan says: "If you look at the local breweries, some have identified niche opportunities. Weston's has done very well with IPAs and Kissingate is renowned for its dark beers. We think there's a market for beers with bold new flavours. We've talked about brewing raspberry lemonade sour beer and a New England IPA. We've spoken to David Howard at Cabin Pressure Spirits about infusing rhubarb from one of his gins into a beer too."
"We're also looking at recreating a Polish drink that was once one of the country's most successful beers, before the recipe was lost during the Second World War. It has recently been rediscovered and we'd love to make our own version, in homage."

MODERN DRINKING
The growth of micro-breweries has led to the rise of a new drinking scene (albeit one that harks back to days gone) where punters can enjoy a tipple directly from the brewers. Not only does this allow drinkers to chat with brewers while taking in the aroma of hops of the brewery – it usually presents a more affordable option too.
Several local breweries offer seating, often in a makeshift manner, and although HBC can only accommodate a handful of people (there's no license for outside drinking) they are following the example of others by selling beer direct from the taproom. Tim said: "It's something we'd love to expand on in future, perhaps teaming up with other breweries to offer a tap room experience in Horsham. For now, we only have a small site to ensure we can make the business sustainable. It's a great location though, as it's accessible."
"Calling the business Horsham Brewery Company aligns us within a growing scene of local food and drink producers. We want to be part of that by working with other businesses and showing customers what we have to offer."

Horsham Brewery Co is open Monday to Friday, 5pm – 9pm Saturdays from 10am – 4pm Horsham Brewing Company, Blatchford Close, RH13 5RG