Review: The Lakeview at Gatton Manor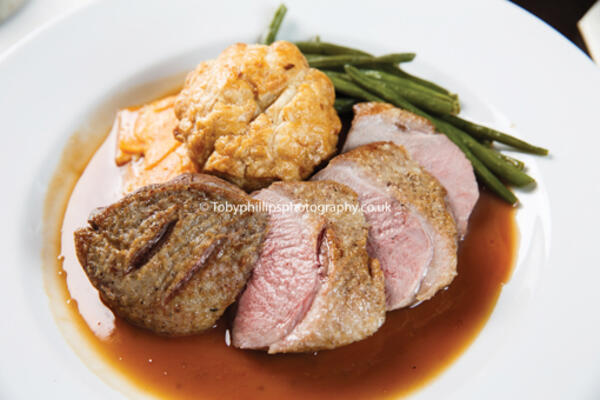 Published 6th May 2015
"I've never been here," I said to Toby, the AAH photographer, as we pulled up at Gatton Manor Hotel & Golf Club, off a rural lane near Ockley.
"Is that unusual then?" replied Toby.
It is unusual. I've been writing meal reviews for five years, and endured a flurry of weddings as my friends hit their thirties. It was ominous that there should be a restaurant and potential reception venue within 15 minutes of Horsham that I'd never felt compelled or been obliged to visit.
"There's nobody here," I said. "There are only six cars in this huge car park. I don't think we're in for a belter of an evening."
"We're a bit out the way here though - doesn't help," said Toby.
However, we've visited pubs and restaurants that have thrived despite being off the beaten track. The Chequers at Rowhook, where you have to reserve a table most nights, is just a couple of miles away from Gatton Manor, along a similarly tranquil lane.
"It doesn't bode well though, does it?" I said, as we made our way in.
So it was something of a relief - not to mention quite refreshing - when Ian Heffernan, Executive Chef, admitted that its reputation as a dining experience has been far from fantastic.
He said: "If a restaurant has a bad reputation, people are not going to talk about it. Having spoken to people since I came here three months ago, I know that the reputation for the food here has been atrocious. Changing that will not happen overnight - it is going to take time for people to have confidence in us. But we're starting to get the food to a level now where we want to encourage people to come here."
Ian joined as the chef from the Preston Cross Hotel in Leatherhead, at a time of significant change at Gatton Manor. Given the freedom to create a fine dining menu at good prices with David Friskey, the Food and Beverage Manager, Ian has made significant steps already.
Perhaps most notably, he has changed meat suppliers and now uses S M Pinegar, a well-known family run butchers in Cheam. Whilst the meat is a little more expensive, admits Ian, the difference it makes to the menu is worth every penny.
There have been changes away from the kitchen too. Having previously offered only a bar menu, an under-utilised room at the country club has been extensively refurbished, redecorated and named The Lakeview Restaurant, thanks to the view of a small lake with water features.
David said: "This room looked like something out of the 1980s, and when I arrived here about a year ago my first brief was to bring the place up to modern standards.
"This room was occasionally used as a function room for golf society days and big weddings or birthday parties, but on a day-to-day basis it was unused, with a curtain separating it from the clubhouse bar. We've given it a fresh look with new tables and chairs, and laid down wooden flooring.
"The vision is to open the restaurant up to the public, raise the standard of the food and create an atmosphere so that people can enjoy coming here. "We have a nice bar here with its own menu. As well as that, people can now come here for a nice meal and not have 20 people sat behind them watching the rugby on TV.
"Now we are letting people know what we have to offer and spreading the message that we are not just a golf club, but a hotel and a restaurant too."
Location, Location, Location
Ian and David tell us that the feedback in recent months has been positive, and that they are starting to see people returning to eat. But still, the biggest problem is the location of Gatton Manor.
Ian said: "Even when we go into Beare Green, a village less than a mile away, we find that half of the people living there don't even know that we are here!
"I've been in this trade a long time and I know that the other problem we have is that people don't go to a golf club or a hotel simply for food. That's especially true these days, where there are many restaurants and gastro pubs.
"So it's very difficult to attract people who are not paying guests at the hotel or here playing a round of golf."
Fine for Starters
I'm terrible at golf. I tend to throw my clubs further than I hit the ball. So by Ian's theory I'm unlikely to return. Unless, that is, there's enough on the plate to attract me back!
When Toby and I arrived, there were a handful of people sat in the pleasant bar area, which we had to walk through to reach the restaurant. We could take our pick of tables, as we were the only diners at that time, so we sat down by the window which fulfilled half of the advertised 'fine dining in picturesque surroundings' promise.
We browsed through a Spring Menu, available throughout May, in which three courses and a glass of wine costs only £25 per person.
However, we selected from the bulky, executively-designed À la carte menu as the waitress (kind, cheerful and attentive throughout the evening) served us bread.
Starters include chicken liver parfait (£6.45) and seared king scallops (£7.45). However, Toby chose the foie gras (£7.95) which was beautifully presented and nicely balanced. He enjoyed the blend of fruity flavours, including a blackcurrant macaroon and spicy plum jam, which complemented well the richness of the main feature.
I chose the breaded camembert, which offered incredibly good value at £6.45. It had a crisp, textured coating, with the cheese oozing out upon slicing. It was served with a dramatically-coloured beetroot and horseradish
'emulsion.' Sadly, whilst visually appealing, the two components tend to cancel each other out and from a flavour perspective it adds little. Still, it was a delicious dish.
Feeling quite full already, I had little time to recover when my breast of duck with confit of leg pithivier (£15.45) was presented. A pithivier (in case you, like me, didn't know) is a small puff pastry pie, and this was joined on a busy plate by sweet potato dauphinoise, fine beans and a peach schnapps sauce. I apologise if this is a rather inconclusive conclusion, but I really enjoyed each individual component without being convinced that it all worked well together! I tend to prefer a rich sauce with duck, and maybe the plate was just a touch too sweet.
Toby's main course was the chicken, king prawn and truffle fricassee (£14.95). For what is essentially meant to be a stew, it was lovingly presented, with cucumber spaghetti on top of the chicken and a flavoursome lobster sauce, with the crustacean laid peacefully to rest on top of the pile. The sauce was smooth and creamy with a delicate kick, the prawns soft and succulent (you didn't think we'd get through a review without writing 'succulent' did you?) and again there was a generous amount of meat.
The rest of the menu is similarly well-priced, most notably the 8oz chargrilled ribeye steak with gourmet chips (£15.95) with a couple of appetising vegetarian options too, including sweet potato, leek and gorgonzola risotto (£13.45).
Sweet Little Things
Dessert options include passion fruit crème brulee (£6.25), chocolate teardrop (£6.25) and Italian tiramisu (£6.45) but Toby was never going to look beyond the white chocolate cheesecake (£5.95). He's becoming quite an expert on this particular dessert thanks to our reviews, and he was satisfied with Lakeview's attempt, which was "thick and dense with a definite sweetness."
I chose the lemon syrup sponge pudding for £5.95, although this was overshadowed by its companion - a
devilishly tasty apricot ice cream which I'd have happily eaten by the tubful.
It was a pleasing end to a good evening. Shortly after we took our seats, two other tables were filled, ensuring that we were spared the awkward position of being the only guests. So there was a little bit of atmosphere once the sun had set and the view had been lost to darkness.
We were both impressed with our meals and at the value for money. However, was there enough here to entice people from Horsham to this isolated manor? Or would the experience still need to be a touch more refined in order to make Lakeview a proper 'destination' restaurant?
That remains to be seen, but Gatton Manor is at least back on the radar.
To book a table visit https://www.gattonmanor.co.uk/ or call 01306 627555.