New Street Butchers: A Cut Above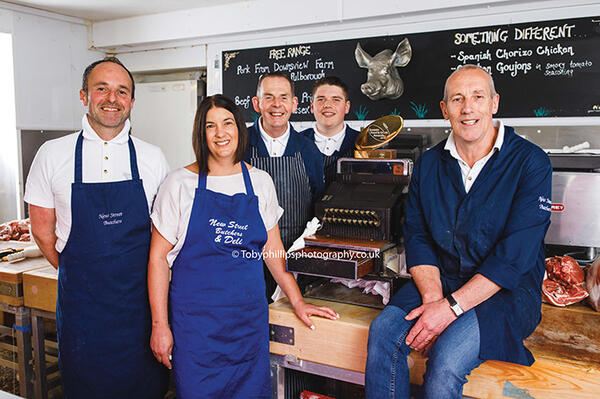 Published on 2nd May 2018
Horsham Town Centre is sadly lacking a butcher, a baker and for that matter a candlestick maker. However, on the fringes of town, L.M Clapham's on Elm Grove and New Street Butchers are among the few to have survived economic downturns and changing shopping habits.With people now turning back to good quality, locally sourced produce, those that made it through tough times are reaping the rewards.
We met Rob Ayling, owner of New Street Butchers and Delicatessen, winners at the Sussex Food and Drink Awards.
How long have you been a butcher? I started here when I was 16, straight from school. I planned to take three months off, but my dad said: 'No you're not. I've got a friend who runs a butcher's and he needs a lad to start straight away.' So, I came here and worked for David Unstead. He was a hard taskmaster, but I'm glad he was as he taught me the value of hard work.
Did you take over from David? Another butcher, Bernie, took over for a few years, before he too retired 20 years ago. Bernie approached me and my dad to see if we'd consider buying the business and we jumped at the chance. We ran New Street Butchers as partners and most of the time we got on very well! My dad, Chris Ayling, retired five years ago. I now own the business with my wife, Martine, who runs the deli.
When did the deli open? There's been a butcher's shop in New Street for over 50 years, as it was called Brains Butchers long ago. But the deli only opened five years ago. The newsagent next door became available, so we knocked through and converted it into a deli. It's a good accompaniment, as we can make our own pies, quiche, pastries and sausage rolls. It's a natural evolution of the business.
What's the secret to your longevity in business? It's a simple formula. We bring in good quality local meat, make sure we present it well on the shelf and serve it with a smile. We have a vastly experienced team here. Gerry has been in the trade for 48 years, whilst Richard and Adrian have both been with us for at least 10 years, so we have lots of tips to pass on. We'll often give cooking advice, as customers like to have a chat and benefit from the knowledge we have.
Why did so many butchers and bakers disappear? We can't compete with the supermarkets on price and we would probably fail if we tried. But you can consistently beat them on quality and that is how some butchers survived. For those that went out of business, it was easy to blame supermarkets. But maybe there was an element of butchers not addressing their own issues. You need to move with the times, present meat properly and listen to what the customers want. You can't keep chucking out 10 pork chops for a fiver and expect to keep going.

Are supermarkets partly to blame? We have lost our greengrocers to the supermarkets and they've had a good go at bakers too. But when it comes to meat, they can't hang it, prepare it and care for it like an experienced butcher can. Nowadays, people are increasingly appreciating this quality and our trade has risen considerably. Customers know the importance of local produce and understand how important they are to the whole community.
Where do you source your meat from? We always used local farms, and in years past that was just a given. Now, customers want to know about your suppliers. We bring in our pork from Richard Scott, who run the family-run Scott Free-Range in Cootham, whilst Shaun Hutchings, who worked here long ago and now runs his own butcher's in Partridge Green, supplies beef and lamb from his Ashurst farm. Our poultry comes from R.P Meats in Brighton, and all these relationships have been built over many years. We've never had a complaint on the quality of the meat we sell.
Have people's tastes changed over the years? When I started out, people ordered simple stuff. We sold mince, pork chops, sausages, diced beef and diced pork. We still sell plenty of that, but people are more adventurous with their flavours. They want meat that is oven ready, so we have kebabs that are ready to be cooked and stuffed chickens or chicken Kievs. There needs to be an element of convenience in what you offer.
Do you have more choice with less volume? To a degree, that is the case. Years ago, people just asked for pork sausages. Now we have lamb and mint, beef and horseradish, wild boar and apple, and many more. Still, lots of customers have a look down the list before ordering a good old-fashioned pork sausage. We try new things and sometimes it takes several weeks before a customer will decide to give it a try.
Does the delicatessen offer local produce too? Yes, there's a good number of Horsham suppliers. We have Ready for Honey which is made by a Horsham man with his own apiary, award-winning cheeses from Bookham Harrison Farm in Rudgwick, wine from Bolney Wine Estate, gin from Cabin Pressure, beers from Hepworth's and local jams and chutneys. We also have a delivery of fresh bread from the fantastic Jengers Mead Bakery in Billingshurst every morning. It is such a shame that we don't have any bakers in Horsham town any longer, especially as I remember when there were three in New Street alone! So, it's nice we're able to offer that service here.
Where are your customers coming from? We serve a lot of local residents but people travel here from all around the district and beyond. We also supply local catering companies, pubs, restaurants and care homes. People like the fact that it's a family business and when it comes to building partnerships with other businesses, that's certainly a factor.
Have you considered expanding? We did look at the possibility of running a stall in the Carfax market on Saturdays, but we were wary of overstretching. We've also pondered the idea of introducing tables and chairs outside the shop, but we're not sure it's quite right for the area. Overall, we're happy with the business and we're doing a good job, so why change it?
You recently picked up an award? We were named best butchers at the 2018 Sussex Food & Drink Awards. It's an award that we know gets a lot of media attention and is well respected. We've been in the mix for several years, so I'm very proud to have finally won. It's a pat on the back for us and recognition for being consistently good for a long time. Hopefully, we can be a contender for many more years to come.

INTERVIEW: BEN MORRIS
PICTURES: TOBY PHILLIPS

Visit New Street Butchers at 97 - 99 New Street, Horsham, RH13 5DX. Call (01403) 263181 or visit https://newstreetbutchers.co.uk