Firebird Brewery Rises From the Ashes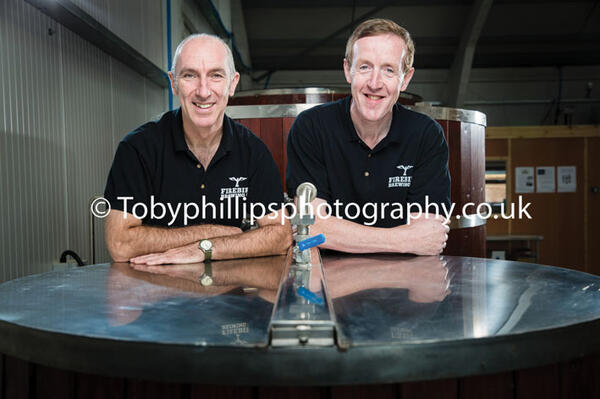 Published: October 2013
I can still remember the aroma of the old King and Barnes Brewery on the Bishopric. As a young boy, I detested the smell, and whenever we happened to drive through town I would hold my nose and, along with my two sisters, moan about the stench and tell dad to drive faster!
But when the brewery closed, we lost more than a distinctive aroma that stung the nostrils of children. Horsham lost a business that had helped shape and define the town. As each year passes, its significance and impact on the town's history seems to grow.
Now a new chapter begins. Bill King, the fifth generation in the brewing family, is back in local brewing. He has joined forces with Richard Peters, an old University friend who also has extensive experience in the industry, to form Firebird Brewing Co.
Bill said: "The American craft beer movement is fantastic and a real inspiration to us. Firebird has an American connotation to it, which fits our brand. Also, I was thinking about Phoenix and rising from the ashes. But there has been a Phoenix brewery in the past, so we went for Firebird instead!"
They have bought the equipment for the brewery, including a costly bottling machine, and renovated a large unit at the old Rudgwick Brickworks. Such is the buzz about Firebird that Bill and Richard had to turn 200 people from an opening event.
For Bill, in particular, it feels like something of a homecoming. He said: "I was the fifth generation of the King family that ran King and Barnes. I ran that until 2000, when the shareholders wanted to sell. Unfortunately at that time the King family only owned 30% so we couldn't stave off an aggressive approach when it came from Shepherd Neame Brewery.
"A lot of what caused to problems can be traced back to when Kings merged with the Barnes brewery back in 1906, as that left our family with only 50% of the business. When the male heirs on the Barnes side had died, a big chunk of their shares went to totally disinterested parties who were not related and had no connection to brewing.
"Hall and Woodhouse ended up buying King and Barnes, but they were very honourable. It was Shepherd Neame who stirred it up to the point that King and Barnes effectively ended up being for sale on the open market.
"Once the shareholders had decided to sell, it was all about price, and Hall and Woodhouse eventually won the race.
"It was a shame because we employed 80 people and we had 58 pubs that were trading well. It was a nice, profitable business. I was devastated. I was the last person to run the business and the one who let it slip away. It was pretty awful for a year or so after it ended and I was quite bitter about it."
After a year away, Bill decided to return to brewing, and set up WJ King and Co in Horsham. Bill grew the business but in 2012 decided to sell. It was a nice business," he said. "But we had reached a point where, without massive investment, we could not take it to the next level. The people we sold to have done very well. In the past couple of months they too have sold the business on.
"They were partly buying into the King name, so I agreed not to go into brewing for a set period of time."
Whilst the King name was still on the door of a Horsham brewery, none of the King family were involved. It looked set to stay that way, as Bill took to the skies. He developed a passion for flying light planes and gained a commercial pilot's licence.
He was, however, still able to expand his brewing knowledge by working as a brewery consultant. For two years, he travelled around visiting breweries in a troubleshooting role. But ultimately he grew tired of motorway driving and sought a return to brewing.
He said: "The idea was spurred on by the fact that my youngest son, Richard, had decided he wanted to be a brewer. The annoying thing was that he made his decision six months after I had sold WJ King. It would have been nice if he had let me know a little sooner!
"But going around all of the breweries was very useful. Some breweries do horrendous things, but a lot of people out there have interesting ideas and techniques and I've learned a lot in those two years."
With an idea for a new brewery in mind, Bill found an old friend, Richard Peters, on LinkedIn. The two had been friends at Birmingham University's School of Malting and Brewing, where they studied together 30 years ago.
Richard said: "The school was the only place you could do an MSc in Brewing Science, and it was tailored towards putting people straight into the brewing industry. It was hard work as it covered engineering, biochemistry, microbiology and a fair amount of general management too. Bill and I were in the brewing school cricket team and we still have a team photo. We were both crap!
"We left as friends, but over the years you drift apart, and so it was a surprise to receive a message from Bill last November. We met for a pint at the Jolly Farmer in Bramley. Then we had another pint and a burger, swapped stories from the last 30 years and formed a basic idea for a new brewery."
As well as both having brewing experience, Bill and Richard can both draw on extensive management experience too. After Brewing School, Richard worked full-time for Courage and as Bill joined his family firm in Horsham, Richard ended up working in the John Smith's Brewery in Yorkshire for four years.
Despite enjoying the work immensely, the low pay forced him to return to studies. He took a Masters degree at the Cranfield School of Management. Richard said: "After that, I joined a company called Elders, which was a swashbuckling Australian business which had bought Courage.
"At that time, Elders owned Fosters and brought it to the UK. They were buying anything they could, and working for them brought huge benefits to a young man like me. But it was all built on borrowed money and eventually went to pieces. I learned a lot from that too. All that grandeur was mere puff."
Richard later ran operations for major UK drinks distributor Matthew Clark, before becoming a consultant in the industry. But now, reunited with Bill, he has high hopes of creating a brewery with a difference. Already, Firebird have created three beers; an American Pale Ale, Heritage, and Bohemia, a Czech Pilsner. They are hoping to create a number of beers from across the world in the coming months.
Bill said: "Heritage is a tribute to the Sussex bitters of my time at King and Barnes. We've tweaked it to give it a modern twist, but it's very similar to what the Sussex bitter would have been like 20 years ago, with a little more oomph.
"We have Pale Face, which is an American Pale Ale, which has much more hops, more flavour and more of an aroma. We also have Bohemia, and we'll do an Old Ale over the winter, which will be dark and rich."
"When you're starting a business from scratch, the easiest and simplest sell is cask beer. But these days beer is a premium priced product, whereas 20 years ago it wasn't. People expect something different, and of high quality. If you're paying £3.50 for a pint or £4 for a bottle, you want something that has a story behind it. That is why our beer is really brewed properly, not just knocked out in a couple of weeks.
"As we are both brewers, neither of us can produce a beer and say 'that'll do' as the other will say 'actually, no it won't!' It's right to be critical of the product going out and with our experience I think we'll get it right."
Richard is particularly proud of the Pilsner that he and Bill have created. He said: "Because Bill had seen all these other breweries doing the same thing – making cask ale to sell in local pubs – he knew that we would have to do something else as well so we're not lost in the crowd.
"Our idea is to make beers from around the world and we've now created the Pilsner. It's going to be the best lager available on the market I reckon, as it tastes absolutely divine. We have several publicans saying 'when you have it, we'll take it'. In six months we hope we'll have a fantastic portfolio of beers from around the world."
Already, several pubs have Firebird beers on tap, including The Mucky Duck in Tisman's Common, the Sir Roger Tichborne pub in Loxwood and The Richard Onslow in Cranleigh.
But as well as taking their products to pubs, Firebrand hope to attract people to their brewery in Rudgwick too. Richard said: "Beer is going through a massive change. It's the same market as wine would have been a generation ago. People are drinking different beer with different foods.
"There's also a general swing towards local. People want to know where food and drink comes from and who made it! People care an awful lot more than they used to. So whilst it is great fun brewing different beers, we want to make the brewery a community asset. In the future, we hope to link up with Bookhams, who make Sussex Charmer cheese, next door. We'll have people here, sampling beer, and taking part in brewing days as an experience.
"We feel we can create a community brewery that everyone will find interesting, not just sandal-wearing bearded chaps. We've both been through the corporate life, and neither of us has been very impressed by it. Now we want to offer something that has local value."
For more visit www.firebirdbrewing.co.uk