FIREBIRD BREWING CO, RUDGWICK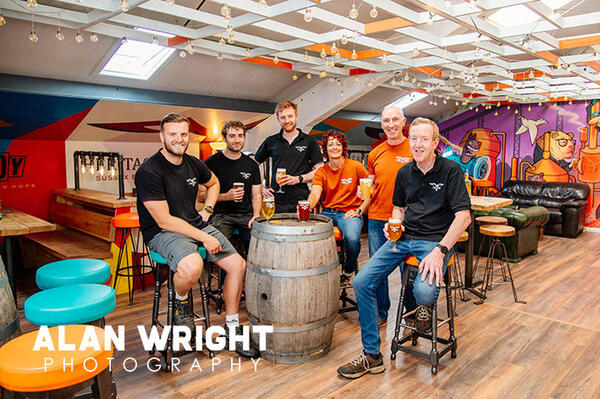 Published: November 2023
Firebird Brewing Company in Rudgwick celebrated its 10th anniversary in September. Its craft beers have become an increasingly familiar sight at pubs and bars in the Horsham District and beyond, thanks to contemporary branding and a burgeoning reputation for exciting beers. AAH met owners Bill King and Richard Peters to find out more…
OLD FRIENDS
Firebird was founded in 2003, after old friends Bill and Richard discovered that they were living only 20 miles apart. Having met at the University of Birmingham's brewing school in the 1980s, they reunited for a beer and after a few pints, decided to start a brewery. They found the ideal spot for their fledgling business in Rudgwick.
Richard recalls: 'We needed a place where we could have a retail presence and sell directly to our customers. In town centre locations, it can be difficult to park and there's less scope to expand as a business grows. We found this site at the old brickworks, which was then derelict, owned by a local farming family with an astonishing array of skills at their disposal, from groundwork specialists to electricians. They have been great, providing us with storage space before we opened and even helping unload our first brewing tanks when they arrived from Northern Ireland on a cold day in February 2013.'
'Our arrival was beneficial to them too, as they used us to demonstrate to other businesses what was possible on the industrial estate. Now, there's fantastic variety to the businesses and the transformation of the site has been incredible.'
AMERICAN DREAM
Having both completed an MSc in brewing science and technology, Richard and Bill carved out successful yet different careers in the industry. Richard worked for Courage Brewery before venturing into the wine and spirits market, while Bill is a 5th generation brewer who worked at King and Barnes in Horsham, co-founded by his family, until it closed in 2000.
A year later, Bill established WJ King and Co, based on Foundry Lane, before selling the business in 2010. WJ King ceased in 2016, becoming part of Two Tribes Brewing Co in London. Bill then took a break from brewing and pursued a love of flying, but brewing would eventually lure him back.
'WJ King was very much a cask beer brewery,' he said. 'We were based on a small industrial estate with little room to grow, and I felt it had achieved all it could, so decided to sell it. On reflection, perhaps I did lose a little passion for brewing as my love of flying took over. It was great fun and I spent a lot of money doing it! Then, after doing some locum brewing briefly, I joined forces with Richard for one last brewery. Our original aim was to make beer appropriate for a changing craft beer market. We knew that making solely cask beers for pubs wasn't enough, so we wanted to offer keg beer too, replicating some of the exciting beers appealing to younger generations in America.'
HARD TIMES
As they would be brewing American-style craft beers, while also rising once again as a brewing force, Firebird was the ideal name for the new company. Their first commercial brew was released in July 2013. Heritage, a Sussex Best bitter, was based on an old recipe used by Bill's great, great grandfather. If Heritage was a nod to the past, Firebird's next beers offered a sign of things to come. Bohemia is its signature lager, brewed with Czech hops and Munich malt, while Pale Face is an American Pale Ale with a full, hoppy aroma.
Richard said: 'There were only two of us in the early days, so we had to do everything we could to keep our overheads down. We worked long hours for little financial reward to ensure the business survived. I remember joking with my wife that even though I couldn't pay myself, at least I had plenty of free beer! There were times when we looked at the figures and thought, "is that all we sold this week?" But we persevered and gradually our beers appeared in more places. Through one of Bill's contacts, we supplied the Indigo Pub Company in Brighton, which was essential to establishing Firebird. Now, thanks to our fantastic team including Chris, Venessa and Leah, our beers are sold at many pubs and bars. In Horsham alone, you'll find us at The Black Jug, The Malt Shovel, The Anchor Tap, The King's Arms, The Beer Mine, The Horsham Cellar, Crates Local, as well as sports clubs such as Horsham FC.'
BREWERY BAR
The pandemic presented an unexpected turning point for Firebird. With pubs and bars closed, it seemed that the business would be forced to close. The furlough scheme provided staff with a lifeline, and when brewery shops were given the same classification as an off-licence – and therefore essential shops – the owners spotted an opportunity.
Firebird had already established a small shop, selling beers and merchandise directly to the public. However, the pandemic caused a surge in popularity, with queues forming outside the brewery and the team making countless home deliveries. Remarkably, Firebird matched its previous year's sales during Covid, and its proactive approach during testing times ensured that the brewery reached hundreds of new customers. With more people now visiting the brickworks – not only for beer but also for other businesses including The Milk Churn, a café popular with Downs Link users – Firebird decided to develop its brewery bar. With its bright décor, including a striking mural by Brighton artist Nick Burdett, the bar has helped Firebird take another step forward.
Richard said: 'We offered tours and ran experiences so people could learn about brewing, but the bar has negated the need for these. Really, all people wanted was the beer anyway, so now they can enjoy our drinks while looking out across the production plant. It requires effort to come here, as it's not like popping round the corner to your local pub, so we have to offer a different kind of experience. People like that they're drinking beer directly from the tanks and can see the brewers around them. More of us are looking for an experience and want to feel connected to the environment. A pint of beer isn't cheap, so if you're going to have a pint before going home, or you're meeting up with a friend for an hour or so, why not make it an enjoyable pint, in in a place where you can feel safe and comfortable?'
TRUST IN KEG
Investment in bold, bright, contemporary branding has also helped Firebird reach new heights, with distinctive colours and clear descriptions helping its products stand out on the shelf. While the range of beers has expanded, it has done so steadily, with each new release offering something new. Cask beer mainstays include Heritage, Parody (Session IPA), Two Horses (Pale Ale) and Paleface (American Pale Ale), while seasonals include Festive 51 (Sussex Ale) and Citra, a single hop pale ale inspired by beers of the Pacific Northwest. However, keg beers have become increasingly important. Whereas cask beer ages in barrels, keg beer is brewed in stainless steel tanks and is unfiltered, unpasteurised and naturally-carbonated, making it fizzier, colder and with a longer shelf life.
Bill said: 'In the 1970s and 80s, keg beers were terrible and many people who enjoy craft beers today don't remember how bad keg used to be! But it has come on leaps and bounds, to the point that it now commands a premium over cask and makes up about 60% of our business. Our keg beers include Bohemia (lager), Work Ethic (New England IPA) and Table Manners (2.8% IPA). We also have Mojave (Brut IPA), which is another of our beers made with New World hops, from countries such as America and New Zealand. We also have Vice (Bavarian-style Weissbier), The Twins (double IPA), Mandarina (white IPA) and Coffee Porter, a collaboration with Surrey Hills Coffee.'
MARKET SHARE
The Firebird team has expanded too, with extra hands pushing sales growth in Sussex, Surrey and beyond. There are additional brewers as well, including Paul Domican and Rich King, who is continuing the King family's brewing tradition for a sixth generation. Firebird's success has also gone some way to laying to rest the ghost of King and Barnes, with Bill noting that the historic Horsham brewery now crops up in conversation far less frequenly!
While the craft beer market has remained relatively flat in recent years, Firebird has increased its sales by around 20% annually since the pandemic. However, it isn't resting on its laurels...
Richard said: 'In business, you have to keep growing, otherwise you are effectively going backwards. Craft beer is a dynamic and highly-competitive market, so the fact that we're growing shows we're doing something right. We don't saturate the market with new beers; instead, we prefer to maintain a high standard and release a beer when the market is ready for it.'
'Currently, much of our success is driven by keg. Few breweries are doing well with cask, yet it remains an important part of the business and you never know how the market will shift in future. We always said we wanted to make a sustainable business that makes enough money for us to be able to invest in the brewery and new products, which we've done, and also to be responsible employers who can help people to further their careers. It hasn't always been easy, but after 10 years, we are very optimistic about the future of Firebird.'
WORDS: BEN MORRIS / PHOTOS: ALAN WRIGHT
Further information: Firebird Brewing Company, Rudgwick Brickworks, Lynwick Street, RH12 3UW
Order online at www.firebirdbrewing.com