Review: the Half Moon, Kirdford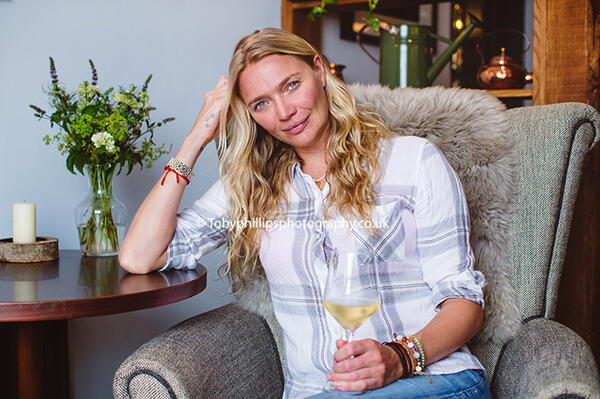 Published on 1st September 2017
Located on the fringes of West Sussex, close to the border with Surrey, Kirdford is the type of village where members of successful progressive rock bands choose to retire.
The Half Moon Inn, a charming 15th century pub, has long been at the heart of this idyllic village.With low ceilings and protruding oak beams, the pub wasn't built with 6'2 international models in mind. Yet the new landlady is indeed Jodie Kidd. That may initially appear an unlikely partnership, but as Jodie explains, taking on the pub made perfect sense…
Jodie, how many times have you hit your head in here?
I am born and bred in this area, so was brought up in historic Sussex houses. I've knocked myself out several times over the years, so now I instinctively watch my head. The only times I'm caught out now is when I'm wearing a hat or in high heels.
How did you come to take on the Half Moon Inn?
I have two business partners in this project, Dan Elson and Chris Lee, who are old friends of mine. I grew up around here and the Half Moon was one of my locals. After my modelling career, I came back to the area and settled near Loxwood. Towards the end of last year, I heard that the pub might close and that developers were interested in turning it into houses. I thought that would be a great shame, as we are losing a lot of good country pubs.
So, you initiated the idea to buy it?
There was never really a plan. I was out with my friends and it just came up in conversation. One of the partners, who lives in London, was looking to invest in a property in the countryside, whilst the other had this dream of owning a pub that he didn't think would actually happen! We were all excited by the idea, so we came to have a look around the pub. We absolutely fell in love with it and bought it on the spot.
Did the pub need much work to bring it up to standard?
We spent five months refurbishing and getting the look right. I selected everything from the chairs and tables and cutlery, to the paint and the pictures hanging on the wall. I've also put on display a wooden plaque with the pub's ethos carved into it. The plaque was made at a rehabilitation centre for Help for Heroes, as a 'thank you' for the work I've done as an ambassador for the charity. There have been teething problems, as you'd expect with any old building. But we finally opened the doors at the end of July.
You've snuck in a few pictures relating to motor racing…I met Dan and Chris through motor racing, so we all have a passion for cars. One of the dining rooms has an animal focus, but in the bar area you'll find motor racing pictures. We recently held a supercar meeting here with drivers visiting Goodwood before coming to the pub for lunch.
How often are you at the pub?
I've been a lot more hands-on than I thought I would be, although I have an incredible team here. As I only live a few miles away, it's easy for me to come in and see how things are going. I have an office at home and am currently working on television projects, but I'm able to come to the pub most days. I'm part of the furniture and the novelty of seeing me around seems to have already worn off amongst the regulars!
What are your aims?
To offer amazing food and yet maintain the fact that we are first and foremost a pub. In the background of this normal pub, there would be Michelin star chefs producing incredible food. We've created a restaurant area where you can get dressed up for a special celebration and have an amazing experience with great service. At the same time, you could sit underneath an apple tree in the garden and enjoy the exact same menu.
Has running a pub been harder than you expected?
I have never done anything like this before, but I knew it would be a lot of hard work. What I didn't initially appreciate was the importance of the Half Moon to the community. A pub really is the heart of a village as it's where people gather and discuss ideas.That is why we have two sides to the pub. We have the restaurant side and the traditional part, which is what the villagers wanted. We didn't want to isolate the farmers and workers in the community who like to come in for a pint after a day's work.
Clearly, you want to establish a reputation for good food…
We have some beautiful pubs in this area and we want to fit into that but be unique, so we are pushing the food element. The Lickfold Inn and The Leconfield (both in Petworth) are producing food of a Michelin star standard. We would like to create a menu on that level in a pub environment with affordable prices. We offer a two-course meal for £20 cooked by a Michelin star chef.
Who is your Head Chef?
Paul Welburn, who was formerly at The Leconfield (Paul held a Michelin star for five years at W1 at The Cumberland Hotel). Paul is the Executive Chef here and the other chefs all have very good experience. We will be bringing in other chefs for special events, such as curry nights. I'm good friends with Aldo Zilli and hopefully he's going to come here and prepare some Italian dishes too. We are striving for incredible, affordable food, as we want people to have an amazing time here.
Are you hoping to earn a Michelin star in future?
We will see how it goes. We're not saying that we're going to be a Michelin star restaurant. We are just going to see how far we can go. We've put a lot of work and money into the pub, so we'd like to deliver the best that we can.
The menu highlights several local producers?
My ethos is basically 'plot to plate'. I want our menu to be as organic as possible and the first thing that I did here was focus on our organic vegetable garden. Already, about 20% of our food is grown here and everything else is locally sourced, as we want to promote sustainable food. We use Goodwood and Cowdray estates for our meat and our tomatoes are from Nutbourne Nursery. With our fish dishes, the chefs can tell you when it was caught and the name of the fishing boat! I want to source everything from Sussex and Surrey, as they're the best counties!
You also support local winemakers and brewers?
We have a very good wine list that includes a selection from the Bolney Wine Estate. We also have some biodynamic and organic wines, as well as a selection of speciality teas. We also have our own bitter, the Half Moon Eclipse, made for us by Bolly Brewing, a microbrewery in Wisborough Green. I told them what I was looking for and they've brewed a beautiful bitter, using Sussex hops.
How has the feedback been after three weeks?
Seeing people showing an appreciation of the work we are doing has been great. I feel like I'm doing this for the village as well as myself, so when people tell me that they adored the food or love the décor, it gives me great encouragement. It's incredibly enjoyable and I love coming to work. I feel very proud of the work we have done and I hope other people are loving it too.

Dining Experience
We sat down in the dining area, which Jodie referred to as the 'animal room' as it features colourful pictures of pigs, cockerels and kingfishers hanging on the wall. The table and the settings are immaculate, from the spotless wine glasses and designer cutlery to a snip of lavender slid between the napkin folds. As you would expect from a woman who has made a career out of making things look good!
The garden is equally appealing, with circular tables on the patio area bordered by a pretty herb garden.Even on a weekday lunchtime, the pub is busy with drinkers and diners - no doubt lured by the set lunch with three courses for £23. However, when it came to our choices, we stuck to the à la carte menu.
Starters include pressed chicken terrine with potato salad and cauliflower puree (£8.50) and charred mackerel with molasses yoghurt, fennel salad and hazelnuts (£8.50). I chose the Nutbourne tomatoes with scorched watermelon and dressed crab salad (£9). It was a beautifully presented, flamboyant summer dish with fresh, malty crab delightfully complemented by chunks of watermelon.
Toby tried the G&T cured stream trout with dill emulsion, preserved lemon gel, compressed cucumber and treacle croutons (£9). Served on an lovely stoneware plate, it was surprisingly presented like a small bouquet of colours and flavours. Whilst the crunchy croutons were perhaps too much of a contrast, the dish was certainly vibrant and exciting.
Mains include rump steak (£24), braised lamb Shepherd's pie (£14.50) and roast cod (£18), whilst the only vegetarian dish evident is a courgette risotto (£12).I ordered the rosemary-scented lamb rump with tender stem broccoli, salsa verde and lamb gravy (£20.50). lamb rump is becoming increasingly common on menus and when it's cooked like this, it is a sublime cut of meat.
There's little else on this simple plate, which allows the high quality of the meat to speak for itself.Tony went for the roasted Selsey plaice with sweet corn, brown shrimp butter and sea vegetables (£18). This busy plate maintained a stylish balance of flavours, with the fish falling lightly off the bone as you'd expect from talented chefs working with the pick of the morning's catch.
We finished with two pleasing desserts. The Bakewell tart (£7) was slightly overshadowed by the moreish vanilla ice cream, which had us yearning for a second scoop. The strawberry and basil cheesecake with strawberry sorbet (£7) was immaculately presented and couldn't be faulted.
The Half Moon is on the costly side, but it does offer good value for money, with carefully selected, high-quality local produce presented with panache by an ambitious team.
Jodie Kidd: not just a pretty face...
To view the menu or book a table, visit the Half Moon Inn website at www.halfmoonkirdford.co.uk or call 01403 820223.

WORDS: BEN MORRIS
PICTURES: TOBY PHILLIPS