VEGAN FEST IN HORSHAM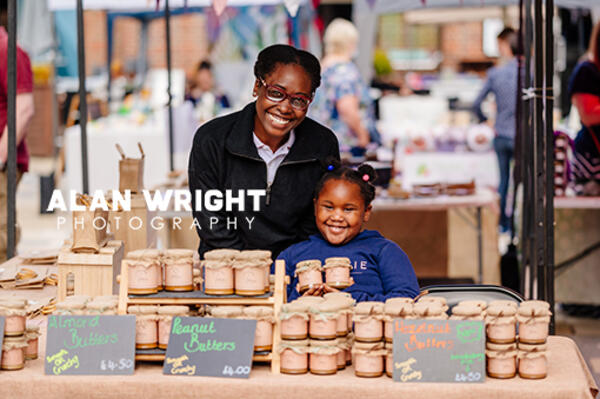 Published on 1st October 2021
Lockdown presented an opportunity for many of us to embark on a healthier lifestyle. As people improve their diet and turn to plant-based, gluten-free foods, a new wave of small, sustainably-focused businesses are looking to meet this increasing demand. In Horsham, this demand was celebrated by Vegan Fest, which brought together various stallholders for an event in 2018. A second festival proved even more successful and led to the formation of a market in Piries Place, now held on the last Saturday of each month. It has steadily grown and is now running at capacity with 18 stalls offering savoury snacks, chocolates, cheeses, body care products, household goods and health foods.
Organiser Helen Crabbe says, "We work hard to offer variety at the market. We aim to keep about 75% of the stalls as food-based businesses as that's what people are primarily looking for. But we also have soaps, candles and eco-friendly products too. People are now thinking more about where their food is coming from and how it's made, and that's reflected in the fact that we no longer solely target the market at vegans. Many people do not necessarily want to be vegan, yet they are perhaps making lifestyle changes or maybe committing to a plant-based diet one day a week. I want to open people's eyes to plant-based foods and make them more aware of some of the fabulous things available, as you don't need to be vegan to enjoy what we offer."
"We have seen more engagement in the market this summer and if anything, the space is slightly too small now. So, we now have two metre pitches, which offers more vibrancy and promotes a communal atmosphere. We are also seeing businesses around Piries Place embrace the market and get involved too. The M Bar now offers vegan sushi and cocktails on market days. That's great, as we want to work with shops and businesses to promote Piries Place and attract more people."
AAH visited the Vegan Market on 26 August and spoke to some of the stallholders involved…
Nom Nosh sells plant-based, gluten-free granola made with sustainably-sourced ingredients. Kelly Hudson and Victoria Feneron launched the business in March 2021 and were attending the Vegan Market for the first time.
Victoria said: "We have three products, all made with no refined sugar. The most popular is Classic Oat Granola with a mix of almonds, walnuts, coconut flakes and raisons, with a light seasoning of maple syrup and cinnamon. We also have a Cinnamon & Ginger Granola and a Goji & Cacao Granola, which is our antioxidant option as it's bursting with superfoods such as linseeds and omega. We are hoping to launch other products with activated nuts and seeds, and a Christmas blend too."
"We're seeing more people interested in granola and health foods, but products sold at supermarkets are often high in sugar. We offer a healthier option without compromising on taste. As well as selling online and at specialist markets such as Horsham, our products are sold in several Mid Sussex shops including Hart Country Stores in Haywards Heath and Lindfield Coffee Works. So, we have a few ways in which we sell to the public and grow awareness of the brand."
https://nomnosh.co.uk

Vegan Crazy sells Dulce de Leche, a caramel spread popular in Argentina. Cintia Yankelevich started the business in 2019 and has since expanded her range to include Alfajor (shortbread-like cookies) and fudge. Cintia said, "Dulce de Leche literally means "sweet milk". I am from Argentina and grew up eating it. We have it on bread, crackers, pancakes, waffles, and it's used as filling in patisseries. You cannot miss it in Argentina, as it's everywhere!"
"I became vegan six years ago and looked for a vegan-free version but couldn't find one. So, I decided to make my own! The first effort was okay, but then I tried with coconut milk instead of cow milk and found that it was not only more spreadable, but delicious! I was enjoying it every day for breakfast, then an English friend who has never been to Argentina, said, "You've got to sell this because it's the most amazing spread I've ever had!" I decided to give it a go and had an incredible response, winning two stars at the Great Taste Awards after only a few months."
"When people try it, they buy it, as it's delicious and can be used in anything from sandwiches to ice-cream. In South America, people often use it to make Alfajores, which are biscuit treats. So, I now make alfajor too, as well as fudge!"
Organic Worldwide upcycles coconut shells, working with rural communities in Kenya and Vietnam to sell them in the UK along with cups, candles and other hand-crafted accessories.
Rudin Kassamali said: "Turning coconut shells into bowls has been a family business for 35 years. The shells are a by-product of various industries, such as coconut milk and oils. Once you remove the kernel (the raw white meat inside it) you are left with a shell which traditionally farmers would burn. But with a drive towards sustainability and reducing our reliance on plastic, we decided to work with craftsmen to do something else with the shells."
"We have a four-acre compound in Kenya and grow virgin coconut oil. My dad started the business and as a Rotarian, he instilled strong ethical values into the business. One example of that is our work with countless farmers, who make bowls from the shell to ensure they are not wasted."
"We're now working with coconut farms in Vietnam as well as Kenya, with bowls and other accessories sold online and at markets in the UK. We empower the farmers by paying them up-front, allowing them to sustain a good lifestyle for themselves and their families. They are all beautiful pieces and can be used like any bowl, for cereal, snacks, salads, ice cream or anything!"
Kukuya was started during lockdown by Crawley-based Makaita Mandava. It offers a selection of peanut butters made from traditional African recipes.
Makaita said: "The name 'kukuya' is derived from the Shona language of Zimbabwe to describe grinding. Growing up in Zimbabwe, my grandma made her own peanut butter and when I moved to the UK, I always hung on to the taste!"
"Every year, I would visit Zimbabwe and bring back jars of peanut butter, because the brands sold in UK supermarkets are highly processed with too much sugar and palm oil. To me, they don't taste like peanut butter at all! When we couldn't go to Zimbabwe last year because of COVID, I called my aunt and asked for my grandma's old recipe, so I could make my own. I was pleased with the results and the idea for a business grew in my mind."
"We use traditional stone-grinding to make it, which is a slow process but gives you a smooth, creamy texture and preserves all the nutrients of the nuts. We have cashew, almond and hazelnut butters, as well as peanut butter, with more ideas in the pipeline. All of our products are 100% natural and we're very conscious about packaging too, so only use recyclable materials. "The Horsham vegan market has been fantastic for us, as it's only through this that we've been introduced to several farm shops, including Crates Local in the Carfax, which we now supply too."
https://kukuya.kitchen

Sophie's Choice was founded during the first lockdown by Sofia Martinez-Penna. It offers a selection of dairy and gluten-free cheeses, made with organic ingredients to provide a natural boost for your immune system.
Sofia said: "I became vegan three years ago, but told myself that I needed to replace cheese in my life if I was going to make it work! So, I started fermenting my own seeds and nuts, but never thought of launching a business until lockdown, as it gave me the time to improve my baking skills and experiment with flavours."

"When I took the cheeses to Brick Lane Market in London, they were popular very quickly. Now, I'm more or less dedicated full-time to cheeses. I have lots of different cheeses now, from mild varieties like mozzarella to blu, a blue cheese with organic tofu and spirulina. My popular varieties include Herbivore and Goudie, which are made with organic cashew nuts, and Natale, which has almonds, live cultures and cranberries in it. I also make Truffled, which is great for people who love truffles, and Cashewrella, which is a great melting cheese like mozzarella!"
www.sophiesdelight.co.uk

Three Little Vegans is a Horsham-based business founded by mum-of-three Natalie Chisholm during the second lockdown. It sells beauty and home fragrance essentials with a focus on plastic-free products.
Natalie said: "I noticed that everything from our bathroom bin had to go in the recycling bin, because it was in a plastic bottle. So, to try and have a plastic-free bathroom, I started making my own shampoo bars. They were for my own children initially, as they have allergies, so I made them with biodegradable glitter to look pretty! Since then, the range has expanded to include soaps, shampoo, conditioner, bath salts, cleansing balm, lip balms and more."
"I hate plastic and want to create as many products as possible to reduce our dependence on it. I even have a shaving bar to use instead of shaving foam! I have a small range of rainbow-themed products too with profits going to MindOut, a mental health charity for the LGBTQ community, and I also sell candles too. I mainly focus on the online market because I work full-time and have three children. But I would still love to attend more vegan markets in future to spread word and increase traffic to my website."
https://threelittlevegans.co.uk
Crawley-based business Plant Infusion makes plant-based ready meals inspired by Indian cuisine. It was another lockdown start-up with ambitions to expand its home-delivery service.
Andrea Dance said: "We offer a range of freshly-prepared dishes, which are cooked and delivered to customers on the same day. The business started in July as the home delivery market was growing and we sensed an opportunity to introduce plant-based meals, with a focus on recyclable packaging and sustainability. We already deliver to Crawley and Horsham and plan to grow nationally."
"The idea is that we take classic Indian recipes and give them a twist, as our chefs are influenced by the cuisines of South Africa and Zambia too. Our big sellers are kidney bean burgers, pea-fused pies and the pie bhaji, but we also have beautiful curries like the kidney bean curry and tofu chickpea Kofta, and Asian dishes including Szechuan Mung noodles."
www.plantinfusion.com

INTERVIEWS: BEN MORRIS / PHOTOS: ALAN WRIGHT
The Horsham Vegan Fest is held on the last Saturday of the month (next one is 30 October) from 10am - 4pm.For more visit veganfesthorsham on Facebook