Garlic Wood Farm, Steyning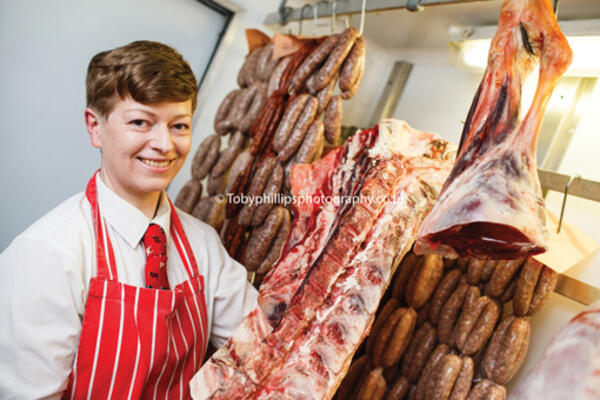 Published on 1st September 2015
You may have seen English longhorn, the oldest pure breed of cattle in the country, roaming free in 3,000 acres of the Knepp Estate.
Back in 2006, the estate, best known for the ruins of the ancient castle resting alongside the A24 at West Grinstead, devoted vast areas for land regeneration and wildlife conservation. The longhorn is one of several grazing animals that also includes Tamworth pigs, Exmoor ponies and Fallow deer.
As it turns out, the 100% grass-fed cattle make for a rather delicious slab of beef and an ever-increasing number of people are appreciating its taste and depth of flavour. The beef is available to buy at a small butcher's on Steyning High Street, called Garlic Wood Farm. Garlic Wood leases a specially-made cutting room at Knepp and its shop is the only local outlet for the estate's longhorn cattle.
DISTINCTIVE TASTE
Whilst it has been difficult to spread the word about the association between the Steyning butcher's shop and the unique rewilding project undertaken at Knepp, those who do know about it are prepared to travel from far afield for the distinctive flavour.
Butcher Liz Vande Putte said: "Because of the longhorn cattle's diet, you can taste the difference in the meat. It has that taste of sweet meadow grass and when you compare the meat to grain-fed beef, it is noticable. Good grain-fed meat does taste lovely but doesn't have the same depth of flavour and you don't have those different notes coming through.
"Some people actually think that our meat is too sweet because they are used to eating commercially-farmed beef. Their palette is not attuned to the grass-fed flavour, but for me this is how beef should taste."
Paul Martin, who established Garlic Wood Farm with his brother and father in 2010, says that as well as the flavour, people appreciate the farming methods behind it. It is not intensive farming at all," he said. "The longhorn are allowed to live in natural family groups and roam the landscape, much like the large grazing animals they have historically been. It's almost like a savannah in the Sussex countryside.
"It is very unusual to have a native breed that is slow maturing and is allowed to live a natural life."
HUMBLE BEGINNINGS
Garlic Wood Farm was originally the name of the family's smallholding near Copsale. The Martins started selling meat from their farm to friends and family, using a butcher in Steyning to cut the meat. When demand increased, they decided to take the plunge and start a proper business.
Paul said: "We adopted conservation grazing at our smallholding, which is when livestock is used to maintain and manage nature reserves or areas of special scientific interest.
"So we were farming not just to produce meat but also to maintain the landscape. Our smallholding was not big enough to supply us as a business though, so we approached Charlie Burrell at Knepp, where they farm in a similar way to us, albeit on a far bigger scale.
"We loved what they were doing and Charlie listened to our ideas and we looked at ways to help each other. We started a relationship whereby Garlic Wood Farm would take as much of Knepp's beef as we could, and we would actively market the product as grass-fed, organic longhorn beef from the Knepp Rewilding Project.
"From Knepp's perspective, they prefer to see their product marketed for what it is, rather than it being branded much like any other premium meat. The breed itself is a native English breed but the special thing about Knepp's cattle is that 100% grass-fed organic diet which makes it totally different."
STEYNING EXPANSION
Sir Charles Burrell built a cutting room on the Knepp estate, which is leased by Garlic Wood Farm, and initially the meat was sold at the Sussex Produce Company, an award-winning farm shop on Steyning High Street.
As a result, Paul came to know the village and the marketplace, and when Chanctonbury Butchers closed down,
having been a fixture in Steyning for about 400 years, he sensed an opportunity.
"We didn't want to be a third butcher in Steyning," said Paul. "But replacing one seemed reasonable, so we opened up the first Garlic Wood Farm shop. Local people were upset to see a historic butchers disappear so it was some consolation that we came in.
"Steyning has a really good High Street and there is an atmosphere where people want to support independent businesses as they are proud of the village they have."
SEASONAL FARE
Because of the the longhorn's feeding habits, the beef ends up working almost like a seasonal product. During winter, there isn't enough goodness in the pasture to provide the right level of leanness. So Garlic Wood Farm buys the longhorn in the second half of the year after the cattle have been grazing throughout the summer.
Paul said: "By Christmas the supply of longhorn stops, and we turn to other farms supporting grass-fed animals over the winter. We still work with traditional farms and the beef is exceptional, but perhaps Knepp is a class above.
"All of the meat here has a story behind it and we like to convey that to customers. "We know some people don't come here because, speaking honestly, if you want to buy the cheapest beef then you don't shop at Garlic Wood Farm. But many customers travel here specifically.
"We have a waiting list for the next batch of longhorn and our other seasonal product that is very much in
demand - the Dexter beef."
LOCAL DEXTER
The Steyning Downland Scheme, initiated by The Wiston Estate, is a 160 acre area of chalk downland designated for wildlife and the community. Amongst the animals grazing on the open downland, which stretches right up to the edge of Steyning's centre, is a small herd of Dexter cattle.
Liz said: "The flavour of the Dexter is different and this is down to the breed rather than the way it is farmed. It seems to put all of its energy into growing flavour rather than big muscles. People who try it say: 'This is what beef used it taste like!"
"The Dexter grazes locally, literally just down the road, so you couldn't get more local than that and people like coming here because there is a story behind so much of the food."
As well as the shop, Garlic Wood do occasionally sell at farmers markets, whilst a catering arm to the business is also becoming increasingly lucrative thanks to its delicious steak burger. From time to time, they also host
butchering courses on the Knepp estate.
Visit the shop at 50 High Street, Steyning, call 01403 741616 or visit www.garlicwoodfarm.co.uk