MONTE FORTE IN EAST STREET, HORSHAM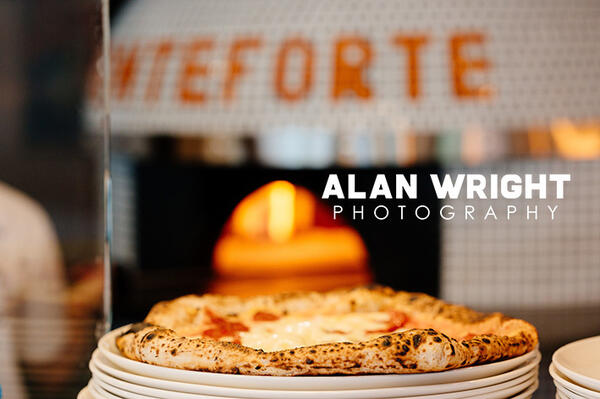 Published on 1st September 2021
Monte Forte opened at 18 East Street in Horsham on 31 July. The business is run by brothers Paolo and Luca Malavasi, who started out selling street food from a converted horsebox just four years ago. AAH met them while tucking into a delicious Capricciosa pizza…

When did you start your own business?
Paolo: In 2017, although we started small, running a street food business from a converted horsebox. Our first venue was at a market, then gradually we went to food festivals and private events.
Why pizza?
Paolo: I was feeling quite down after five years of working in the recruitment industry. I needed a change in my life and although I didn't have specialist pizza knowledge, I had spent two years at catering college and worked in a three Michelin-starred kitchen at Sketch in London. So, I decided to go for it.
Luca: I was finishing my A' levels and was planning to head to Bristol to study Mechanical Engineering when Paolo asked me if I wanted to go into business with him. It was a strange moment, knowing one decision would change the course of my life.
Were you successful from the start?
Paolo: The first three months were very difficult, but the market gave us a chance to hone our craft and make mistakes. We were selling pizzas cheaply and gradually our customer base grew. After six months, we had perfected the pizzas. We were lucky to have regular customers, and every Wednesday night we would make 100 pizzas between the two of us in just three hours. The brand was as much about our hospitality and personality as the pizza and in a way, customers were buying into us.
What's the story behind the name?
Paolo: Monteforte is our grandmother's maiden name. She still lives in Avellino, not far from Naples, but came here to open this restaurant! We liked the name as it fits in with Neapolitan pizza, although we decided to split it into two parts. Although we were both born in the UK, we're proud of our Italian heritage and our pizza is inspired by traditional family recipes.
Describe the Neapolitan style...
Luca: A Roman pizza tends to have a thin and crunchy dough and they use olive oil too, whereas Neapolitans use just wheat, flour, yeast and salt. That makes the base quite puffy and gives more of a melt-in-the-mouth taste. We also have a wonderful new pizza oven, built by two Neapolitans who came over especially to build it here.

When did you open your first restaurant?
Paolo: We opened in Reigate in October 2019. It's a special place and we have a great team there. We found that people from the market came along to try it and they have stuck with us. We learned a lot from that experience, especially the mistakes we made. Failure is not the opposite of success; it can serve as a stepping stone and people will give you a second chance if you are honest and genuine.
Luca: When Covid came along and we had to close, we thought it was the end of the world. But during lockdown we contacted our staff and decided to launch a takeaway service. We were one of the first businesses to do that in Reigate and it really took off, beyond all our expectations. That has helped grow the business and now the restaurant is doing well too. We had our best week ever there at the start of August.
So, where's the horsebox now?
Luca: We sold it! Now it's used by another small independent business to make pizzas at local markets!
It must have been difficult to make the jump from mobile unit to restaurant?
Luca: We are fortunate in that we have two investors who have been very supportive. One is an established businessman who bought one of our pizzas at the market and asked us immediately if he could invest. That was at a time when we were talking about opening our first restaurant, so we were lucky. Sometimes, life throws up incredible moments like that. Their experience has been useful as I'm only 22 and my brother is 33 and we don't know everything. Still, we make a great team as we have different skills. We both work hard and have sacrificed a lot. If you want lots of free time, there's no point even thinking about working in the restaurant trade. But for us, this is about long-term gain and we hope things will get easier.
Why choose Horsham for your second restaurant?
Paolo: We looked at a few places including Sevenoaks and Tunbridge Wells, but it was Horsham that stood out. It has a big population, the right demographic, and this unit in East Street was ideal. We want this place to be rocking with people eating pizza, drinking beer and cocktails, and having a good time!
Luca: The Horsham restaurant is much bigger than our Reigate one. That only has 52 covers, whereas this site can accommodate 80 people with the downstairs area. That extra space allowed us to move food production for both sites here too.
What are your plans for downstairs?
Paolo: We are hoping it will have a nice and chilled vibe. It can be used for dining, but there's a cocktail bar too, so we hope it will attract younger people. You don't have to eat pizza either – you can just sit down for a drink with friends.
Have you partnered with local food and drink suppliers?
Luca: We source our Italian ingredients from specialist suppliers and for our wines, we work with The Vineking in Reigate, who tell us about good Italian estates. We want to form connections with local businesses in Horsham too. Most pizzerias tend to offer the same brands of Italian beer, so we've partnered with Pilgrim Brewery to create a lovely 3.9% Monte Forte session lager. We may look to work with local breweries for a special beer at each of our restaurants in future.
Do you hope to open more restaurants then?
Paolo: Yes!
But you can't be everywhere...
Paolo: That is why it is important to keep good staff and let them know they are valuable. With the right people on board, things will fall into place. We care a lot about our team and when you invest in them, pay them what they deserve and trust their judgement, it shows in their work. Even on the menu, we print the names of our General Manager Max William and our Head Chef Dario DiStefano.
Luca: Our personal journey is important to the brand and that is all documented on Instagram. People have bought into that and we have 5,000 followers from only two restaurants, with very good engagement. We want to make our staff a part of our story too.
Luca, do you regret not going to university?
I was on the verge of going and now I'm making pizza! But I am loving life. I believe in education 100%, but if I had gone to Bristol, I would just be coming out of university now and looking for a job. Yet I'm here with my brother, opening our second restaurant. You can spend a lifetime working towards what we have now.

Further information: www.monteforte.co.uk