Goldstone Rum in Henfield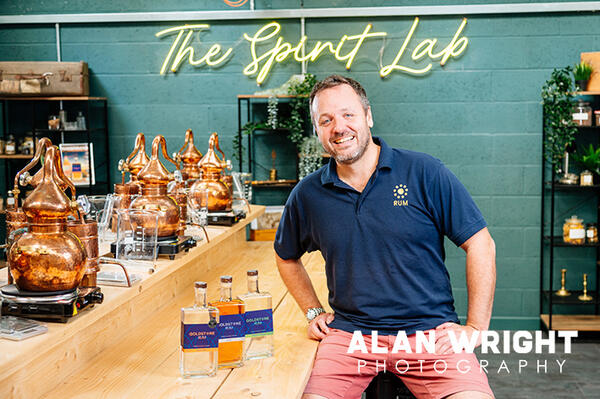 Published on 1st October 2023
John and Georgina Bowell launched Goldstone Rum, in 2022. Based at Henfield Industrial Estate, the couple have created a range of spirits using a unique combination of sugars. Yet while the notes may invoke the spirit of the Caribbean, Goldstone is very much a product of Sussex. AAH met John to find out more…
Why did you form a spirits company?
I still work full-time in the aviation industry, in a role that revolves largely around financial figures. There are aspects of my job that I enjoy, but having previously worked as a chef at pubs and restaurants, I missed the fulfilment factor that comes with physically creating something. During lockdown, I spoke to my wife, as there were facets of corporate life that I didn't like. One positive of the pandemic was that it taught us that there's more important things in life than money. So, we decided to do something we were both passionate about and which could provide us with a sense of achievement.
Why choose rum?
I had previously home-brewed beer, although I wasn't hugely successful, and we felt that perhaps the ideal moment to launch a craft beer brand had been and gone. We love gin, but that market has also become quite saturated. There are some excellent craft distilleries, such as Brighton Gin and Madame Jennifer in Hove, and trying to compete would be a huge challenge, especially as we both have other jobs and two young children. Then we talked about rum. Nobody was making it locally and we felt the demand would be there, as some of the best cocktails are rum-based including mojito, daiquiri, piña colada, dark 'n' stormy and Mai Tai.
Is it easy to set-up a distillery?
We expected to be up and running within a few months, but it proved to be a complex and laborious process that took over a year. The licensing process is a minefield, which we hadn't anticipated. There are different types of licence available if you want to make your own spirits. A compounder's licence means you can alter the character or flavour of a spirit without distillation, while a rectifier's licence permits you to re-distil spirits. But if you want to establish your own distillery, you need a distiller's licence, which is only granted by HMRC when they are satisfied that your plant and processes meet safety and quality standards. However, we did everything asked of us and made our first bottle of rum on 10 December 2022.
How have you fared since then?
Our plan was to sell 2,500 bottles in our first year and we're just about on target. Thanks to Georgina's marketing skills, we have received exposure in several trade magazines, while social media has helped us to engage with customers in Europe, America and the Far East. We have received critical recognition too, winning a One Star Great Taste Award and silver in the London Spirits Competition. However, we have found the wholesale market to be a tough one to crack, as leading brands dominate the market. Most of the support has been from individuals and local bars, including Horsham Sports Club, which ordered our rum for a recent Caribbean Day.
What's the story behind the company name?
We live near Hove Park, home of Goldstone ground, where Brighton & Hove Albion played for many years. It is close to our hearts, so it made sense to use it as our name. From the outset, we've proudly promoted ourselves as a Sussex company. There are countless rums that use the spirit of the Caribbean for marketing, with labels depicting pirate ships and tropical islands, even if they're made on the other side of the world! We wouldn't feel comfortable appropriating a different culture for our own commercial benefit. We are not pirates; Goldstone is a representation of who we are.
You've also tried to create a unique flavour?
There are many ways to make rum. The most common way is to use molasses, a by-product of sugar cane, as it gives you a rich, caramel sweetness that is easily recognisable. However, for our white rum, we use not only molasses but also jaggery (cane sugar from India), panela (an unrefined cane sugar from Latin America) and freshly squeezed sugar cane juice. By incorporating a variety of sugars without any sugar additives, we've created a unique flavour. As far as we're aware, nobody else in the UK and perhaps even Europe is making rum from freshly squeezed sugar cane juice.
How many rums do you make?
We currently have five. I've always found it amazing that I can buy many great wines – Pinot Noir, Bordeaux, Merlot, Chianti, Barolo – and they all taste completely different, yet are made from the same fruit. So, I have enjoyed experimenting with the rum fermentation process to find a niche of our own. Rhum Agricole – a term used when rum is made directly from freshly pressed sugarcane juice – usually has herbaceous undertones, whereas molasses gives you smoothness and a syrupy flavour. Our White Rum has both. On the nose, you have the grassiness, but there are sweeter notes too, with hints of baked banana and pineapple. We also make a Spiced Rum with nine spices, with vanilla and orange peel providing natural sweetness. Our Amber Rum has distinct earthiness, while our Ginger and Lime is a twist on dark 'n' stormy, one of our favourite cocktails. We also have a Coffee Rum, made in collaboration with The Barista Project, using 100% fair trade arabica beans from Honduras and Colombia. The feedback has been positive across the range, especially for our Ginger and Lime Rum, which is currently our best seller.
What are you planning next?
We have invested in some Bourbon and Port barrels and will be aging some of our rum in the coming months. It is not an easy process, as you lose a certain amount of alcohol to evaporation, but the flavour profile after a year or two should be incredible. We are also launching a Kola Nut Rum, capturing the classic cola flavour with hints of cinnamon, orange and lemon.
You also invite people to tour the distillery…
It is a small unit and we are still establishing ourselves as a new company, so we only charge £10 for a tour. People can learn about the fermentation process and see our 500-litre copper still. We also operate a rum school in The Spirit Lab, where people learn the art of distillation and make a rum of their own. We are big fans of Tarquin's Cornish Gin, which hosts gin schools in the west country. Gin schools are great fun, as it gives people the opportunity to be distillers, which isn't something you can legally do at home. Everyone chooses from a selection of botanicals, spices and fruits and creates their own drink to take home.
How many can you accommodate?
Up to 16 people for the rum school, so it's great for couples, as well as corporate and teambuilding events. We've also created unique spirits for corporate partners. One business wanted 250 bottles to distribute to its customers, so the staff came here and each person created their own spirit. After a tasting session, they picked the best one and ordered a small batch, using their own branding on the labels. We also produce a special rum for a cocktail bar in Brighton called Gungho! So, if someone wants to create a brand of rum without investing in their own distillery, we can help them realise their dream!
WORDS: Ben Morris / PHOTOS: Alan Wright
Further information: www.goldstonerum.com