Blue India in Billingshurst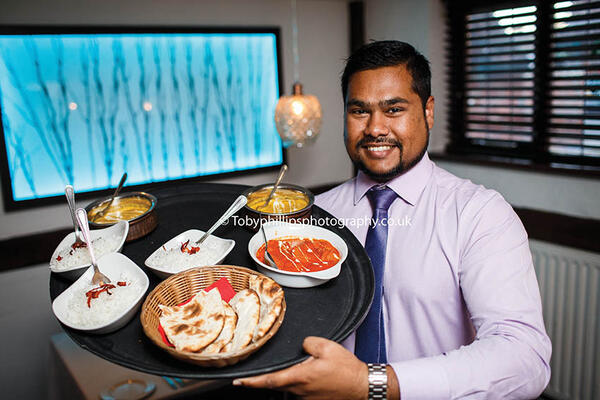 Published 1st July 2016
In recent years, going to an Indian restaurant hasn't triggered the excitement that it once did for me. Whilst there has been a revolution in dining out over the decade, I have felt that it's been more of an evolution for some local curry houses.
The service is typically warm and friendly, yet the dishes have become largely familiar. And they're still being served in silver tins on heated trays.
In Brighton, restaurants such as Chilli Pickle and Indian Summer have raised the bar a little higher – certainly in terms of modernising presentation. There hasn't been too much evidence of such things happening in Horsham yet. So I wasn't overly enthused about my visit to Blue India in Billingshurst.
Toby and Maria weren't bubbling with excitement either, as they didn't enjoy their meal at Blue India's Haywards Heath restaurant (which is now closed) several years ago. It was something of a pleasant surprise then, that we left confident of returning soon to this charming little restaurant on the High Street...
A BIT OF HISTORY
The first Blue India opened in Crawley 16 years ago, and following its success, a second restaurant was opened in Haywards Heath. Strangely, it didn't prove as popular, so it closed and the owners looked elsewhere for its second outlet.
Nurul Alam, restaurant manager, said: "We arrived in Billingshurst two years ago. There was an Indian restaurant here before, Monsoon, and the owner was looking to retire.
"The decor wasn't really to our taste, but we loved the historic building, so we changed things around and introduced our own menu. We already have a lot of regulars because we are always introducing different dishes with new flavours.
"Billingshurst is not a big village, yet there are three Indian restaurants and a takeaway, so if we do not offer good food and service then people will not come to me. They do not come in just to see my face. They come here because they want good food."
CELEBRATED CHEF
Upon arriving and reading a glowing report of Blue India's head chef, we were excited about meeting him. After all, he is referred to as "one of the most celebrated Indian chefs of his generation" on the website.
It did seem strange that somebody who had cooked for the Indian President was now cooking in a rural Sussex village. As it turns out, Mr Patel is the Executive Chef who dictates the direction of Blue India's menu and visits occasionally to train full-time chefs.
Nural said: "He is a very experienced chef, having worked in some of India's best hotels, and he knows a variety of spices from different regions. It is a very big country and you will find that people in Kolkata do not cook the same as people in Mumbai or Delhi.
"With Mr Patel's expertise, we can select dishes from many regions and our customers can sample a true flavour of India. It is not the full picture by any means, but it is a great representation of the country. He will visit several times a month to work with our chefs and discuss new ideas."
There's plenty of experience between the other chefs too. Head chef Ziaul Islam has previously been head chef at Indian restaurants in France and Sweden. The Tandoori chef is Mr Rahaman, who has worked in all of Blue India's restaurants.
FINAL TOUCHES
As it happens, a new menu will be presented to Blue India customers very soon. We're surprised that we are treated to many of these forthcoming dishes during our review.
It is noticeable that several of the regular diners – and there are quite a few present – cast envious eyes in our direction.
These tasters suggest that the new menu marks a healthy jump up in quality, although Nural explains that the dishes need perfecting.
"We still need to make the final touches in terms of some of the sauces and garnishing too, as we want to make them perfect. Some people like to have the same dishes every time, whilst others are asking for different flavours, so we are taking their advice and changing the menu."
The first of these new menu dishes to arrive were three beautiful Spicy Crab Balls. The nicely textured crab and potato filling was delightful, with a light crispy coating, colourfully served with tomatoes, lettuce, onion, peppers and a silky Tamarind sauce. It is a great choice for appetiser for a small group sharing dishes.
Even better was a plate of tilapia fish chunks, well seasoned and served with an appealing mint and coriander sauce. The moreish fish was light and cleanly battered, with chopped salad again making it a colourful, well-presented dish.
INDIAN DRINKS
We enjoyed the dishes so much that we had barely noticed how much we were enjoying the wine. The wine, that is, from India. Indian beers such as Cobra barely need an introduction, but on the waiter's recommendation, we did try (and enjoy!) a glass a Sauvignon blanc from the Nasik Valley.
We actually went one step further and tried one of Blue India's range of cocktails; a fun coconut cocktail of mango, vodka, peach, ginger and lemongrass.
Nurul said: "Initially, when we asked people if they wanted to try the Indian wine, they were usually a little unsure. It is actually very good and now our Sauvignon blanc is the bestselling wine."
As we slurped the last drop and topped up our glasses, the main dishes arrived. Again, having left it to the chef to choose our dishes, most of them came from the new menu.
The coconut lamb was very pleasant, with chunks of lightly moist lamb working well with the sweet taste of coconut. Green chilies gave this Kerala dish a little kick, and the dry texture made it a complementary companion to other dishes with sauce.
The Goan red chicken curry was simple yet effective. Mild in flavour, it looked and tasted fantastic with pleasing chunks of meat and no swirling clouds of oil. This went very well with a red onion and cranberry rice an interesting alternative to the usual Pilau rice.
The pick of the main course dishes, in my eyes, was a lovely Rajasthan chicken with chicken breast rolled with peas and spinach and coated in a lightly sweet sauce you could slurp by the spoonful. As with all the dishes, it was oil free and offered great colour.
We did try a couple of desserts, including Indian mango kulfi, a staple of Indian restaurants. To be honest, even with a squirt of cream and a sprinkling of hundreds and thousands, it was standard curry house fare.
However, seeing as nobody expects great things of an Indian dessert, it made no difference to what was a very enjoyable evening out.
GREAT CHARACTER
Throughout the meal, the staff were warm, friendly and attentive, and the building itself, with its low oak beams, packs great character and promotes a social atmosphere amongst the diners.
We chatted with several other diners on the night, most of them regular visitors, which suggests that Blue India has already won over the villagers.
It's now added us to its list of fans. Whilst the new menu might need a final flourish in places, it's good to see local Indian restaurants being more thoughtful and inventive with menus and presentation.
High Street, Billingshurst. Call 01403 783113 or visit www.blueindiabillingshurst.co.uk