Review: The Green Man, Partridge Green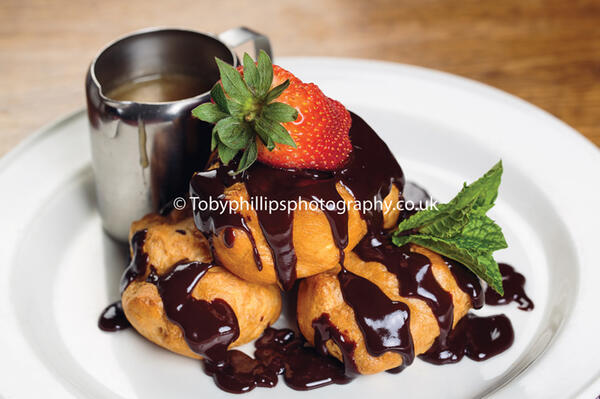 Published: May 2014 in AAH Magazine. Review: B.Morris; Pictures: Toby Phillips
To be honest, we were lured to The Green Man under false pretences. The owners, Nick and Becky Illes, are celebrating their 21st year in the restaurant industry having apparently missed the headline-grabbing anniversary last year.
To mark this dubiously important milestone, they proposed to create a menu in which Nick would cook dishes featured on his first menu all those years ago.
It is this menu that had enticed us along, three years after our last review. Alas, a fall attributed to a combination of dancing and perhaps a tipple or two, rendered Nick out of action for a few days. So this celebratory menu has been postponed! Happily, Nick is back on his feet, and there's plenty to choose from on the menu, without resorting to nostalgia.
The Green Man is in a transitional period. It's been nearly five years since the Illes' came in, with Nick as head chef and Becky at the front of house, but several long-serving members of staff have recently moved on to pastures new.
However, the couple are looking positively on the personnel changes. Becky said: "We've recruited people with restaurant experience, and in doing so we've gone from being quite a male-orientated group to having a strong female presence.
"Nick still has Dave Braddock alongside him in the kitchen, and he has been with us for 13 years. He is fantastic, and we know that if we ever need to take a break, The Green Man will be okay in his safe hands.
"We've brought in two younger female chefs, Kayleigh Cottingham and Amy McGovern, and it's been lovely to have their fresh ideas. We give them the chance to create their own dishes, such as the Goat's Cheese Mousseline which will be on the Specials Board.
"Naturally, it is a worry when people you've worked with for a long time decide to move on, but we've recruited well and it's really nice to have a team of girls. We have one member of staff who has worked for us for years, and worked for Nick's father before that, and she says that the atmosphere is better than it's ever been. To me, that's a real compliment and we seem to be really gelling together."
Whilst there are new faces, little else has changed at The Green Man. Some pubs have fluctuating form, but The Green
Man continues to keep a steady pace at the front of the pack. The pub still has a warmth and informal comfort that can only be found in a place where regulars outnumber the debutants.
Nick said: "We've been here long enough to know what it is that the clientele wants. They want good quality, fresh produce, so that is what we give them. We don't mess around with it too much, as a good steak will speak for itself."
We're inclined to agree, so we sent Nick back to the kitchen with our order!
For starters, we chose smoked salmon (£8.95), smoked duck breast (£7.50) and garlic Mediterranean prawns (£8.95). The hand-cut salmon, prepared in Nick's own smokehouse, was the standout dish. The fish, served with lemon and crusty Artisan bread, was muscular and moist, with a nicely rounded, robust flavour. There was a generous portion of the smoked duck breast dish which - whilst not as immediately moreish as the salmon – made up for it with a superb combination of flavours, including French beans, walnuts, artichokes, shallots, croutons, a soft boiled quail egg and truffle-infused dressing.
Unfortunately, I didn't have the opportunity to try the prawns as Toby (AAH photographer) devoured the lot like a humpback whale attacking a swarm of krill. The finger-licking told me all I needed to know.
We were pleased to see a few old friends when we glanced at the main courses. The Green Man Fish & Chips (£14.95) and the Green Man Chicken Curry (£14.95) continue to be the pub's staple dishes. They've only undergone minor alterations, because that's all they've really needed.
As we discussed whether talk of the chicken curry had really stretched far enough from Partridge Green's borders to warrant the 'famous' tag it's long since been promoting, Toby tucked into his steak (£19.95) whilst I sliced into a seabass (£17.95).
The rib eye steak was served with mushrooms and tomatoes with a creamy peppercorn sauce, skinny fries, and vegetables. The steak was excellent, possessing an irresistible soft texture that always makes you a little bit sad to have to eventually swallow it. Pleasingly, the sauce did not drown the entire dish, and was smooth and flavoursome.
The pan fried sea bass was clearly a recent catch, as there was no doubt about its freshness as it came apart perfectly with a light scraping of the fork. It was served on a bed of spinach and a nice, subtle tomato cream sauce, with a side
of new potatoes.
There was nothing overly elaborate about any of the dishes, as they all abide by Nick's ethos of providing quality fresh produce in a fancy-free way. You could argue, for the sake of arguing, that by setting out never to disappoint, you seldom fail to surprise either. But I, like most people, would take that nine times out of ten!
As it turns out, the best was yet to come. For pudding, I went for the Salted Caramel Profiteroles (£6.50). Becky was apparently unsure of their inclusion on the menu, but Nick insisted and they've been a revelation. Having recently seen my wife toil in the kitchen for hours trying to make profiteroles – only to have to throw an entire batch in the bin – I can appreciate some of the skill involved.
The profiteroles were wonderful. As for the rich salted caramel sauce it came with, it was so lovely that when I found a drop on my jumper on the drive home, I sucked it up and it felt like the second best moment of the whole day.
Toby chose the Affagato (£7.50) a classic Italian dessert comprised of two scoops of sweet vanilla ice cream, served with a piping hot Espresso and a shot of Amaretto Liqueur. The idea is that you pour the drinks in and create your own grown-up milkshake. Whilst it's a really interesting dessert and lots of fun to try, Toby felt that it would have been even better in
a taller, thinner glass so you can stir it more easily and get a better flavour combination. Maybe blow bubbles too!
It hadn't escaped our attention that, without prompting, Becky became quite defensive over the price of food at The Green Man.
Echoing sentiments made at our previous visit, she said: "There seems to be this idea that we're really expensive. When I eat out at other places, I often think I should collect menus and put them up on a board, just so people can see how we compare. "We're not expensive at all."
Like most diners, at AAH we consider value for money rather than the price, and not once did I feel one of our dishes was overpriced. It as something of a surprise to hear Nick and Becky talk about rumours of their imminent departure, but they are keen to put these rumours to rest.
Becky said: "We've been in the industry for 21 years, and here for five years, and to be honest it's gone like a flash.
"Contrary to rumours that we're closing down, or that there are new owners, or that we've bought a barn in Wisborough Green, we have no plans to go anywhere. We might look at maintaining a second premises but we' haven't bought anything and won't unless it's right for us.
"Nick and I agree that in all of our time in the industry, The Green Man is our favourite pub. We do love it here."
But certainly the couple are looking to branch out. That could be though a second pub or restaurant, an expansion of their catering services, or possibly even a cookery school! Nick said: "We have looked at the idea of a cookery school, and it could be an option if we can receive funding. We like to encourage young people to appreciate good food and produce because it's frightening the rubbish they are eating.
"We're considering a pre-University cookery course, so that people can learn how to prepare a handful of healthy dishes to cook away from home. It'll save them a fortune on burgers!"
Visit The Green Man's new website at https://www.the-greenman.co.uk/