The Vineyard Kitchen, Mannings Heath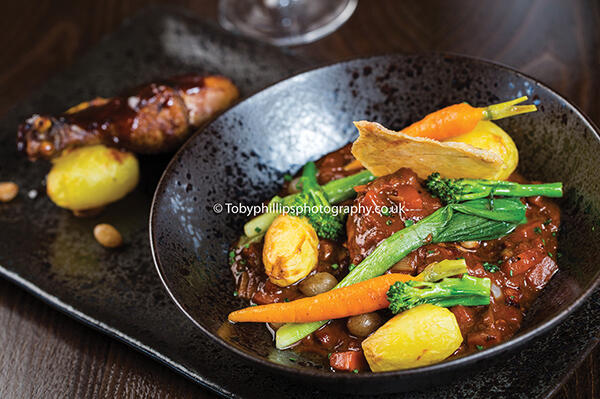 First published on 4th April 2017
(This article was amended in October 2019, to reflect a change of name from Benguela Brasserie to The Vineyard Kitchen)
It would be exaggerating to describe the recent changes at Mannings Heath Golf Club as the most dramatic in its history. After all, a 51 Squadron Halifax Bomber crashed on the course in 1945. Parts of the plane are still buried in the undergrowth.
But since buying the golf club last summer, the Benguela Cove group has invested singnificantly as it embarks on an exciting new chapter for the venue. Half of the Kingfisher course is being converted into a vineyard, whilst a brasserie has opened in the clubhouse.
The new spike bar offers wine-tasting experiences, whilst a new pro shop is planned for the near future. We met Adam Streeter, General Manager of Mannings Heath Golf Course, to learn more about the developments, before enjoying a meal at the Benguela Brasserie.
What is Benguela Cove?
Four or five years ago, my mother Penny Streeter took over the Benguela Cove Wine Estate in South Africa. The previous owner died and left the estate to his family, but their heart wasn't really in it. My mother owned the Manor House on the estate and saw an opportunity, as it's just the most beautiful place, with a lagoon and several properties. She struck a deal with the family and suddenly we were winemakers.
Was this a dramatic change for your family?
My mother's job is in healthcare recruitment. She has an interesting story, having been born in Zimbabwe before moving to England. I grew up in Croydon before moving to South Africa to help with the family business. My mum is a workaholic and the driving force behind everything. We have a fantastic team in place, both here and in South Africa, but mum is hands-on and makes sure everything is perfect.
How have things progressed at Benguela Cove?
Gradually, we've developed the estate. We opened a hotel on the banks of a lake within Wilderness National Park and we now have three restaurants in South Africa. Only one is on the estate. Because of work commitments, we found we were not using the Manor House, so it's now used as the estate restaurant. It's fantastic, as our guests feel like royalty! We also have a Brasserie at the hotel and then we have our flagship restaurant, Benguela on Main, in Somerset West, Cape Town. It offers a fine-dining experience and has a very good reputation. If you go down into the Spike Bar at Mannings Heath, we have a screen showing pictures of the estate, including the vineyards, Manor House and lagoon.
Why bring the brand over to England?
We were considering different ways to get our South African wines into the English market as we are an English family. However, we didn't want to sell solely through a distributor, as we wanted people to learn about Benguela Cove and offer wine-tasting experiences. Already in the Spike Bar we are offering tastings with cheese or chocolate. We are trying to make wine-tasting more accessible to everyone and shed its pompous reputation.
What was it about Mannings Heath that appealed?
We looked at a couple of different estates on the market before noticing that quite a few golf courses were up for sale and that many ticked the boxes in terms of size and locality. Mannings Heath was perfect, as the land has good wine-making potential and it's an ideal location, both in terms of the climate and the demographic.
You've sacrificed half of a golf course for wine-making?
We did have two 18-hole courses; Kingfisher and Waterfall, which is the members' course. The Kingfisher course was lacking in features and members didn't really take it to their hearts. Certainly, the waterfall course is the course with the history and prestige. So, we decided to reduce the Kingfisher course to nine holes with 50 acres soon to be ploughed, ready for the planting of vines at the end of April. Over the next five years, we will be building a winery, which will be ready for the first harvest.
What wines will you be making?
The south of England is perfect for sparkling wine, so we'll be growing Chardonnay, Pinot Noir and Pinot Meunier. Johann Fourie, who is one of South Africa's top winemakers, will be heavily involved in our project here. Johann has been busy researching and he has some new ideas for Mannings Heath, so we're expecting something special. In a few years, we hope that we can create another restaurant within the new winery, which will offer more of a fine-dining experience.
Are members happy with the changes?
The members have been fantastic. I was expecting a furious response to changes on the Kingfisher course, but in general, members appreciate what we are doing because they can see we're improving every aspect of the club. Managing a golf club is new to us, but we already have a great relationship with the club professional and the greenkeepers and we're going to give the course the little bit of love it needs and deserves.
You're also making changes to the clubhouse?
Every inch of the building is being given attention. As well as repainting, a lot of the woodwork is being treated. Some of the oak beams have needed to be completely removed for treatment, as we've uncovered problems along the way. We hope to create a two storey pro shop and we've spent a lot of money on new signage, as for first-time guests it's not entirely clear where they should go!
You've also introduced The Vineyard Kitchen?
The Mannings Heath brasserie is much like our brasserie at our Lakeside hotel in South Africa. We have kept it small with 28 covers, so it's quite intimate, although we do have two private dining rooms for groups of eight or ten people. We've only been open for a few weeks but word is spreading and Sunday lunches are already popular.
Is the restaurant open to everyone?
Mannings Heath is not a private members club. I can't tell you how difficult it is to get that message out there! It was a members-only club many years ago. Now, we welcome everyone. Having said that, many members have enjoyed playing at Mannings Heath for a long time and don't want to see it become a country club with a gym and a crèche. There's a lot we need to consider as we move forward.

OUR MEAL
With the interview over, we sat down in the brasserie for a lunchtime meal.Whilst there are several golfers chatting about their round over a drink or a light bite in the bar, the restaurant is quiet.In fact, we're the first diners to arrive, so it's understandable that our waiter, Gabriel, is extremely attentive, particularly when he discovers that photographer Toby is a fellow long-boarding enthusiast!We were sat at a beautiful circular table made of ebony, transported over from South Africa, along with ebony chairs, upholstered with ostrich leather. Some even come with a sheepskin throw.The walls aren't quite so lavishing decorated, with paintings by abstract artist Floris van Zyl adding colour to a tasteful, contemporary setting that offers a scenic view of the Waterfall course.

STARTERS
Being the only guests, our smoked salmon and ham, egg & chic arrived swiftly. The thin strips of smooth salmon (£6.50), smoked locally at Spring's in Edburton, was very enjoyable, with a strong, smokey aroma well complemented by Lilliput capers, shallot, dill and lemon.
We also enjoyed the chicken dish (£7.50) served on a pretty blue-textured ceramic plate. There was a generous portion of smoked chicken, which had a pleasant mild moistness to its flavour. A boiled quail's egg added great colour and a slice of moreish Iberico ham made for an interesting combination. We also loved the distinct fruity aroma of the Benguela Cove Semillon Sauvignon Blanc.
The maiden vintage won an International Wine Challenge award in 2016 and Mannings Heath Golf Club & Wine Estate is currently the only venue in the UK where it can be bought.

MAINS
We were pleased to see that the prices were reasonable, with fish and chips (£13) linguine (£13.50) and vegetable tagliatelle with pistachio pesto (£12) all holding appeal.I opted for the Coq au vin (£15) and was impressed by the beautifully-coated chunks of corn-fed chicken breast.
The dish came with tender stem broccoli and new potatoes, with a delicious sauce of Benguela Cove Merlot and silver skin onions. Toby chose for the pan roast of lamb confit, which at £23 was £1 more than even the chargrilled, 10oz ribeye steak. The meat was deliciously light and tender and perfectly complemented by crispy kale, rosemary carrots and potato fondant.

DESSERTS
We're not golf fans, so we were in no hurry to hit the course, leaving us plenty of time for dessert. I chose blackberry (£6) with a very good crème brulee served with a powerful blackberry sorbet. The salted caramel wasn't necessary, but appreciated nonetheless.Toby went for the equally enjoyable chocolate (£6) with a chocolate mousse with marshmallow and orange slices sugared with a blowtorch.
We spoke to head chef Ed Wright, who is working under and alongside executive chef Nick McAllister. Ed worked within the banqueting team at South Lodge Hotel before transferring over to the golf course when it was still owned by the Exclusive Group. Ed describes the new team in charge at the golf club as "a breath of fresh air." However, whilst clearly ambitious, there are no plans to chase food awards, says Ed.
"We're not looking for AA Rosettes or Michelin Stars here. We just want to serve food that looks lovely and tastes amazing and if anything else happens, it's a bonus. If you seek awards, it can become your sole focus. We just want to create an experience that people enjoy."
Already, the restaurant is making waves and there's every chance that it will be a key part in one of the most exciting projects in the Horsham District over the coming years.

REPORT: BEN MORRIS
PICTURES: TOBY PHILLIPS
For more details about the golf club or The Vineyard Kitchen visit www.manningsheath.com/thevineyard-kitchen or call (01403) 210228.