RANDOM HALL HOTEL, SLINFOLD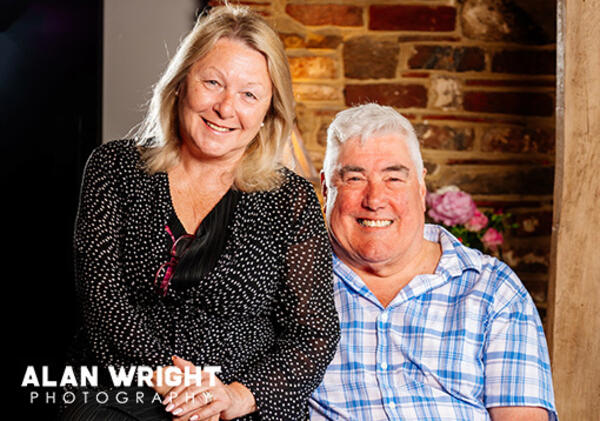 Published on 1st August 2023
Random Hall is a 16th century hotel on Stane Street, Slinfold. Under the ownership of Richard and Kate Loftus, the hotel has earned a reputation for its beautiful and relaxed weddings. AAH met the couple to find out more…
Random Hall has a lot of history…
Kate: Parts of the building date back to 1560, early in the reign of Queen Elizabeth I. For more than two centuries, it was home to the Johnson family, who ran a dairy farm. The tenancy agreement could only be passed down to sons, so ended when John Johnson had three daughters. After he died, his family moved into a tythe cottage in the village and the farm was returned to the Manor house. Peggy, the youngest of the three daughters, would visit Random Hall every October to celebrate her birthday. She passed away not long ago at the age of 105, but we still have a photo of the Johnsons hanging up in the Flagstones restaurant.
Has it retained its historical features?
Richard: The building still has the original Horsham Stone roof, while the flagstones in the restaurant came from the old dairy. The beams probably date back as far as the 15th century, as the house was built with re-used timbers from merchant ships. In the lounge, there are arched timbers that would once have been above a ship's stairwell. It is such a charming place and that is part of its appeal to guests.
When did you take over Random Hall?
Kate: I joined the team in 2010, when the hotel was owned by Nigel Evans. I helped him to create the barn, which enabled us to offer far more as a wedding venue. It was Nigel who first established a hotel here and named it Random Hall, with the inspiration reputedly coming from a Charles Dickens novel. Richard also helped out at the venue on occasion and we both love the place, so when Nigel retired five years ago, we decided to run it together. Random Hall has always held a special place in our hearts, as we were married here in 2000. We felt we could bring some fresh ideas and realise its full potential by focusing more on weddings and special occasions.
What were the biggest jobs?
Kate: There were problems with plumbing and sometimes guests had no hot water. So, our first job was to install a new boiler and fit Aqualisa showers in the bathrooms. We brought out the character and colour of the oak beams, which had been painted black, as we wanted to create a lighter atmosphere. Then we spent 18 months refurbishing rooms, stripping them back to the brickwork one at a time, redecorating them with chalky tones inspired by vintage French farmhouses. I find some hotels can be too garish with interior design. If you've been working on a computer all day, you don't want to see psychedelic wallpaper in your room, so we opted for English topiary themes and upcycled some of the beautiful oak furniture already here.
How many rooms do you have?
Kate: There are 14 rooms with ensuites, with two honeymoon suites. Most have linked super king-sized beds that can be divided to make it a twin, offering flexibility for hen parties and other groups. We are friends with our B&B neighbours at Magpies, which offers three rooms. They can cater for any overspill and their guests often come to us for breakfast and dinner. Savino, the landlord at The Red Lyon, has also recently refurbished the rooms at the village pub, which is another great option when we cannot accommodate a whole party.
How did you fare during COVID?
Richard: It was a shock, as we had only been running Random Hall for 18 months when we went into lockdown. We had invested significantly in improvements and were naturally concerned about the future, but government assistance helped us through a difficult time. The furlough scheme was a huge relief. We have a wonderful team; our housekeeper has been here for 25 years and one of our events team for 18 years. The last thing they wanted was to be looking for a new job. We also took out a Business Interruption Loan, which helped us to continue making the changes we wanted to. This meant we could spend lockdown preparing for when we could welcome guests again.
Have you recovered well from the pandemic?
Richard: The hotel is going fabulously. We have regular guests, with some here four or five nights a week. We spoke to several of them to gather their thoughts on us bringing in a spaniel for the hotel. She is now part of the furniture, although is confined to upstairs when the restaurant is open! Bookings for weddings, christenings and anniversaries have returned to normal levels and remain a major part of our business. We hosted 42 weddings last year, although that number was slightly inflated as some were held over from the pandemic. We have 28 booked already this year.
What makes Random Hall a good wedding venue?
Kate: People love the fact that the entire weekend is about them. Typically, the bride will arrive on a Friday afternoon with her mum and bridesmaids, to start preparing for the big day, laying out decorations and flowers in the lovely barn. When the petunias bloom in the summer, it is even more beautiful! They enjoy dinner in the restaurant, then on Saturday meet for breakfast. Often they're so relaxed that they come down in pyjamas! It is like having a wedding at home, without any of the mess! Then, the make-up artists, stylists and photographers arrive before the main ceremony, which we can host inside or outside. On Sunday morning, there's no rush to get people out of the building, so it always feels relaxed. We only host one wedding a weekend, so it's special for everyone. One bride won't see another arriving as they're checking out. We might not be a huge venue like South Lodge, but we go the extra mile when it comes to details.
In what way?
Kate: We give people the freedom to add their own touches and personalise the day. This summer, one wedding was held over three entire days, encompassing a civil ceremony in the garden, a village fair, live music and finally a barbecue on the Sunday with a Firebird Brewery bar, pizza truck and Scoops Tricycles serving ice cream! Many younger people want something less formal than a traditional wedding, and we embrace fresh ideas. There are no hard and fast rules; if it's possible, then go for it! One couple were both members of a battle re-enactment society and the groom wore chainmail and armour, while the bride wore a mediaeval dress. We also hosted a gothic wedding, with black candelabras on tables. The groom wore a marvellous black Victorian frock coat with a scarlet cravat! Another time, two Stormtroopers accompanied the bride down the aisle to The Imperial March in a Star Wars-themed wedding!
What about your food offering?
Richard: We have a wonderful chef who consistently produces a superb fine dining experience at Flagstones. He is one of the reasons why we have such fantastic reviews on Google. The restaurant has become something of a secret gem amongst locals. However, we don't advertise the restaurant, as our hotel guests use it over a weekend. The last thing we want is for people to turn up hoping for a meal and having to leave disappointed. However, when people want to come here to celebrate a special occasion, we welcome advance bookings. We just need time to prepare. As we're close to the Downs Link, we welcome cyclists and hikers too. We serve wine from our neighbours at House Coren and beer from Firebird Brewery in Rudgwick, as we pride ourselves on offering the best experience to guests and want to promote the best of the District too.
Words: Ben Morris / Photos: Alan Wright/Ben Porter
Further information:
Visit Random Hall Hotel, Stane Street, Slinfold, Horsham, RH13 0QX. (01403) 790558.