The Stonehouse Restaurant, Random Hall Hotel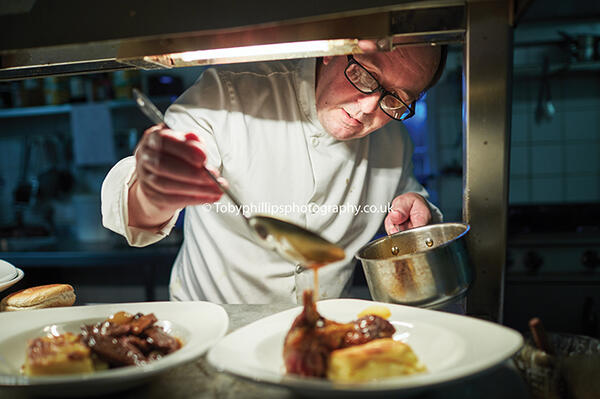 Published on 31st May 2016
We returned to Random Hall Hotel's restaurant on the assumption that sweeping changes had been made in the four years since our last review.
In the intervening years, the old name of Flagstone Restaurant has been phased out. In its place is The Stonehouse Restaurant. This "brand new" restaurant – the website informs us - was launched in April. Yet, upon entering, we have a sense of déjà vu.
Certainly, the sturdy, patterned wooden tables and chairs are new, and they've placed some new pictures on the wall. One of them is a poster of a jetty stretching out over a lake with the heading 'AMBITION. The world makes way for those who know where they are going.' It seems out of place here. It is more suited to a waiting room at a High Street bank, and fits uneasily in a listed building of otherwise great character.
Not that it's important. The point is that those expecting a revitalised hotel with a dramatic new look will be disappointed.
The restaurant hasn't been extensively re-designed; there is no new chef who's taken the menu in a new direction; There is no computerised self-service ordering hubs for guests in a real hurry! All that you can say about the "brand new" restaurant is that Stonehouse is a more suitable name for a hotel with charming stone walls.
The absence of sweeping changes is not a bad thing, as I happen to like Random Hall.
I like the wall surrounding the hotel along Stane Street in Slinfold, and the archway over the pathway that I usually toss my car keys over to (hopefully) catch on the other side. I like the fact that you feel it's okay to push that black oak door and walk in without knocking, like it's a farmhouse where a warm welcome awaits. I like it that you walk in and see Horsham stone slabs on the floor.
But the problem Random Hall has is not what it should call itself, or what metaphorical imagery should be hung from the walls; it is how to entice non-staying guests to eat there.
Some hotels try to become 'destination' restaurants by employing top, Michelin-star chefs. Random Hall cannot operate at that extremely high level, so instead is trying to create a less formal setting with lower prices with more of a homely, brasserie-style atmosphere.
Proprietor Nigel Evans said: "We have found that lunchtime trade, in particular, is difficult, so we have a new menu with a more economical price that we hope will attract people. We know it works well in other places, especially brasserie- style restaurants on East Street, and we hope to emulate that.
"Of course, it is more difficult for us, because people have to drive out to Slinfold. Location is not an excuse though; there are successful pubs including The Chequers at Rowhook that do very well, as they have a good reputation. So what we need to do is let people know what we can offer.
"We have the lounge to complement an aperitif and you can have a coffee in the bar, so we offer more of an experience than most restaurants. We've just got to move up a level, because the competition has boomed.
"This is not a pub; we cannot offer draft beer and a busy pub atmosphere. But there's not a cold, formal hotel environment either. It is just difficult to break that general perception people have of hotels."
HOTEL CHANGES
Whilst there have not been sweeping changes in terms of the restaurant, there have been significant additions to Random Hall Hotel in recent years.
A newly-built function room, which replaces the alfresco dining area, has helped boost the number of weddings, private parties and business meetings booked. This in turn has helped fill the 14 rooms at the hotel, and the restaurant too, simply by bringing more people through the door.
Nigel said: "We built the function room in 2012 and it's been a vital extra facility for the hotel. The alfresco dining just wasn't working so when it came down to investing in the hotel, it was a choice of either a function room or adding more bedrooms. We decided to add a function room and we already have 24 weddings booked this year, so it's worked.
"It's also ideal for small parties and family-focused celebrations as we don't charge for the room. I don't know of too many other places where you can do that. We still have a large patio area outside for spit roasts or barbecues, so we're accommodating for the needs of everyone."
FRESH FOOD
Leading the kitchen is John Gettings, who has worked alongside Nigel since they ran The Red Lion in Ashington some 30 years ago.
There's been little change in the suppliers too, with fresh fish coming from Newhaven, and Swandean Meats of Worthing keeping the carnivores happy. But there has been changes to the menu, with some nice surprises and good variety on offer.
We sat down on a quiet Wednesday evening when just two tables were occupied, both seemingly by staying guests. Browsing the menu, we found plenty that appealed on the Starters menu. All are priced at £6.50 and include French onion soup, a Roquefort salad, ham hock, mussels mariniere, duck liver parfait and beef Carpaccio.
I opted for the ham hock, whilst Toby plumped for smoked salmon, which arrived promptly. Both were fresh and enjoyable (see below) although the dishes were on the cool side.
Smoked Salmon (£6.50): Toby really enjoyed his fresh, cool smoked salmon, mixed with a cream cheese roulade. It was served with mango and a spring onion salsa, making it a colourful, enjoyable starter.
Ham Hock (£6.50) The ham hock, black pudding and apple terrine was pleasant and neatly presented, if served a touch too cool. It may not sound the most appealing combination, but the hock does have good flavour and complemented the smoother texture of the black pudding. The dish came with a reasonable Piccalilli (picked vegetables) and lightly toasted sour-dough.
After wandering around the lovely bar area, we considered mains including lamb shank (£13.25) Coq au vin (£13.50) lemon sole (£15.50) and cassoulet (a casserole with Toulouse sausage, £12.50.) Grill options range from the rib eye steak (18.95) to the fillet (£22.50) all served with grilled tomato, mushroom, watercress and coleslaw salad, with a surcharge for sauces.
There's a mushroom and red pepper tart, cheese soufflé, vegetarian lasagna, and a Caesar mixed salad, which is unlikely to cause much excitement amongst more adventurous vegan diners.
SPECIAL DEALS
However, those working with a tight budget might find appeal in Random Hall's Dish of the Day menu, at £9.95 (evenings). There's also a fixed price all day two course menu for £11.95 (12pm – 6pm) and Afternoon Cream Tea is proving popular too.
"We have had a month of testing the new menu now and along the way there have been a few tweaks," said Nigel. "Now we are happy with it. We've got some classics like baked Alaska, beef Bourguignon and cassoulet as we like brasserie -type dishes. "We are not going for lavish food with micro herbs, but hopefully what we do is attractive and it is appreciated by diners."
We certainly enjoyed our dishes.
Toby chose the duck confit and enjoyed the savoury meat, even though the caramelised orange was missing (the chef realised the mistake before we did) and I loved my beef Bourguignon, (see below).
Duck Confit (£12.95) We really enjoyed this lovely duck dish. Simple and flair free, but the meat was rich and savoury and slid off the bone. It was well seasoned too. Served with dauphinoise potato.
Beef Bourbuignon (£11.95) I loved this casserole dish, as there were five huge, tender chunks of fresh beef at the heart of the dish, well complemented by a moreish red wine, dauphinoise potato and veg
I was thrilled to see a baked Alaska on the menu, as it's one of my favourite desserts. I cannot understand why so many restaurants plump for Eton mess instead!
Desserts (£6.75) The baked Alaska was lovely - lightly browned meringue over some chillled ice cream and served with warm cherries. The brulee was equally pleasant, with a crisp top and succulent centre.
I remain a fan of Random Hall Hotel, although I wonder what circumstances would make me return regularly for a meal.
The building has charm – it does not have the cold, formal aura of many hotels. Yet at the same time, as Nigel himself acknowledged, it doesn't have the warmth of a good pub. Neither does it provide the romance needed for a special meal for two.
It would most likely be the convenience that Random Hall offers larger parties that would take me back, perhaps for a family gathering. The food is very good, and Nigel and his team are pleasant. I just don't feel that they've quite succeeded in disguising the fact that The Stonehouse is still a hotel restaurant.
Random Hall Hotel, Stane Street, Slinfold. Call 01403 790558 or visit www.randomhallhotel.co.uk