A Little Slice of Italian Flair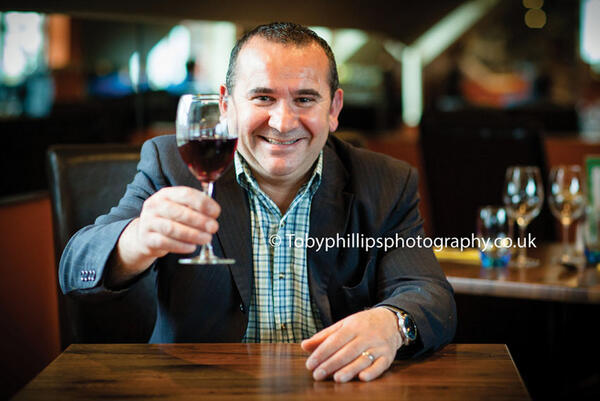 Filippo Marziano must be given credit simply for keeping his restaurant in business for six and half years.
Whilst other eateries have fallen by the wayside due to the rising number of town restaurants, Fillipo's somehow managed to stumble on from one potentially disastrous decision to another.
In its early days, diners would sit down ready for a drink only to discover that the restaurant didn't have a licence to sell alcohol and operated a 'bring a bottle' policy. Perhaps even more baffling was the decision not to offer pizza. At an Italian restaurant!
Consequently, many people in Horsham have their own amusing anecdote relating to Filippo's. All AAH photographer Toby can remember of his only previous visit was that he was served Fanta…in a can. But after six and a half years, Filippo's looks to have found its feet. You can order alcohol, and they now make pizza. More
importantly, it is quite possibly the very best pizza in town.
The restaurant, located behind Piries Place in Park Place, finally feels comfortable with its identity. Whilst the man whose name is abover the door devotes his time to managing the front of house, he leaves the cooking to two fellow Sicilians, brothers Vittorio and Filippo Casisa from Palermo.
The menu is simplistic and familiar, but it is all freshly made to order and offers an honest interpretation of Sicilian and Mediterranean home cooking. This really is like mama used to make, if you happened to grow up in southern Italy.
That Italian passion is expressed not only though the food but in the warm greeting you receive at the door.
I genuinely felt I had let myself down by responding to Filippo's welcome with a reserved 'hello' rather than a hearty 'Ciao!' And why did I not respond with an expressive 'Bellissimo!' as oppose to a non-committal 'very nice thanks' when I was asked if I was enjoying my pizza? It was Bellissimo!
Whilst Filippo's may possess the aura of a Sicilian home, that doesn't mean it's a particularly well decorated one. The bright orange walls may look wonderful if your restaurant looks out to a view of people sunbathing as waves gently break against the hull of their 30 foot yacht on the gleaming Mediterranean.
But orange walls do not have quite the same effect when you're looking out of the window to see a parking warden standing in the rain on the top floor of Piries Place car park, slapping a ticket on the windscreen of a Ford Focus, before remonstrating with a man who had only run in to buy some gerbil mix from the pet shop.
That aside, Filippo and his wife Tina have come a long way since they took over the building, which had previously been French restaurant, Les Deux Garcons. Filippo first came to Horsham in 1991, having spent several years working primarily in French restaurants in London. Finding job opportunities limited in the city, he took a job working at Piccolo's in West Street.
At that time, there were far fewer restaurants in Horsham and Piccolo's was one of the very best. It was owned by an Italian from Bergamo, and Filippo was able to develop his understanding of Italian cuisine. Two years later, the restaurant's owner sold the business and moved to America, so Filippo started working for a new café owned by another Italian in the Carfax. He would stay at Panino's for 14 years and see it become pivotal to a café culture that Horsham has increasingly come to embrace. But the time would come when Filippo knew he had to move on.
He said: "During my last four years there I realised that something needed to happen. You can't work for somebody else for that long when you have been in the restaurant business for over 30 years. Panino's was the place that I made myself known. It was a good place, I had a great time and made many friends whilst I was there. But it came to the point where I knew it was time for me to establish a place of my own.
"My wife studied business at University and is very people-orientated, so we knew we could open a place together. For the first year we were a café. This place was a French restaurant before, so we invested a lot of money to change it all around. We have four children, and we wanted to make sure we had time for them, time for each other, and to be able to see friends in the evening. We wanted a more normal life.
"But the place was not really ideal for a café. It was not working, so we decided to open as a restaurant on Thursday, Friday and Saturday evenings. However, we were a café so we did not have a licence for alcohol. When people were booking we were asking them to bring a bottle. A lot of people loved that, but we found some people were leaving because we did not serve alcohol."
Eventually, Filippo decided to open the restaurant five evenings a week, and they were granted a licence to sell alcohol. Still, there was another reason for people to complain; Filippo's did not serve pizza. Filippo said: "People were saying 'how can you not do pizza, you are an Italian restaurant? The comments kept coming, so we gave it some thought. The café was not working, so we ended that side of the business and decided to make
authentic pizza.
"We knew that if we were going to do pizza here, it could not be like everybody else. We had to be different. So we changed everything. We brought in the wood oven, bought new furniture, and we painted the restaurant to give it a warmer, more Mediterranean look."
Filippo is keen to stress that nothing is pre-made and that the chefs make their own sauces, dough and pizza bases. But does it taste good?
Starters include Gamberoni Fritti (pan fried king prawns, £6.95), Pesciolini Fritti (deep fried whitebait, £6.95) and Sardine Paesane (deep fried fillet of sardine, £6.95). We plumped for the Mozzarella in Carrozza (deep fried mozzarella cheese in breadcrumbs). The sauce, in particular, was beautifully flavoured and complemented the mild-mannered mozzarella which thankfully was not at all rubbery.
The sauce was again the star in the Zuppa Verace (mussels and baby clams cooked in white wine, garlic and tomato sauce, £7.25). The moreish sauce was beautiful when soaked up in the soft, fresh home-made bread, although the mussels, while plentiful, were on the small side. The only disappointment with our starters was the Gamberoni Fritti, with the king prawns sadly lacking any punch and leaving the palette desiring far more flavour.
In the clean and spacious kitchen, the Sicilian brothers can prepare several pizzas, from the Margherita (£6.95) to the Calzone Piccante (£12.50) while customers can also create their own pizza. I chose the Boscaiola mozzarella, tomato, pepperoni, bacon, mushrooms and garlic, £10.95).
I've been to Naples and I know how a truly authentic pizza from that part of the world tastes. They must be prepared to strict guidelines, with tomatoes that grow on the volcanic plains near Mount Vesuvius, and with milk from water buffalo raised in the marshlands of Campania. It is a taste that I have never experienced anywhere else in the world, let along here in Horsham.
Nonetheless, they do make a delicious thin and crispy Italian pizza at Filippo's. They continue to make their own dough, spin their bases and create their own tomato sauce base, and the effort undoubtedly makes a difference.
Toby chose the Pollo alla Milanese (pan fried chicken breast in breadcrumbs served with chips and salad, £12.50). The dish was very nicely cooked and filling, if lacking a little Italian flair.
However, before I argue that the chefs ditch the salad and chips and the dish instead becomes a Milanesa a la
Napolitana, I should point out Filippo's has covered all bases; they also serve a Pollo Farcito (chicken breast filled with ham and mozzarella wrapped in bacon and served in a mushroom sauce) which does provide that Italian flair.
We also tested a dish from the 'specials' board, the Raviolacci Porcini (giant ravioli with porcini mushrooms). The meal carried a very strong cheese flavour and the sauce was delicious. Also on the menu are three risotto dishes, whilst meat mains include Fegato Burro e Salvia (pan fried calves liver) and Bistecca al Barolo (10az rump steak). There are also fish dishes including fillet of swordfish (£16.50) and fillet of seabass (£16.50) as well as traditional Italian dishes including Spaghetti alla Carbonara, Lasagne al Ragu and Linguine Vongole.
Families with children are very welcome and there is a children's menu. Filippo said: "We are popular with young people and families in particular. We are a family with four young children and because we are who we are we don't mind families coming to us. My children eat here regularly and that demonstrates to others that it is fine to bring your family here. Many do so, and we are able to build a relationship with them. They become more than customers.
"I like to make sure people feel welcome and at home here. Most of the people who come here regularly do not even need a menu. I say 'what would you like today; fish, meat, pasta?' and then I make recommendations as I know what they like. When you know your regulars, they know they are going to be treated well. That is the difference here."
For us, that charm provides Filippo's with its unique selling point. It does indeed feel like a family-run restaurant, and much of its warmth and friendliness comes directly from Filippo, who ensured that we were well looked after.
It's not silver service by any stretch of the imagination. It's more like popping over to eat at a friend's house and finding they are keen to do whatever they can to make sure you feel comfortable.
If you're looking for a romantic meal for two, then in all honesty I would suggest several other restaurants before I recommended Filippo's and not just because the sweet, fruity Sicilian house white was far from being to my liking.
But for a relaxing lunchtime or fancy-free evening meal with friends or family, Filippo's is genuinely worth a visit.
You may have to wait longer for your meal, but the food is made with love and the whole team makes every effort to impress.