Wimblehurst Chocolates, Horsham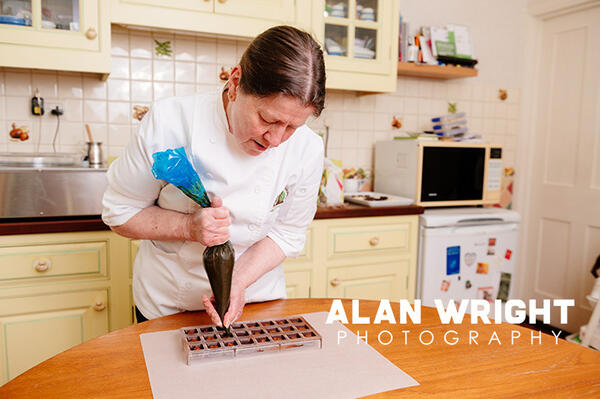 Published on 1st May, 2021
Lindsey Williams goes to great lengths to create a perfect chocolate, recreating the magical bites she remembers from her own childhood. After ten years, Wimblehurst Chocolates continues to be a favourite among visitors to Horsham Market. Here, Lindsey describes the journey in her own words…
Art of the Chocolatier
I was a civil servant for most of my working life, but was made redundant when the Government closed my regional office. I could have gone back to working in London, but a return to commuting to the capital didn't appeal. As I couldn't find the kind of chocolate I love anywhere in Horsham, I decided to become a chocolatier!
A chocolate maker sources cocoa beans and makes everything from scratch. As a chocolatier, I use chocolate couverture, which I then temper. Once you have the shell of the chocolate, you work on the fillings. So, the key was first finding a tasty chocolate that I liked. I gathered samples from major suppliers and had a fabulous time trying them all before choosing a favourite.

I named the business after my road in Horsham, which was until recently the only Wimblehurst Road in the country. I started by making truffles and gradually progressed to offer chocolate bars and all kinds of seasonal treats. At Christmas, Easter and other special occasions, I make items such as penguins or bunnies. I mainly use dark and milk chocolate as I'm not a big fan of white chocolate. I don't include nuts either, so my chocolate is good for anyone with a nut allergy.
From the outset, I pitched my products at the higher end of the market, aspiring to reach a Hotel Chocolat standard. Boxes of individual chocolates are my best sellers. Every chocolatier sells bars, but seeing handmade chocolates in a display and being able to choose the ones you wantis special. I have up to two dozen different varieties people can pick from and the box dressing comes as standard.
A Hint of Absinthe
My chocolates tend to be traditional flavours with a twist. My salted caramel and cherry ganache chocolates are among the most popular. A friend of mine makes a lovely raspberry and thyme vinegar, which I use in a raspberry & thyme truffle. One of my most divisive treats is an absinthe chocolate. Some people love it though, and one customer told me it gives him funny dreams!
Like any chocolatier, I've always been up against Thornton's. When I was young, I would go to the shop and buy a single Thornton's chocolate, as it was all I could afford. They made excellent chocolates back then. At some point, the company appeared to target a different market and its chocolates no longer have the magic for me personally. If you can pick them up at a petrol station, it's not high-end chocolate. Often, I can't even buy the ingredients for the price of Thornton's chocolates, so my goal is to offer delicious one-off bites that people will remember.
I use quality ingredients, with somecoming from local suppliers. My butter is from Bookham Harrison Farm in Rudgwick and some of my chocolates are made using jams from Bartie's Sussex Faire, who are regulars at Horsham Local Produce Market. The cream is from Charlie's Farm Shop in Bury and some of my treats have a splash of Chilgrove Gin.

On the High Street
I had a shop on East Street for a while. It was two shops in one, with Wimblehurst Chocolates and Marion de Montfort, who sold French produce. So, I know more about French wine and cheese than I ever imagined I would!It was a great experience, but at first people couldn't understand the concept of two businesses sharing a shop. Even finding insurance was a challenge until the Federation of Small Businesses (FSB) found us a joint policy. It took a while for people to get used to seeing us around, but we were just turning a corner when the landlord decided to sell.
It's very hard for small independent shops to succeed because of the high rent and rates. It would be nice to have something in place to encourage businesses to grow to a certain point first, giving them a chance.
I started in the Local Produce Market in Horsham, as they were appealing for stall holders. I enjoy being on the market, as you get to know customers and there's a great rapport and camaraderie between stall holders. Many of those customers followed me to the East Street shop, and then back again to the market.
For me, making chocolate is the easy part. There are people who can make and people who can sell, and I fall into the "making" bracket. What I have found is that customers buy into me. Outlets such as farm shops can struggle to sell my products because customers are blind to what I do. Sat on someone else's shelf, it just looks like an expensive box of chocolates. When they see me at the market, they understand my ethos and appreciate the time spent on every chocolate.
Beware of the Gloss
Sometimes on warmer days, you can see chocolate that is too glossy. You can be fooled into thinking they're okay when they're not, as the structure has changed, the fat and sugar balance has shifted and the product has softened too much. So, I don't do markets on hot days because I wouldn't be selling my best product. Recently, I started working at the Covid vaccination centres in the area, so I need to balance my business around that too.
In 2020, I missed Easter due to lockdown. That is obviously an important time for chocolatiers. Sadly, this year I was unfortunate with lockdown timings too. It has been a testing time!
I would like to focus more on my business, but it's difficult. At one stage, it was a full-time occupation and I had to decide if I wanted to take the next step and employ people, or keep things steady and just enjoy it. Ultimately, I chose the latter.
Facebook: @WimChoc

Words: Ben Morris
Photos: Alan Wright Photography