House Coren Vineyard Launches Boco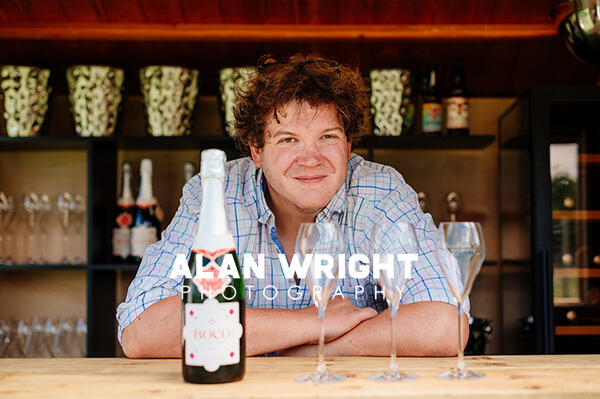 Published on 1st September 2021
The Horsham District's fine reputation for wine has been enhanced enhanced by the launch of 'Boco' by House Coren. Located in The Haven, near Slinfold, House Coren has achieved a first among Sussex vineyards by creating a sparkling wine using the Charmat method. Charmat is a process most commonly associated with Prosecco, where bubbles are trapped in the wine through carbonation in steel tanks.
William Coren, Managing Director, said: "Most English wines are made throughtraditional methods, with the secondary fermentation done after the wine is bottled. That takes at least a year and often much longer than that. With the Charmat method, the first fermentation is the same, in terms of creating the base of the wine and adding yeast and sugars. But the secondary fermentation is done while the wine is in steel tanks. This has two benefits. Firstly, the process is quicker, which has obvious financial advantages for a new vineyard. Secondly, it preserves the fruity flavours."
"English wines have strong acidity as flavours develop over a long growing season here, making them crisp and enjoyable on a summers' day. I want to capture that too and the Charmat method provides that." "Traditionally-made English wines have been very successful in terms of international awards, especially in recent years, and for that reason any new vineyard would consider those methods to be the natural way forward. While acknowledging that some English wines are incredible, we want to offer something different at House Coren, with a lower price point. Most English wines cost about £40, whereas Boco is £26 a bottle. It's still a premium product but it's more accessible. Drinking wine should be a fun, sociable thing to do and we want to move away from some of the wine snobbery that still exists."
FRUITY FINISH
Boco consists of 42% Reichenstiener, 29% Chardonnay and 29% Pinot Noir grapes, all grown on the Coren family's eight-hectare estate. This combination contributes to a unique colour and taste. William said: "With Boco, we wanted to keep the fruitiness of the grapes yet still create a fully-rounded wine with interesting dimensions." "When I drink our 2020 vintage, I get a hint of red from the Pinot Noir, then Chardonnay kicks in with fruity notes of pear and apple, perhaps a hint of raspberry too, and the German grape gives it a delightful citrus finish. The Pinot Noir influence is evident in the bottle too, as the wine has a platinum colour that's quite unique. That comes from light skin contact with the Pinot Noir. Yet it's still clear, with ultra-fine bubbles which comes from the natural fizz of the Charmat method."
MERCI BOCO
Fittingly, the name is inspired by Sussex dialect, with 'boco' derived from the French word 'beaucoup', meaning 'lots of'. William said: "When the French met our coastal traders, they would say, "Merci Beaucoup!" The traders would say something that sounded like "Boco!" It's another way in which we have included a touch of Sussex heritage into the product, as we want to contribute to the growing reputation of food and drink in the county."
"Horsham has a fantastic food culture, with Michelin-starred restaurants and wonderful local produce markets, and we have an aspiration to make it the centre of English wine-making too. But we shouldn't be pigeonholed into making just one style of wine. France isn't revered for just one type of wine! I believe that by offering more variety, we can help promote English wine internationally."
FAMILY PLAN
William describes himself as a wine aficionado. His journey in the industry began at wine merchants Majestic, where he worked after graduating from university. He then expanded his knowledge in retailers including The Horsham Cellar. "If you had asked me as a young man what I want to do with my life, I would have told you that my dream was to run a vineyard," he says. "However improbable that was!"
With the support and encouragement of parents Barry and Sally, brother Ben and partner Louisa, William drew up a business plan in 2018. Covid presented him with a "now-or-never" moment and he decided to press on, with the whole family contributing to the planting at the eight-hectare estate. Although the site looks across to the chalk and limestone hills of the South Downs, it is a richness of clay in the ground that has been ideal for growing vines.
Plans for a new winery have been put on hold to reduce start-up costs. But the Corens have ambitious plans for a winery with tasting rooms to make it a destination venue. They also hope to increase production by one day doubling the 30,000 vines already planted. This will provide House Coren with the scope to introduce new wines, including some made with traditional methods.
As well as Pinot Noir, Chardonnay and Reichenstiener grapes, all used in Boco, other varieties including Pinot Meunier and Pinot Blanc are grown too. But before they expand their range of wines, Boco needs to win over the public.
William said: "Early feedback has been positive and it has proved popular at events. We also supply Horsham Wine Cellar so people can discover Boco for themselves."
Further Information: Boco is available from online at www.housecoren.co.uk