REVIEW: THE PARTRIDGE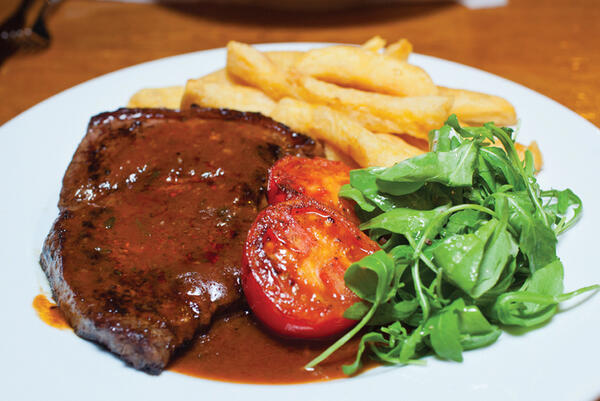 The Partridge is now firmly on our list of the pubs we have to go back too. Not because it serves up food to the high standard they are dishing out at nearby pubs such as The Crown at Dial Post, but because The Partridge is still very much a work in progress.
A year ago, The Partridge was a pub in decline. The interior was dull and lifeless, food was not served and it wasn't renowned for its real ales either. Unless you had an urge for a game of pool, the majority of people in Partridge Green felt little need to go there.
But then Dark Star, a fresh and commercially enterprising brewery, decided to take on the leasehold from Enterprise. The brewery, formed in the cellar of a Brighton pub in 1994, moved into the village's Star Trading Estate in January 2010, and it didn't take long for the locals to suggest that there was an opportunity at the pub.
Paul Reed, managing director of Dark Star, told AAH: "At first glance it didn't seem to be our sort of pub as we tend to prefer town boozers. It didn't seem to have a lot going for it but what convinced me was the pester power of the locals. They really wanted us to take over the pub."
It all eventually fell into place, and Dark Star became the first of Horsham's five breweries (the others being Hepworth & Co, Weltons, W.J King and Kissingate) to run a pub in the district. Dark Star does have experience in this area though, running pubs in Lindfield, Shoreham and Brighton.
Since then, The Partridge has been winning back the locals, but as the staff will admit, there is still work to be done. Whilst there is an expanding menu and the bar area has undergone extensive refurbishment, the dining area looks dated and in need of attention if The Partridge is to attract more diners.
Now running the pub for Dark Star is Rob and Vicki Lynch. Rob said: "We were running a pub on the other side of Lewes at The Ram in a village called Firle. We were there for about five years before we came here. When our son Oliver came along we had to move on as The Ram was big but the upstairs, where we lived, was tiny.
"Just by chance, Mark Tranter (the head brewer at Dark Star) lives over that way and he used to come in. Once I asked him if he had any pubs available and he said' funny you should say that'. Now here we are! I didn't know much about this place but thought it would be a good fit for us. When we took it over it was literally doing nothing. Nobody was coming in and it wasn't welcoming. But we spoke to people in the village and they just wanted their village pub back.
"There was some resistance as some people just want a pint of Fosters or Kronenbourg, but that doesn't fit with what we're doing with Dark Star."
Rob set about providing 'unfussy food at a sensible price' and decided to use local produce and suppliers when possible. A year on, there's a solid but simple menu (printed on plain A4 paper – they really meant the 'unfussy' bit!) with half a dozen starter, main and dessert options available and a specials board too.
But there is no shortage of quality. The food is home-made and the meat is sourced from S K Hutchings in Partridge Green, a butcher relied upon by several pubs with good reputations in the area. There are also occasions when Rob calls upon Chanctonbury Game in Washington for Partridge, Venison and Rabbit in particular.
Rob said: "All of our meat comes from Hutchings as it's just such high quality. Every day there is a queue outside the door. All of the food is fresh and home-made, so it's labour intensive but I can say to anyone we can make our own gravy.You have to be a good food pub these days, but we wanted the food it to fit in with what the village wanted.
"We didn't want it to be too fancy. We've got gastro pubs such as The Green Man, the (recently re-opened) Crabtree, and The Fountain at Ashurst. So we thought if we're going to do it, we'll keep it simple. We buy the mince from the village butcher for burgers, serve fish and chips and meals such as Gammon and Eggs and Pork and Herb sausages and keep the prices low. We're a drinker's pub that does good food."
We sat down in the dining area with just one other table occupied by a family with young children (the pub welcomes children) and it was noticeable that the eating area needed the same attention that has been lavished on the bar area.
There are a few framed pictures but on the whole the are is lacking colour, which needless to say does little for the atmosphere. On our last visit, on one of the pub's popular weekday quiz nights, the sheer volume of people had meant that this wasn't a problem, but this is not always going to be the case.
This isn't lost on Vicki and Rob, and Dark Star too. Work is set to be carried out in the New Year. It is hoped that the pub can be decorated to better represent the striking Dark Star branding. One plus point is that there is now a wall that means that the bathrooms can only be accessed from a door in the bar area.
Anyway, with a pint of Dark Star's Hophead in hand, we sat down after a friendly chat to the bar staff and ordered our starters; a thick home-made soup of the day with Barnard's Bakery Bread (£4.75) and a free range Chicken breast salad (with smoked back bacon, toasted croutons, parmesan and garlic mayo). This costs £5.50 as a starter but can be ordered as a main for £8.95. Both were nicely presented in a no frills manner, with the salad in particular going down well thanks to its tender chicken strips and a generous amount of bacon.
For main course, both Toby and I were tempted by the burger, which had been ordered by the next table, as it looked like a sizeable burger and the coleslaw looked great as well. However, I chose the beef, smoked bacon and onion stew (braised in old chestnut, creamy mash and steamed vegetables) for £9.25. I have to say it didn't look like much on the plate (the no frills approach again) but the mash had an excellent texture and was well flavoured, and the meat was fresh and succulent. I prefer a traditional stew with the vegetables thrown into the pot with the meat, but it was an enjoyable dish for less than £10, and was once again served in good time.
Toby went for the 21-day-old rump steak with rose tomato, chips, garlic and herb butter for a very competitive price of £13.95. The steak was well cooked and served with a splendid sauce and the chips too were nicely chunky.
There is also a desserts menu, and we tried the chocolate brownie with ice cream and the sticky toffee pudding. Both were very enjoyable, although Rob later pointed out that he doesn't consider desserts to be his strong point. It's impressive how far The Partridge has come in a year, and it is good to see an ambitious brewery willing to invest in its local community.
Already, the pub has won back many villagers and in the summer many walkers and cyclists on the nearby Downs Link began dropping in. Brewery tours held by Dark Star have also helped attract new faces to the pub. Already The Partridge is doing what it set out to do - serve good food at a good price. But there could yet to be more to come.
Rob has the talent and experience to expand the menu (although he has said he'd need a new oven to do too much more) and if the dining area was to become more comfortable it could appeal to more people and perhaps even be considered for special occasions.
As it stands, The Partridge is a pub where you can enjoy a warm welcome, and eat very good food if you're on a relaxing or social night out with friends. It would also be a good place to go if you have children. It may not be fine dining, but it does the trick. For now it is just good to see that The Partridge is playing an important role in village life once again, and certainly heading in the right direction.