BROLLY BREWING IN HORSHAM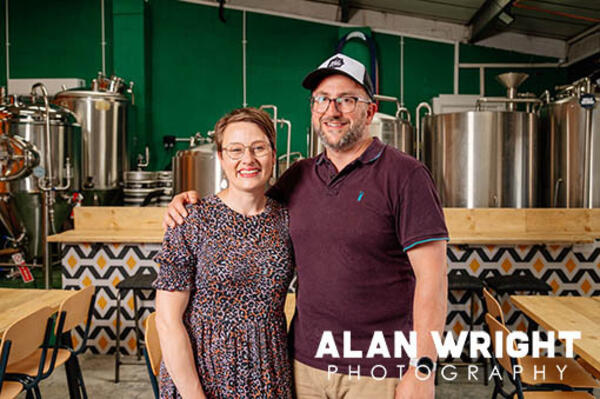 Published on 1st July, 2023
Brolly Brewing was founded in 2017 by husband and wife, Brook and Holly Saunders. The brewery was based on a farm in Wisborough Green, where they organised the annual Brollyfest music and beer festival, and established a fanbase for its unfiltered craft beers. As Brolly moves into a new home in Horsham, we meet the founders to find out more…
Why move to town?
Brook: We have been looking at Horsham for a long time, as we live in the town and it's time to take the brewery to the next level. But we needed an industrial unit that was both central to Horsham and gave us the space we needed, which wasn't easy. We almost took on the former Welton's brewery site in Foundry Lane, but the deal fell through. Then, we heard Chapeau! Brewing Co was closing and the location was ideal. There are lots of houses within walking distance and potentially customers from the industrial estates around us. There are bus stops nearby and it's only a 10-minute walk from Horsham and Littlehaven train stations. Having been isolated in a rural village for so long, we wanted to be somewhere that people could access our beer more easily.
How have you made the place your own?
Holly: We've not stopped working since we picked up the keys in March. One of our first jobs was to lay down a new hard floor and drainage to accommodate the brewing tanks, which we hauled from the farm and lifted into the unit with a crane. Most taprooms focus predominantly on production, using makeshift tables and chairs for customers, which are squeezed around the brewing tanks. That works for some, but we didn't want to create a novelty experience that people might only try once. We want people to return regularly, so we've put a lot of effort into making our taproom more like a pub. We have a lovely bar, with long wooden beams supplied by West Sussex Antique Timber in Wisborough Green. We have previously worked with them on The Billi Tap in Billingshurst, which we run separately, in partnership with Little Monster Brewing Company. Interior designer Jane Fitch helped with the look and layout, while our brilliant builder, Alex of Griffin Builders, made the wall behind the bar, as well as tables from upcycled scaffolding planks. We also commissioned my father to make a Toad-in-the-hole table, a traditional Sussex pub game where you throw brass coins into hole.
You have had some financial assistance…
Brook: To fund this project, we ran a Crowdfunder campaign that raised about £20,000. About 120 people made a contribution to the fund. Some of those are friends and family who have followed us from the beginning, while others discovered Brolly during the pandemic. We ran a Brolly Beer Truck delivery service during lockdown and that helped us get to know more people in the local area. Our customers appreciated the service and it even inspired a new beer, Truck Life. In a Crowdfunder campaign, you can pledge rewards in return for support. So, we organised a special opening night for those who donated, and some contributed more to have their name immortalised on our new wall, alongside others who have been on this journey with us.
Why do you attract such strong support?
Holly: I'm sure Brook will say it's because of the beer! It is partly that, but I think people like that we're a family business. Our two daughters, Poppy and Pearl, are part of the Brolly story too. In Wisborough Green, we had a big field and parents loved to come down and enjoy a beer while the children ran around having fun. We are now in a very different location, but we hope we can maintain that same feel and welcome many families here. Being inclusive has always been important to us, which is why we've built a low bar that is wheelchair accessible, and have disabled toilets, as well as baby changing facilities.
What kind of beers do you make?
Brook: Our beer is unfiltered, so maintains more flavour and aroma from the hops, malts and yeast. Some of our beers use traditional Sussex brewing methods, but we also make modern, hoppy, juicy beers that have been key to the craft beer renaissance. We have a core range of about a dozen beers, including two named after our daughters, Popsicle (3.8% New England Pale Ale with a delicate coconut and pineapple flavour) and Little Pearl (award-winning, 4% milk stout). We have several lower ABV pale ales with between 3% to 4% alcohol, as well as an oatmeal porter (Aurora Brollyalis), a Sussex bitter (Lowfold Wissy), and a brown ale (How Now). Many more are available for a limited period or brewed in certain seasons, with our latest being Brollyhead (3.8% Golden Ale), a tribute to one of our favourite beers, Hophead, which used to be produced locally by Dark Star.
Will the taproom sell anything beside beer?
Holly: We need to create an experience that is not just about beer if we are to attract a broader range of customers. It's very easy for people to buy their drink from a supermarket and enjoy it on a comfy sofa at home. If we're going to encourage them out, we need to create a good atmosphere and offer a different experience. We make a lovely beer, but the taproom will also offer wine, spirits and cocktails. The Horsham Cellar has helped us to create the wine menu, which includes local wines from House Coren, while taproom manager Ben Wilton is a skilled mixologist and has put together the cocktail list using only fresh ingredients.
Is it becoming harder for microbreweries to survive?
Brook: The craft beer revival that we've seen in the past decade or so has led to the market becoming quite saturated. Rises in the cost of electricity and raw supplies has made it even harder, which is why we're seeing pubs and breweries – even well-known brands – struggling financially. But there are still opportunities to carve out a niche in the market and we hope that by offering a different kind of beer and drinking experience in a family-friendly taproom, we can provide something unique to the people of Horsham.
Further information:
Words: Ben Morris/Photos: Alan Wright