The George & Dragon, Dragons Green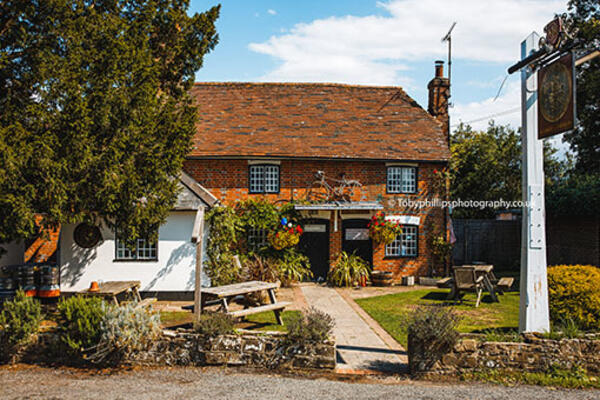 Published 1st November 2019
Pinned up next to the bar at the George and Dragon in Dragons Green, is a photo of the first landlady.
Charlotte Budd ran the place as an inn, but eventually came into conflict with the locals when her son Walter, committed suicide in 1893. She believed her albino son had been unjustly accused of a petty crime and drowned himself. This argument with parishioners and even the vicar led to her removing Walter's tombstone from Shipley Church and placing it in the front garden.
It's still there today, largely unnoticed, yet listed as a monument of historic interest. And the photo of a stern, uncompromising Mrs Budd has survived many changes at this beautiful rural pub.Even today, Simon Corby doffs his cap – or hat at least - to Mrs Budd when he turns off the lights each night. But while being respectful of the pub's history, Simon and business partner Jon Ewers have taken this charming pub in a very different direction.
It hosts regular live music in a marquee, beer festivals, yoga sessions and even enlightening talks by conscientious farmers. There's a focus on charity too with fundraising discos, Macmillan Cancer Support events and talks by mental health charity, MIND. What's more, after four years at the helm, they're beginning the see the fruits of their labour.
"This is more than a pub for us," says Simon. "It's a lifestyle. We introduce ideas that interest us – which might be folk music or meditation sessions - and we grow organically. That's my vision for the pub; to draw inspiration from the community and create a space where people can come together to share ideas and enjoy life."
Back from the Brink
The George and Dragon has endured some testing times. Owner Jenny Winters had worked hard to keep the doors open during an unsettled period which saw countless chefs come and go. Friends Simon and Jon were both pub regulars and feared for its future when they heard that Jenny had to close the doors for a day.
"We offered to step in and do our best," says Simon. "We muddled through the day, as we didn't want to see it close, as it's too special. We spoke about it and decided to ask Jenny if we could run it for three months, until she decided on her long-term plans. During that time, Jenny had found a potential buyer. However, we were beginning to change the dynamic of the pub, so Jenny kindly offered us the lease and we're still here four years on."
"Initially, we did what we could. We learned how to cook as we didn't have a full-time chef, and gradually life returned. Open Mic Nights have certainly helped. We held them inside initially, then set up a Bedouin-style marquee outside. We're talking to the council in the hope that it can stay permanently. It's become so important that I fear the pub wouldn't survive without it. We've seen some great performances from different genres of music. It's becoming a launching platform for musicians. I came across a talented guitarist busking in Brighton, invited him along and he's now a regular. Another brilliant evening came courtesy of the Joe Townsend Band, who also play as part of the Shipley Arts Festival. People visit from far and wide as we have bed & breakfast accommodation in the hayloft and stables, which people from London and Brighton love as it's a quirky!"
Classic Menu
There was a time when the George and Dragon had a reputation as one of the best eating experiences in the Horsham District. People would travel from towns and villages to enjoy the huge portions in the comfort of a cosy, traditional English pub. Due to staff changes, the pub didn't maintain the consistency needed to maintain this reputation. However, chef Yann Forgeais is now settled in his role and customers are returning.
The beer helps too. As a free house, The George and Dragon can offer local ales by the likes of Greyhound and Firebird, whilst it serves gin by Cabin Pressure Spirits too. Such a beautiful pub needs good food too, and the signs are encouraging.
The small menu concentrates on modestly priced English classics. Starters include ham hock and smoked chicken terrine with tarragon mayo (£6.50) and honey roast feta wrapped in filo with figs and a sesame dressing (£6.50). Perhaps the pick of the starters is the well-cooked poached duck eggs with asparagus, cured ham and a grain mustard dressing (£6.50).
Mains include pan-fried hake with smoked bacon, prawns and broad bean rosti potato (£13.95) and braised dug leg, red cabbage and green peppercorn sauce with caramelised apples (£13.95). There's also a George and Dragon burger with chips (£11.95) and a halloumi burger (£11.95). Vegetarians can also choose from a Thai green curry (£11.50) and superfood salad with buckwheat, quinoa, butternut squash and courgette (£11.50).
Based on a recommendation, we picked two from the specials board. The pan-fried cod fillet with chorizo, roasted red pepper, black olives and clams (£11.50) offered excellent value. It was nicely presented, with a pleasing variety of flavour and a fresh, well-textured fish fillet at its heart. We also enjoyed the rich flavour of the pork belly with ham hock croquette, mashed suede, gratin potato and broccoli. At £12.95, it too was good value, combining fresh ingredients with elegant presentation. We finished the meal with a devilishly rich dark chocolate tart and raspberry sorbet (£5.95).

It may be that traditionalists may disapprove of the pub's recent direction. Those who haven't been there for a while might be surprised by the traveller-vibe of the outdoor marquee, with its butterfly-patterned fabrics draping loosely around a mishmash of sofas, chairs, relics and even motorcycles.
Yet the George and Dragon remains an undeniably lovely pub, with good food, good beer and a tranquil setting, particularly in the summer, when you can sit on hay bales and soak up the Bedouin aura.
It might not be your cup of tea, but it might just have offered this historic public house a lifeline. And Mrs Budd would certainly approve of that…

Dragons Lane Dragons Green, Shipley, West Sussex RH13 8GE
Tel: (01403) 741320
Email: stacey@thegeorgeanddragon.pub