The George & Dragon, Dragons Green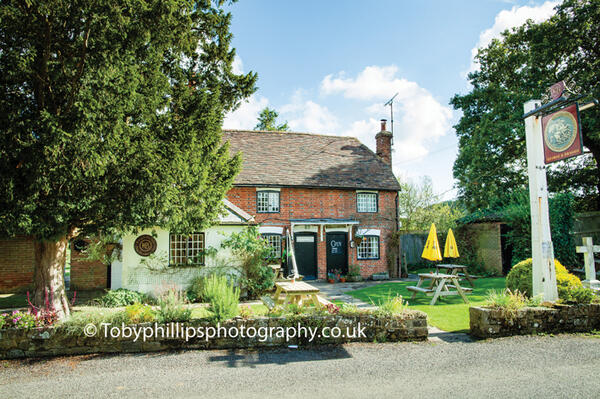 Not so long ago, the George and Dragon looked like a pub whose days were numbered. With a string of landlords failing to revive its fortunes, the 16th Century pub was put up for sale by the brewery, Hall and Woodhouse.
Nobody was interested.
The Grade II listed pub in Dragons Green, was not only out of sight – it was out of mind too. But a couple of hundred yards down the road in Bakers Road, two villagers with no experience of running a pub were considering taking the brave step to take on their own pub.
A few months on, David Greenwood and Jenny Winter have revamped the pub thanks to the support of many local residents and the George and Dragon is once again leaving a positive impression on visitors. Jenny said: "I came here 13 years ago and The George and Dragon has been my local pub since. In recent years, different people came in to run it but couldn't make it pay. The brewery didn't spend any money and the pub became run down, cold and damp. We could see it going downhill.
"The pub had been on the market for about 15 months because the brewery wanted to sell it. "I said to Dave one evening 'why don't we buy it?' The next day we rang the agents and put an offer in. We were the first serious offer in over a year.
"We offered quite a lot less than they were originally asking for, but I think they were quite keen to sell. A lot of people were put off as there was an overage clause so if you ended up developing the site for new housing you had to pass on a percentage to the brewery. We were not buying the pub to develop - we wanted to keep the pub going. We got the keys on 2nd May and came in to find that the brewery had ripped out everything. It was bare and looked like a derelict building. I sat down and thought 'what on Earth have we done?'
Dave and Jenny spent the next month revamping the pub before opening in June for the Diamond Jubilee. New flooring was put in and the bar was moved closer to the kitchen, meaning that a room once used as a storage room has become a charming eating area. The character of the pub is retained through the exposed oak beams and the original ledged and braced oak doors (still numbered as the pub was once three cottages).
One feature that was not replaced was the photo of Mrs Budd at the bar. Charlotte Budd once owned the building when it was run as an inn but came into conflict with villagers after her son – an albino who lived with her - committed suicide. Walter was 24 when he died in February 1893, with his parents believing that he was unjustly accused of a petty crime and this so preyed on his mind that he drowned himself. Parishioners claimed that his
mother had treated Walter so badly that he killed himself.
The argument with parishioners and the local vicar led to Mrs Budd Walter removing Walter's tombstone from Shipley Churchyard to the front of the inn, where it remains and is now listed as a monument of historic interest. But whilst Mrs Budd was watching over the bar, the rest of the team were not so settled. Things did not work out with the chef, whilst David and Jenny quickly realised that they could not leave the running of the pub to a manager whilst they carried on with their own jobs. Jenny carried on working in the city, whilst David, a carpenter by trade, adopted a more hands-on role.
They still had a chef problem, however. David said: "Sometimes it was like a building site as all the local people would be here painting and cleaning. You could say it was a bit of a local project. People are so pleased that we've kept it as a pub.
"When we didn't have a chef, one of the villagers, Barbara Britton, stepped in. She built up a really good reputation here. Initially she would do a couple of days a week but when we lost our chef she extended to doing seven days a week. All the feedback we had was fantastic. But Barbara didn't want to take it on full time but does still work for us a couple of days a week and she makes some desserts for us.
"We put out an advert for a chef and Yann Forgeais, formerly head chef at Morden Hall Park in Surrey, came in. We were worried that he would be living in Barbara's shadow a bit, because she had built up such a good reputation. But he has not let us down. Nothing is a problem for him. We did say to him keep the menu basic with good quality food. People like steak, good quality sausages and nice pies, but on the specials board he tries something a bit different like Moules-frites.
He is gradually bringing in his own influences, but we still have the home-made pies made by Barbara and people love them. Yann has put together a cracking Christmas menu and as he comes from a baking background we can now provide cream teas on Friday, Saturday and Sunday afternoons."
Our visit though was on a Wednesday night. We settled down into one of three small dining areas (the largest of which has five tables) that flank a small area around the bar and fireplace, where a few bikers from a Triumph Owners club enjoy a pint amongst several regulars.
Outside there are many more tables in a large garden, including two in a smoking area that is nicely decorated by vines put in place by gardener Dave Britton. The new owners have also bought bouncy castles which give the children something to do in the summer months.
At this stage, Yann (under advice) has kept the menu simple. Choices are smoked salmon and capers, prawn cocktail, pâté of the day (all £4.95), Italian meat selection (£7.95) and soup of the day (£4.50). We went for the salmon, served with salad and brown bread, as well as the prawn cocktail with Marie Rose sauce and brown bread.The salmon and prawn dishes were both perfectly fine, fresh, clean and neatly presented, if both lacking a little in terms of flair; as you would expect from a chef charged with producing simple yet satisfying pub food at a fair price.
Main courses include the 10oz sirloin steak (£14.95), a 10oz gammon steak (£11.95), scampi and chips (£8.95) and sausage and mash (£9.95. There is also a home-made pie of the day (£9.95) which is very popular with the
regulars, and pan fried salmon steaks (£11.95). Having given some consideration to which dish would provide colourful photographs, Toby went for the seared tuna steak with sweet chilli sauce salad and crushed new potatoes £12.95). The steak was well cooked with a nicely cooked edges and a soft, rare centre developing a good chemistry with the moreish sauce.
Caring little for glamour photos, I went for the slowly cooked lamb shank in honey and cider, served with new potatoes, vegetables and red wine sauce. The meat – from Hutching's butchers in Partridge Green – was excellent, and plentiful potatoes made it a very fulfilling dish. The one minor complaint is that the honey flavour didn't really provide much potency.
For dessert, we went for two 'Barbara Specials'. The Banoffee Pie (£4.95) was delicious, with a firm digestive base, thick toffee and a whopping cream topping that didn't overwhelm the whole pudding. Toby went for the cheesecake (£4.95) which also provided a hearty home-made finale.
With the George and Dragon providing such a warm and pleasant atmosphere, we stayed on for a pint of Horsham Best, by local brewery W.J King. The pub also has Harvey's Sussex and Doom Bar as regular ales and Partridge Green-based brewery Dark Star recently featured as the guest ale.
We spoke to David and Jenny about their thoughts on their first few months in business. David said: "It feels like a community pub and the local people didn't want to see someone who has just bought it to make money."
"We've never run a pub before but we try and provide good beers with good food and a nice atmosphere. We really didn't want it to end up like a restaurant so we've kept a nice mix of eaters and drinkers. It is bloody hard work and until you have a pub you don't realise.
"You can't buy an atmosphere and character. You can build on it though, and that will come."