Lewis Behind the Scenes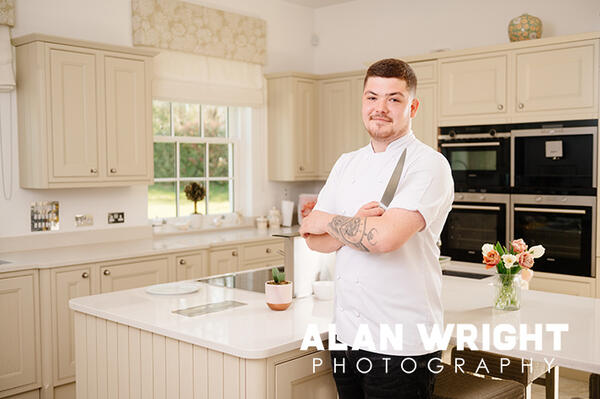 Published on 1st June 2021
Who do we have here? Lewis Wilson, a chef who has launched his own business, Lewis Behind the Scenes.
Tough time to open a restaurant…That's not the idea. Lewis goes into people's homes and cooks for them.
What, as a surprise? No! He doesn't break in! The chef at home market is growing fast, with specialist companies operating online and even well-known chefs getting involved. Lewis says, "It's a great form of entertainment. You can invite friends over, enjoy good food and drink and relax in the comfort of your own home."
Must be tricky for the chef? It can be challenging, as there's always different cooking equipment to use. Preparation is key and Lewis usually asks for a photo of the kitchen beforehand to ensure it has everything he needs. He says, "I use my own pots and pans, but sometimes it can take a while to get used to a different oven. Some heat better than others and when there's no room for error - when one minute either way can leave meat over or undercooked - it's a delicate balance. You've got nothing to fall back on either, as you're alone. So, you need to have faith in your ability and adapt quickly to any problems."
What makes Lewis capable of this? For a young chef, he has an impressive résumé. Lewis was only 14-years-old when he had his first experience of working in a Michelin-starred restaurant.
How did he manage that? While a pupil at Forest School, Lewis was struggling to find a work experience placement. Lewis Hamblet, his friend's father, invited him to South Lodge Hotel in Lower Beeding, where he worked as the Executive Chef. Young Lewis had no desire to become a chef at the time, but he loved the experience and hasn't looked back since.
Did he carry on working at South Lodge? Along with his friend Tom Hamblet (the Executive Chef's son) he went there as an apprentice after leaving Forest, spending four days a week at the five-star hotel and one day at Westminster College, gaining a professional diploma. After a year, he won Rotary International's Young Chef Competition. Lewis recalls, "It was strange, as we were working in a Michelin-starred restaurant, then being taught basic cooking skills at college. It was too easy, so the college let us skip the first year!"

Must have been intense at South Lodge though...Yet Lewis rose to the challenge, working in two of its restaurants (The Camellia and The Pass) and gaining experience of banqueting and pastries too. In addition to the invaluable guidance of the Executive Chef, Lewis worked with Matt Gillan (now at Heritage in Slaugham), who consistently maintained a Michelin Star during his time at The Pass. Lewis says, "You learn something with every dish and the pressure of the star helps you as a chef, because you always need to improve."
Where did he go next? Lewis went to The Black Swan in York, run by Tommy Banks, who in 2013 became the UK's youngest Michelin-starred chef. It was during his successful spell there that Lewis learned the art of foraging, as it's a key component of Banks' menu.
Foraging? Using wild ingredients such as plants, herbs, fruits, mushrooms and nuts. "Even this morning I was out foraging," says Lewis. "I have my favourite spots for wild garlic, lovage, viola, chives and leeks. Soon, there will be elderflower growing too."
How did Lewis end up back in Horsham? His friends and family are based here and returning was a lifestyle choice. It wasn't long before people were asking him round to cook and Lewis thought there was a business opportunity. No sooner had he launched Lewis Behind the Scenes when Covid hit. However, he adapted quickly and offered 'At Home' food boxes.
What was in them? The Steak Box for Two includes a beautiful Côte de Boeuf with creamy mashed potatoes and English asparagus. Lewis says, "I do all the preparation, including seasoning and searing the meat, and give clients step-by-step guidelines on how to finish the meal in the oven."
Like an upmarket takeaway? Precisely! Lewis buys his meat from Hutching's in Partridge Green and in future hopes to boost his menu with Sussex Wagyu beef from Trenchmore Farm in Cowfold. He says, "The boxes have a fine dining aspect and the price reflects that, because of the quality of the ingredients. But it's perfect as people everywhere can enjoy it and make it look like they made a great meal themselves!"
Why not continue doing this then? About 400 people have enjoyed the food boxes and they've been a great way for Lewis to steadily build his brand during the pandemic. However, as restrictions ease, Lewis hopes to move forward with his initial dream of cooking in people's homes.
Does he always do beef? Lewis will typically offer a three or six course menu and propose two choices for each course to the client beforehand, while also taking on board dietary requirements. Once the menu is agreed, guests enjoy the same dishes. On our visit, Lewis served tender lamb with a celeriac purée, asparagus, broccoli, baby cauliflower, relish and wild garlic flowers. Dessert was a strawberry tart with Pimm's jelly.
What does the future hold for him? Lewis is ready to adapt to the market, perhaps cooking at larger celebrations such as birthdays or weddings. He hopes to work in partnership with his sister's new boutique bell tent business too, and they're looking to organise outdoor events this summer. He says, "For now, I'm just enjoying cooking and meeting new people. I'm not a big talker, but just seeing them enjoy the food is the big reward for me."
Further information:
Words: Ben Morris
Photos: Alan Wright