The Hare and Hounds, Cowfold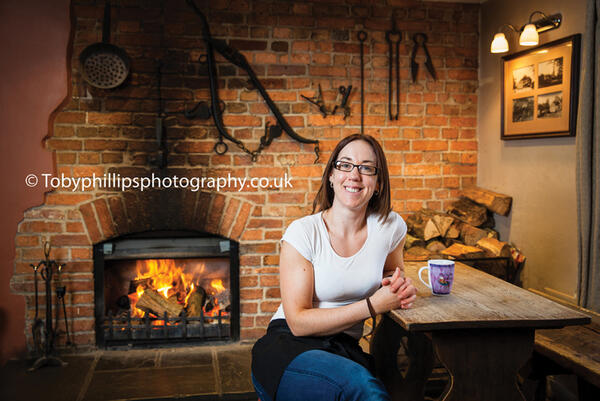 Confucius remarked that 'Life is really simple, but we insist on making it complicated'.
When Wendy Keating took over the Hare and Hounds pub in Cowfold two and a half years ago, it's unlikely that Chinese philosophy inspired her direction. But she was aware of the importance of simplicity.
"When I came here there were glass top tables, a Big Screen TV, a pool table and lots of live rock music," said Wendy. "I took a gamble and took it all out, brought in wooden tables and chairs, in an attempt to make it a little
more traditional. As it turned out many locals were grateful for that.
"I used to come and eat here 10 years ago, when the Hare and Hounds served good food and there was a warm atmosphere and that is what I wanted to return to. Before I came, the pub did offer food, but it was only light bites. "Straight away I knew I wanted to serve good food, so we had professionals come in and clean the kitchen, which took four days, and then we were up and running.
"We introduced a menu with more traditional, home-made pub food, like Bangers and Mash, Steak and Kidney Pudding and Fish and Chips. I also wanted to offer good value for money, so nearly all of our dishes are available as a lighter portion, which is really popular as some older people cannot eat a big meal and it's more affordable."
When we visit on a Thursday lunch time, we are surprised to find the pub full. There are a number of drinkers just enjoying a pint near the bar, with a dog curled up near the open fire. The only table free is the one reserved for AAH.
It is apparent by the age of most customers, that it is the OAP menu that is drawing in most of the business. Written out on a small chalk board were three main courses, including a Hot Pot, for £5 each, two desserts for £2.75 and tea/coffee for £1. Its success is down to its simplicity, but that does not come without experience.
Wendy has worked at various pubs in the area. She was manager of The Plough Inn in Henfield for a few years, and also worked at the Cat and Canary, and The George Inn, in the village. When the opportunity came up at the Hare and Hounds, it felt like a natural progression for Wendy.
Initially, her best friend, Sophie Ping, helped Wendy cook the food, before a full-time chef was brought in. However, that did not work out, and so 14 months ago, Michael Dunne came in as a chef. Michael said: "I've worked in various hotels and restaurants, and for a while I was Head Chef at British Caledonian. Later, I ran The Sportsman in Goddards Green, but the hours did get a little too much for me.
"I've worked for Wendy before, and when the previous chef at the Hare and Hounds went on holiday and Wendy needed a new chef, I would come in. Then when he left, I spoke to Wendy and it all fell into place. With the Coach House closing down, the Hare and Hounds has become even more important to the people of Cowfold. But I think we have pitched it right, serving honest food with a modern twist.
"I keep it simple because that's key as people like good wholesome food, so we have big portions and the value
for money is excellent. Most of our food is home-made, and I make as much as I can fresh."
The drinkers at the Hare and Hounds can also take their share of the success, as they are the ones that choose the beers! Being a free House, with no association to a brewery, The Hare and Hounds can pick and choose the beers it sells. Wendy said: "We always keep a Dark Star because they are based in Partridge Green, and the Harvey's Sussex is very popular so we leave that on too. We have a core group of drinkers and they actually choose what will go on the guest pump.
"They tell me what they would like next, and if I can I will bring it in. When somebody from a brewery comes in and wants to talk about bringing their beers in, I always tell them 'sorry, you have to talk to the boys!' It works out brilliantly as we get some excellent beers in. They are not always local beers, and we bring some in from quite far away, but it keeps it interesting.
"The first year I was here, CAMRA (Campaign for Real Ale) put us in the good beer guide and to celebrate we put on a beer festival. I had never even been to a beer festival, but people were telling me I should do it, and it ended up being excellent. We had 15 beers, a jazz band and a barbecue and the place was really busy. It's gone so well that we carried it on and we'll have one this year as well."
As you might expect, there's no need for French accents on the simple menu. There's no Foie Gras, Vanilla Scallops or Buffalo Milk Curd with on a Broth of Grilled Onions. But we do have Classic Prawn Cocktail, Creamy Garlic Mushrooms, Crispy Fried Whitebait and Chicken Goujons. As an example of the pub's efforts to provide value for money, only one breaks the £5 barrier, with the Smoked Salmon costing £5.35. If you're the sharing type, a Seafood Platter (£10.95) and Mixed Olives and Stuffed Peppers (£8.95) are available).
We chose the Whitebait (£4.25) and the Garlic Mushrooms (£4.75). The whitebait, coated in Cayenne pepper, was served with a lime and coriander mayonnaise and a varied side salad. As promised, it was good, honest food and such a large portion offers very good value for money.
Toby too was very pleased with his garlic mushrooms, which came with plenty of lightly toasted Ciabatta and again gave satisfaction rather than surprise. There are ten main courses on the menu, ranging from £7.95 (Leek,
Mushroom and Pesto Pasta) to only £10.95 (Homemade Fresh Fish Pie and the Homemade Steak and Kidney Pudding), with lighter appetite dishes available for £6.95 for six of the courses.
If you were on Family Fortunes and had to name the top 10 main courses at a typical English pub, the answers would, most likely, match the Hare and Hounds menu. There's Ham, Eggs and Chips, Burger, Liver and bacon, Fish Pie, Cod and Chips, Chicken Curry, Sausage and Mash, and Scampi and Chips. You can also opt for Jacket Potato with a range of fillings, Ploughman's Lunch, or a number of sandwiches.
I went for the Steak and Kidney Pudding with New Potatoes and Vegetables served in side dishes. For £10.95, it was simply great value. Strictly frill-free, it's a classic recipe cooked and presented well with enough potatoes and vegetables to question whether Wendy has ever heard of the term 'profit margin', let alone understand what it means.
Toby chose the Fresh Cod in Beer Batter served with Chips, Peas and Tartare Sauce (£9.95). Of course, you could state that the chips are not twice fried in virgin olive oil, but the fish was fresh, grease-free and generously
battered, and the chunky chips were well cooked.
We chose our desserts after browsing around the pub, which is small but feels warm and welcoming, with a selection of framed from days gone of the nearby St Hugh's Charterhouse, Tidey's Garage and Cowfold village suggesting a sense of community at the pub.
In truth, I was full and was hoping, against all the odds, for a small pudding. What arrived was a slice of Mint Chocolate Cheesecake fit for someone who lives at the top of a giant beanstalk. To say it cost less than £5, some
care had gone into it. There was a liberal sprinkling of chocolate drops, and a strawberry had been tenderly sliced through five times so it could attractively fan out across the cream.
Toby went for a delicious crumble off the specials board, whilst other desserts include Bakewell Tart, Lemon meringue, Treacle Tast, Chocolate Brownie Pudding and Bailey's and Raspberry Panna Cotta. Some of the desserts, which all cost less than £5, are prepared by Scrumdiddlyyum, based in the nearby village of Bolney.
All in all, we found the Hare and Hounds to be a very pleasant pub, with an atmosphere that installed a false impression that I had eaten there many times before!
With The Coach House in Cowfold now closed, the Hare and Hounds has become all the more important to the village, but it has enough charm and character to fulfil the needs of the villagers. By doing little else aside from
keeping it simple, the pub seems to have become a place where people young and old can feel jointly at home, and enjoy each other's company.
Wendy said: "We are a small pub, and it does help us as even with just a few people in here it feels cosy and we always make sure it's warm. I really love it here, and I would be really happy if we just kept carrying on as we are. I don't want to change anything because we have a good thing here. We have some great characters that come in, and we are popular in the village, so it's enjoyable."
I'm sure, critically speaking, a top chef might be able to make a few suggestions. But that would just be making it complicated…